A formerly forgotten hero from the golden age of barbarian movies, Deathstalker is indeed ready for a rebirth.
Medieval muscleman
"Deathstalker" isn't a name that's as widely known as Conans, that's for sure. But nonetheless, when you're talking about barbarian movies, it's one that does pop up from time to time. The barbarian warrior originally starred in a series of movies from Roger Corman, with three different actors playing the title role.
That sound odd? Well it gets even weirder, as the middle two films completely alter the tone (to nearly straight up comedy) and seemingly have little to no link to any others in the set. Only the first and fourth movies are directly connected, with both starring actor Rick Hill in some of the most seriously cheesy (but awesome) action adventures you're ever gonna see.
Apparently too, these movies haven't exactly gone unnoticed in recent years, as Vault Comics has picked up the license for brand new stories with what looks to be that original version of the hero. The deal factors in Slash of Guns N' Roses fame (yes, really), Shout! Studios, and Raven Banner Entertainment, and will see some big name comics talent onboard too. A comic book mainstay, writer Tim Seeley and artist Jim Terry have been signed, to bring to life a story from "legendary creature effects artist" Steven Kostanski.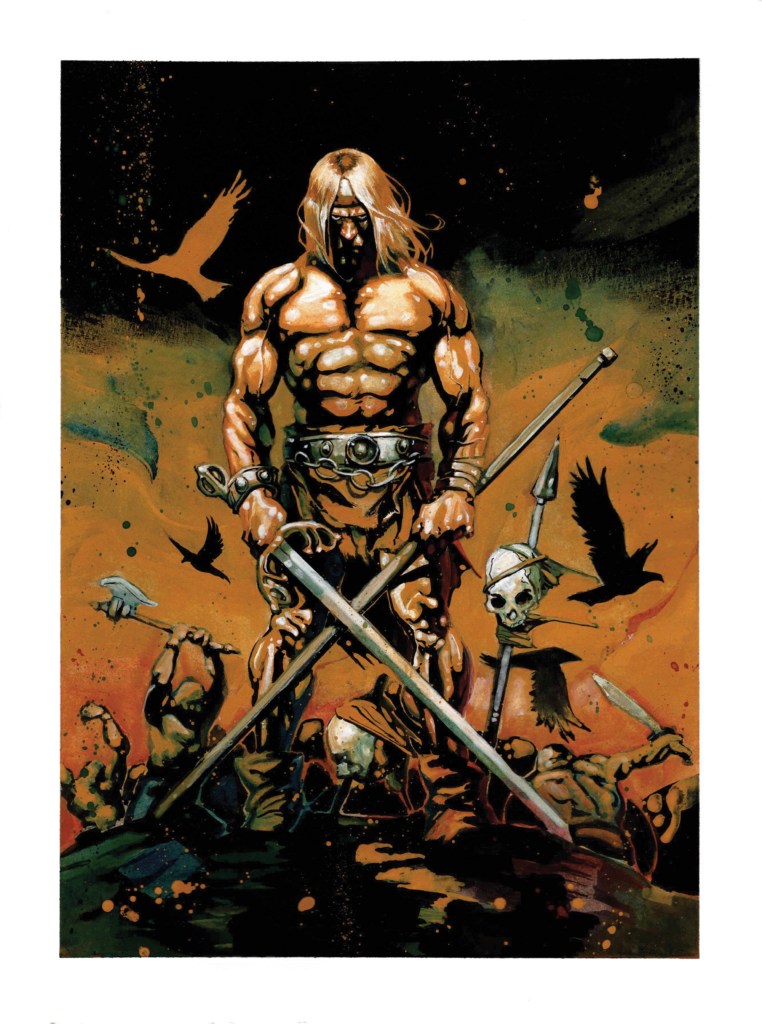 "I'm excited to be kicking off a new era of Deathstalker," Said Slash. "From Tim Seeley, artist Jim Terry, writer-director-creature FX-wizard Steven Kostanski, and myself, our Deathstalker is a reimagining of that fine specimen of 80s sword and sorcery. With fantasy, you get a little of everything: horror, magic, sex, thrills, blood, guts, swords and weirdness. You know—all those things you can't look away from. And that's what we're bringing. So—please—if you share my love of all things wicked, check it out!"

Slash
Oh we will Slash, we will. Deathstalker is one of our favorites here at BG, and an IP that we honestly never thought would see the light of day again. Needless to say, we're pretty pumped for this book, and can't wait for the kickoff of the new Kickstarter.
Vault is set to launch a campaign for that in October, which will be for "a deluxe, oversized hardcover edition of the book". Not to worry though, if you're not into crowd-funding, because there'll also be both single issues and trade paperbacks offered, all of which will be starting some time in 2024.
Our calendar is marked.
Here's a collection of quotes, from the team associated:
"We obviously adore sword and sorcery at Vault," said CEO Damian Wassel. "So, when Slash approached us with the opportunity to relaunch a cult classic of the genre together with Steven Kostanski, and our friends at Shout! and Raven Banner, we couldn't say no. The whole idea of this project is to balance nostalgia for the so-bad-it's-good fantasy filmmaking of the 1980s with the storytelling sensibilities of our time. There's no one we could trust more to turn that into a wickedly hilarious, fantastically epic comic than Tim Seeley and Jim Terry."

Damian Wassel, CEO Vault Comics
"I'm a child of the 80s," added Seeley. "I remember when my dad bought our first VCR in 1982. And I remember the slew of weird and imaginative sword and sorcery VHS tapes that followed. Deathstalker has been near and dear to my heart since I was completely disturbed and aroused by it at a far-too-young-age. And as a fan of the films of Steve Kostanski, I was thrilled to contribute to this project and the ongoing mythology of Deathstalker with my good friend and frequent collaborator, Jim Terry at Vault!"

Tim Seeley, writer Deathstalker
"Some went to church, some had friends, I had the video store," said Terry. "Being young at the birth of the VHS explosion was magic, and it felt like a time when folks were telling incredibly imaginative stories with limited resources – that charm and creativity would be hard to recreate today but it's a thrill to bask in that energy with Deathstalker. I'm already enjoying myself, and very much looking forward to wandering in a world I'm very familiar with and making something that we hope will be an absolute blast to read. Thanks to all the folks involved and to my pal Tim Seeley for inviting me along to hang out in this universe for a while."

Jim Terry, artist Deathstalker