You're not seeing things, the black armor is back for Daredevil, as Marvel head back to the 90s for a brand new mini-series.
Anyone else prefer the armor?
The 90s were a pretty crazy time in comics. If you didn't live through it, the decade is actually pretty tough to describe. More or less though, comics sold like crazy, fanbases were massive, and publishers often took chances with established heroes and villains. Take Marvel Comics and writer D.G. Chichester, for example.
Chichester wrote for DD's monthly throughout the 90s, albeit on and off, but delivered fan-favorite epics like Last Rites and Fall from Grace. He also penned tales for a ton of other comics starring Nick Fury, The Nightstalkers, Punisher, Spider-Man, and plenty more, so he knows his way around the Marvel U.
And as it pertains to this piece of news, he was also the man who brought fans that red (silver) and black armor. Now he'll be the one bringing it back too. Chichester will be in the command seat on a new 4 issue mini-series, one that'll be set back in those days when Matt Murdock wore the armor instead of his more familiar red costume.
And as you'll see, he's going to need it.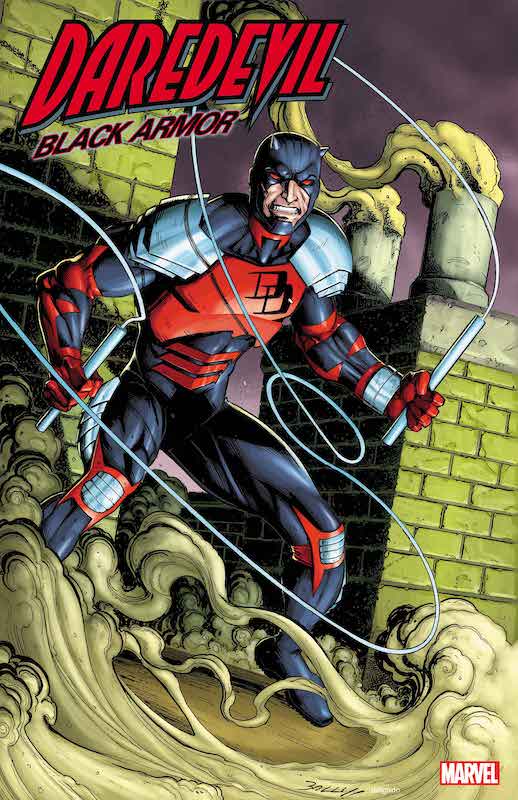 When civilians, heroes, and villains alike are disappearing into the dark depths of Hell's Kitchen underground, Matt Murdock will need to push his extraordinary senses and his armored suit beyond their limits to find out who's responsible. Throughout the saga, Daredevil will be pitted against a who's who of Marvel's deadliest villains including Hobgoblin, Sabretooth and more—all building towards an explosive confrontation with the mysterious evil that's pulling all the strings! Matt's armor will have to work overtime as the series delivers nonstop intense action and brutal fighting in extreme 90s' fashion! 

Marvel Comics press release
Chichester will be joined by artist Netho Diaz for the new mini, which is scheduled to hit the stands on November 22nd. The standard cover will be from Mark Bagley, but there's a notable variant as well. It's worth talking about, as it's from Rafael Grassetti, who was the art director for a little video game you might know called God of War.
"The Daredevil office has been incredibly encouraging in taking some wild swings with this series," Chichester continued. "Returning to Matt and Daredevil and that costume where I left them — as the writer I am now — has been an amazing experience. It's knowing how to jump off a rooftop — but accepting the challenge that you don't always know where you're going to land. I hope fans of my Fall From Grace and Fall of the Kingpin stories find more to enjoy in my take on hyper senses and heightened action — especially seen in an entirely new way thanks to the dynamite art and visual storytelling of Netho Diaz and JP Mayer."

D.G. Chichester