It's going to be a great SDCC for those attending… then again, since much of DST's exclusives list is online as well, it's a good one for those not going too.
It's Con time!
Isn't it just great to have all this stuff back in the swing? And by "stuff" of course we're referring to Comic Cons and special events in general. After such a long while away, it's particularly nice to have the fandom staple up and running once again.
The king of the Cons too, not that we have to say it, is SDCC. The San Diego show is a monster, engulfing most of the city's downtown in pop culture happenings, and stocking no shortage of cool stuff to take home with you. And it's in that, that we have our first SDCC 2023 bit of news to share with you.
Diamond Select has revealed its list of show-exclusives, and it's a deep one. The company will have Indiana Jones, Marvel, Star Wars, G.I. Joe, and Gargoyles stuff on hand, plus some of the coolest new TMNT action figures that we've seen in a while. The Loyal Subjects has gotten ahold of the IDW comics TMNT license, and the results look pretty great.
As with the last few years though, if you're not gonna be in SD this July, you're not completely out of luck on this stuff. Most of it is online and ready for pre-order right now, and that includes the TMNT figures. Well, sort of. They've been selling out everywhere, though they may pop up again before showtime. Who knows.
But enough talk, scroll down for the full look at everything that's coming up.
SDCC 2023 DAH-034SP Gargoyles Goliath Special Color
Beast Kingdom's highly articulable 'Dynamic 8ction Heroes' DAH is back with a new and limited beastly design. 'The DAH-034 Gargoyles Goliath special color' brings one of the main characters from the show to life with detailed design and around twenty-six points of articulation for fans to enjoy! This limited edition release is based on the stone colored statue from the show. With a mixture of detailed paintwork and real fabric for the cloak and trousers, the impressive addition also includes led-light functions for the eyes, perfectly recreating Goliaths intense stare! Three replaceable head sculpts, three pairs of hands and stone designed base allows fans to recreate memorable moments from Disney's dark yet fun animated show. (MAY228295, $50.00) Limited to 500 Pieces
SDCC 2023 G.I. Joe Gallery Baroness (Cobra Outfit) PVC Diorama 
The Baroness is showing her true colors! While she normally wears black, she's Cobra through and through, which is why she's put on her original blue outfit for this exclusive Gallery Diorama! Standing approximately 10 inches tall, this dynamic sculpture of the Baroness is made out of high-quality PVC and features detailed sculpting and paint applications. It is limited to only 1,500 pieces and comes packaged in a full-color window box. Designed by Uriel Caton, sculpted by Sam Greenwell! (MAR238102, $60.00) Limited to 1500 Pieces 
SDCC 2023 Transformers The Movie Minimates VHS Box Set
You've got the touch! Reach out and touch this all-new Minimates box set, featuring new characters and new packaging! This four-pack, inspired by 1986's Transformers: The Movie, features 2-inch, fully poseable, fully interchangeable figures of Ultra Magnus, Hot Rod, Thundercracker and Stasis Lock Optimus Prime. Limited to only 1,500 pieces, it comes packaged in a VHS-style slipcase, with original movie artwork. Designed by Barry Bradfield! (MAR238109, $30.00) Limited to 1500 Pieces
SDCC 2023 TMNT D-Formz Retro Pizza Box Set 
Cowabunga! The turtles re-unite in this exclusive box set! Featuring 3-inch vinyl figurines of the four turtles in their classic red, orange, blue and purple bandannas, they each come packaged on full-color blister card, inside a miniature pizza box! Limited to only 1,500 pieces. Designed by Barry Bradfield, sculpted by Rocco Tartamella! (MAR238103, $40.00) Limited to 1500 Pieces
SDCC 2023 Pacific Rim 10th Anniversary Deluxe Action Figure Legacy Box Set 
Return to the Pacific Rim with this all-new box set celebrating the film's 10th anniversary! Featuring a battle-damaged version of the original Gipsy Danger, and a "Shakedown Test Colors" version of Gipsy Avenger, this action figure two-pack comes in Shatterdome packaging with multiple interchangeable parts. Limited to only 2,000 pieces. Designed and sculpted by Big Shot Toy Works! (MAR238104, $70.00) Limited to 2000 Pieces
SDCC 2023 Green Hornet Movie VHS Action Figure
Did you know? In the 1970s, to capitalize on the popularity of Bruce Lee, several episodes of The Green Hornet were spliced together to form a longer movie. This action figure's VHS clamshell-style packaging is a tribute to that movie! This 1/10 scale action figure of Bruce Lee as Kato features over 16 points of articulation, interchangeable parts and accessories. Limited to 2,500 pieces. Designed by Yuri Timg, sculpted by Chris Dahlberg! (MAR238105, $25.00) Limited to 2000 Pieces
SDCC 2023 Star Wars The Mandalorian Carson Teva 1/6 Scale Mini-Bust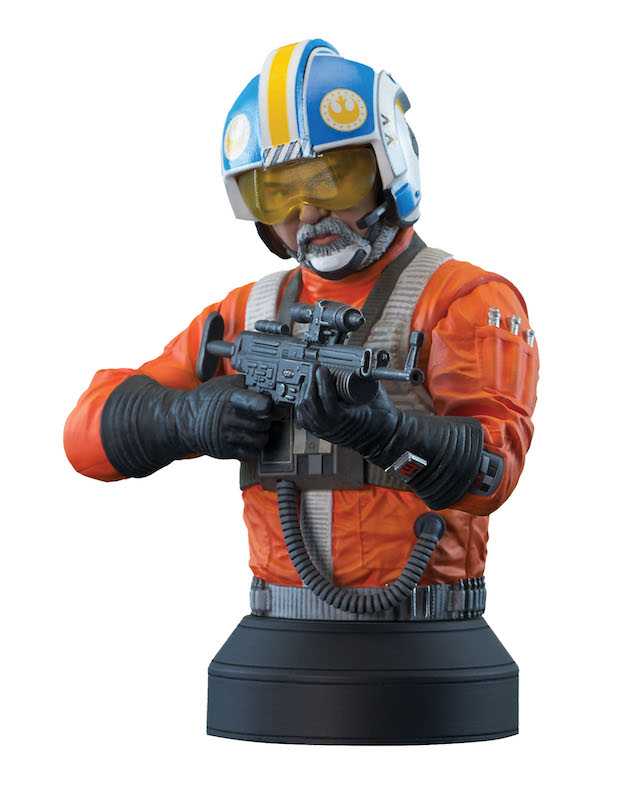 The Outer Rim pilot who calls himself friend to Din Djarin is now the newest mini-bust from Gentle Giant LTD! Measuring 6 inches tall, Carson wears his orange flight suit with decorated helmet, and levels his blaster as if to pick off some ice spiders. Limited to only 1,000 pieces, it comes packaged in a full-color box with a numbered certificate of authenticity. (MAR23810, $130.00) Limited to 1000 Pieces
SDCC 2023 Indiana Jones Raiders of the Lost Ark Indiana Jones (Sepia) 1/6 Scale Mini-Bust
Adventure has a name, and it's Indiana Jones! Now, the legendary archaeologist swings into the Gentle Giant LTD world with a realistic 1/6 Scale Mini-Bust! Measuring approximately 6 inches tall, torch and whip in hand, this San Diego-exclusive, sepia-tinted bust is limited to only 1,000 pieces and comes packaged in a full-color box with a numbered certificate of authenticity. (MAR238107, $130.00) Limited to 1000 Pieces
SDCC 2023 Indiana Jones Raiders of the Lost Ark Map Room Jumbo Playset
Find the Ark, save the world! Indiana Jones embarks on his greatest adventure in this Jumbo-fied replica of one of his greatest playsets! Featuring a Jumbo-sized Map Room diorama, Staff of Ra, sextant, pouch, grappling hook and pickaxe, this approximately 1/6 scale reproduction includes a 12-inch figure of Indiana Jones in his classic gear, complete with pistol and whip. Limited to 1,000 pieces. This set comes packaged in a full-color, vintage-style box. (MAR238108, $120.00) Limited to 1000 Pieces 
SDCC 2023 VINYL SODA MARVEL AGENT VENOM W/ CH PX VIN FIG
Get ready to add one of Marvel Comics' most unique characters to your collection with the Vinyl SODA Marvel Agent Anti-Venom PREVIEWS Exclusive figure! Introduced in the pages of Spider-Man, Agent Anti-Venom is the result of a fusion between Eddie Brock, the original Venom symbiote, and the Anti-Venom symbiote. Each limited-edition Vinyl SODA figure comes packaged in a retro-styled soda can along with a collectible disc. And with an inverted chase variant to hunt, this collectible figure is sure to be a hit with fans and collectors alike. This Con exclusive figure is limited to only 17,500 pieces, so don't miss your chance to add this incredible piece to your Marvel collection! (JUN229118, $14.99) Limited to 17500 Pieces
SDCC 2023 MINICO TMNT DONATELLO V2 PX PVC FIG
The heroes in a half shell return in an all new PREVIEWS Exclusive MiniCo diorama from Iron Studios! With bo staff in hand, tech master Donatello is posed ready to pounce on some punks in this stylized 7.1″ polystone statue. Featuring incredible detailing from his intricately patterned shell down to the brickwork pedestal base, this limited edition MiniCo Donnie is ready to squash any of Shredders sinister schemes! Collect all four brothers and display them together to recreate an iconic rooftop scene that's sure to be one shell of centerpiece in any Teenage Mutant Ninja Turtles collection. (JAN239189, $39.99) Limited to 3000 Pieces
SDCC 2023 MINICO TMNT LEONARDO V2 PX PVC FIG
The heroes in a half shell return in an all new PREVIEWS Exclusive MiniCo diorama from Iron Studios! Level-headed Leonardo has his sword drawn and ready to finish the Foot Clan in this stylized 7.1″ polystone statue. Featuring incredible detailing from his intricately patterned shell down to the brickwork pedestal base, this limited edition MiniCo Leo is ready to lead his ninjas to victory! Collect all four brothers and display them together to recreate an iconic rooftop scene that's sure to be one shell of centerpiece in any Teenage Mutant Ninja Turtles collection. (JAN239191, $39.99) Limited to 3000 Pieces
SDCC 2023 MINICO TMNT MICHAELANGELO V2 PX PVC FIG
From Iron Studios. A PREVIEWS Exclusive! The heroes in a half shell return in an all new PREVIEWS Exclusive MiniCo diorama from Iron Studios! Party dude Michaelangelo gets is ready to rock in this stylized 8.1″ polystone statue. Featuring incredible detailing from his intricately patterned shell down to the brickwork pedestal base, this limited edition MiniCo Mikey twirls his nunchaku in preparation to waste any Foot Clan foes that dare cross his path! Collect all four brothers and display them together to recreate an iconic rooftop scene that's sure to be one shell of centerpiece in any Teenage Mutant Ninja Turtles collection. (JAN239192, $39.99) Limited to 3000 Pieces
SDCC 2023 MINICO TMNT RAPHAEL V2 PX PVC FIG
The heroes in a half shell return in an all new PREVIEWS Exclusive MiniCo diorama from Iron Studios! Rough-and-tumble Raphael is ready to rumble in this stylized 6.5″ polystone statue. Featuring incredible detailing from his intricately patterned shell down to the brickwork pedestal base, this limited edition MiniCo Raph is ready to mow down some mutated meanies with his twin Sai! Collect all four brothers and display them together to recreate an iconic rooftop scene that's sure to be one shell of centerpiece in any Teenage Mutant Ninja Turtles collection. (JAN239193, $39.99) Limited to 3000 Pieces
SDCC 2023 Teenage Mutant Ninja Turtles Leonardo "Battle Ready" Comic Convention Limited Edition BST AXN 5" Action Figure
Leonardo – includes Scabbards to house both Katana swords, multiple hand grips, two different dynamic head portraits with amazing expressions and eye deco, and a set of wind-cutting Katana swords – see the whisps of the sliced wind fly right off the blades!  Includes a collector card with unique artwork provided by Mateus Santolouco. (FEB238185, $29.99) Limited to 1000 Pieces
SDCC 2023 Teenage Mutant Ninja Turtles Michelangelo "Battle Ready" Comic Convention Limited Edition BST AXN 5" Action Figure
Michelangelo – includes a radical pair of nunchucks, a utility belt to house his nunchucks, multiple hand grips, two different dynamic head portraits with amazing expressions and eye deco (a playful wink), and a collector card with unique artwork provided by Mateus Santolouco. (FEB238186, $29.99) Limited to 1000 Pieces
SDCC 2023 Teenage Mutant Ninja Turtles Donatello "Battle Ready" Comic Convention Limited Edition BST AXN 5" Action Figure
Donatello – includes an anti-gravity gauntlet, a bow staff, multiple hand grips, two different dynamic head portraits with amazing expressions and eye deco (including oculars), and a collector card with unique artwork provided by Mateus Santolouco. (FEB238184, $29.99) Limited to 1000 Pieces
SDCC 2023 Teenage Mutant Ninja Turtles Raphael "Battle Ready" Comic Convention Limited Edition BST AXN 5" Action Figure
Raphael – includes two signature sais, multiple throwing stars, a bandelier to hold his throwing stars, a pair of tonfa, multiple hand grips, two different dynamic head portraits with amazing expressions and eye deco, and a collector card with unique artwork provided by Mateus Santolouco. (FEB238187, $29.99) Limited to 1000 Pieces
SDCC 2023 TMNT BST AXN COMIC PX 5IN AF 4PC ASST
TMNT-Mania is hitting hard this summer, and nowhere harder than with The Loyal Subjects!  TLS is proud to announce a sneak peek, and "available -to-purchase" Comic Convention Summer exclusive previewing this Fall's BIG, much-anticipated retail reveal of the NEW IDW Comic Inspired Teenage Mutant Ninja Turtles Heroes!  Leonardo!  Michelangelo!  Donatello!  Raphael!  Be the first on your block to snag all four heroes!  Inspired by the masterful artwork from comic legend Mateus Santolouco and fan favorite comic book publisher IDW, TLS has spared no detail with this masterful BST AXN IDW Comic inspired action figure set!  (FEB238188, $120.00) Limited to 1000 Pieces
SDCC 2023 TIN TITANS MARVEL MAN-THING PX LUNCHBOX & BEV CONTAINER
Mix up your munchies with the mystical world of Man-Thing! Featuring iconic cover art from the fear-fraught first issue of The Man-Thing (1974) by the legendary Frank Brunner, this retro-styled PREVIEWS Exclusive Tin Titans lunchbox is a must-have for fans who want to safeguard their sandwiches in style. A fully illustrated 10oz beverage container/soup cup featuring the classic Man-Thing logo is included, adding an extra touch of magic to your meals! Limited to only 2500 pieces, this Tin Titans lunchbox is a true collector's gem. Don't miss your chance to add this extraordinary piece to your Marvel collection today! (DEC228345, $24.99) Limited to 2500 Pieces
SDCC 2023 MARVEL WOLVERINE CARD PX DLX FLEECE BLANKET TIN
Cuddle up under classic card art and test your Marvel trivia with this deluxe fleece blanket from Surreal Entertainment! Replicating both the front and back of Card #2 of Jim Lee's 1992 X-Men Trading Card Set, this extra-cozy 63″ x 45″ double-sided fleece blanket is sure to lend a warm, fuzzy feeling that's powered by more than nostalgia. This limited edition, PREVIEWS Exclusive Wolverine Deluxe Fleece Blanket comes packaged in a full-color printed collector's tin. (JAN238445, $39.99) Limited to 2000 Pieces
SDCC 2023 GREAT GARLOO B&W PX 3IN AF
Step into a world of timeless nostalgia with the Great Garloo 3-Inch Retro Collectible Figure in Black and White! This iconic rendition of Garloo captures the essence of the classic monster toy in a mighty monochromatic masterpiece. Standing at 3″ tall, the limited edition figure showcases Garloo's menacing presence with intricate sculpting and attention to detail. Presented in vintage-inspired window-box packaging, this PREVIEWS Exclusive figure is sure to be a timeless addition to any collector's display. Relive the glory days of retro toys and harness the power of Garloo for your collection! (JAN238490, $24.99) Limited to 500 Pieces
SDCC 2023 GREAT GARLOO GID PX 3IN AF
Experience the thrill of the Great Garloo like never before with the Great Garloo 3-Inch Glow-In-The-Dark Retro Collectible Figure. As darkness falls, the unconquerable Garloo comes to life, illuminating your collection with a beastly glow. Inspired by the classic 60's Great Garloo toy, this limited edition rendition captures the essence of the iconic monster with a lucent twist that is sure to captivate both fans and new collectors alike. Packaged in a vintage-inspired window-box, this San Diego Comic Con Exclusive figure is a true collector's treasure. Prepare to be captivated as Garloo takes on a new dimension with this Glow-in-the-Dark figure! (JAN238491, $24.99) Limited to 500 Pieces