Retro console Evercade is gonna be the place for Duke Nukem fans this fall. The iconic hero has a total of 6 classic games on the way in two collections.
Gonna rip 'em a new one
Well this was completely unexpected, but also pretty dang cool. We're talking of course, about the surprise announcement about all the Duke Nukem games heading for Blaze Entertainment's retro platform, the Evercade.
Duke hasn't been seen since the World Tour, special edition of Duke Nukem 3D, and we all know the painful tale of Duke Forever that came before that. So with that in mind, it's particularly cool to see that he's back again, and ready to make an impact on Evercade.
It's going to be a heck of an appearance too, with a total of six games that'll be served up in a pair of collected edition carts. And if you're expecting the usual delivery of Duke 3D and maybe some expansions, think again.
Yes, the iconic FPS will be a part of the collection, but so will his GameBoy Advance outing, and there's much more. Fans will also get Duke's PSOne outings with Time to Kill and Land of the Babes, as well as brand new remasters of the original platformers in the series, Duke Nukem 1 and 2.
Evercade's Duke 1+2 have been developed directly by Blaze, and will feature a host of improvements. The games will have 60fps, "parallax scrolling backgrounds", widescreen support, and give players the ability to flip back and forth between the new presentation and the way the titles originally looked.
Duke Nukem 1+2 and Duke 3D will be hosted on Duke Nukem Collection 1, with Advance, Time to Kill, and Land of the Babes on Collection 2. Both will ship this November, and will hit pre-order in August. There's much more to come too, including deeper looks at the newly remastered titles.
How about a console too?
With the game announcements out of the way, Blaze introduced a new home console to go along with them. A first for the Evercade family, the new Atomic Edition of the Evercade VS will include both Duke Nukem Collections and feature a deco that reflects the explosive hero.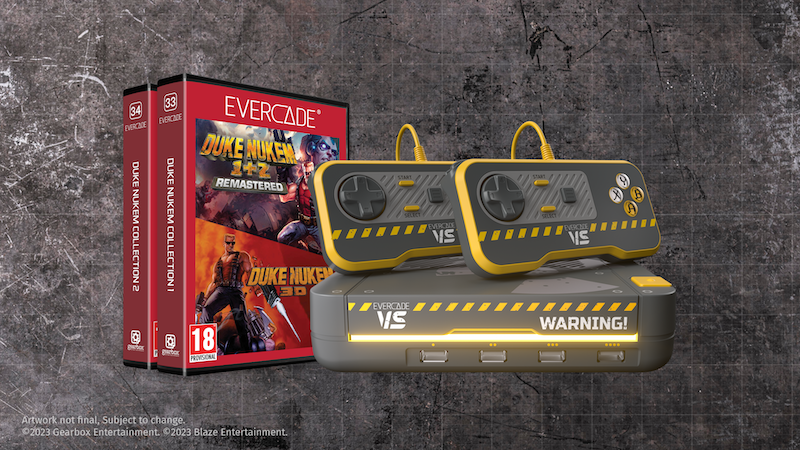 Drawing inspiration from the iconic action-packed movies and games of the 80s and 90s, the Evercade VS Atomic Edition is a stunning tribute to an era of pure adrenaline-fueled excitement. Immerse yourself with its exclusive Atomic Warning colour scheme and two matching Evercade VS controllers, with two bundled cartridge collections – Duke Nukem Collection 1 and 2. You'll also get a certificate of authenticity and an exclusive Evercade VS Atomic Edition Theme on the firmware! 

Blaze Entertainment press release
While that's pretty exciting news, you're going to have to be fast if you want one of these bad boys. Blaze will only be producing 2000 units of the Atomic Edition, with UK retailer Funstock (and its EU branch) exclusively stocking it.
It's ready for pre-orders right now, and ships this November, globally.