Sega's rhythm action title returns with Samba de Amigo, and this time it's a Switch exclusive. The game's been tagged with an August launch.
Shakin and bakin
It's a set of pretty big announcements today, for Sega's upcoming Samba de Amigo re-birth. That includes the reveal of a Digital Deluxe edition, and of course the actual release date. Can't forget that one.
For those fans who might be out of the loop though, Samba de Amigo: Party Central brings back the classic Sega IP for the Nintendo Switch. While most of the game looks like it will probably be a very familiar time for longtime players, there is one big difference.
This time around, there won't be any dedicated peripherals, as Samba will make use of the Switch's Joy-Cons for its rhythm-based action. Said action will commence on August 29th, when the game arrives at retail.
And when it does hit the eShop, it'll be in two flavors. The standard edition will be joined by a Digital Deluxe version, which'll come packed with quite a few extras that the Sega fans out there should enjoy.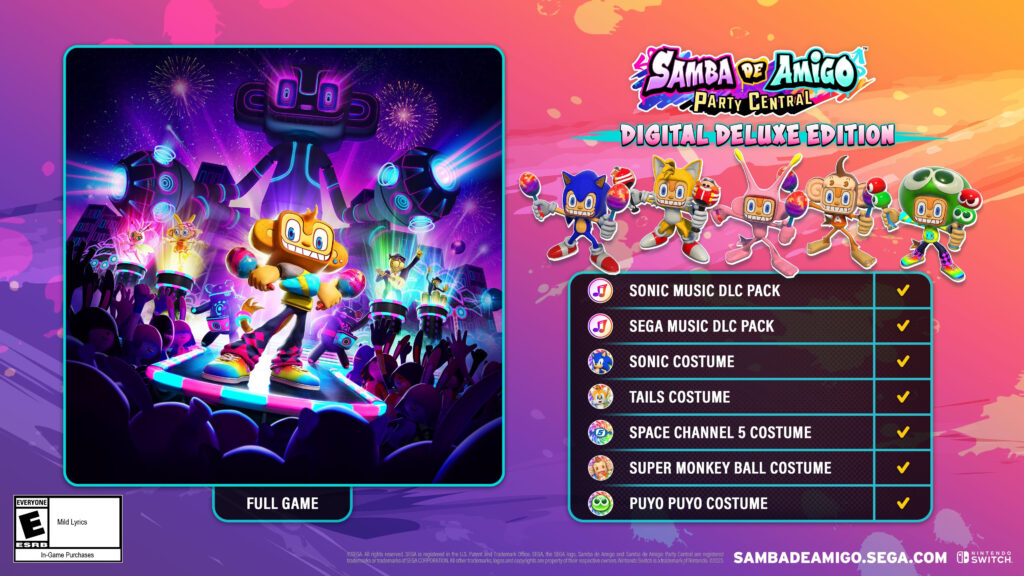 The Deluxe edition will include:
The Standard Edition of the game
Sonic Music DLC Pack that includes fan-favorite tracks such as "Open Your Heart" from Sonic Adventure™, "Reach For The Stars (Re-Colors)" from Sonic Colors™️: Ultimate, and "I'm Here" from Sonic Frontiers™!
SEGA Music DLC Pack has you setting the festivities on fire with popular tracks from SEGA's history: "Bakamitai (Taxi Driver Edition)", "Go Go Cheer Girl!" from Space Channel 5™️: Part 2, and "Rhythm Thief Theme" from Rhythm Thief & the Emperor's Treasure™️!
Special costumes inspired by Sonic and Tails from the Sonic the Hedgehog™ series; Space Channel 5; Super Monkey Ball™️; and Puyo Puyo™️!
Whichever version you go with, Samba de Amigo: Party Central will come loaded with 40 tunes to shake along to, with more coming as post-launch DLC. No word on how that'll be delivered, or what the packs might look like, but we'll let you know.