Fans of Netflix' Stranger Things have a new book to look forward to, with a brand new collected edition that's coming up just in time for Halloween.
Scary stories
The next in a series, this October will see the release of Dark Horse's Stranger Things: Library Edition Volume 3. As with the other releases in the set, Vol.3 will be loaded with a collection of previously released titles.
There's a star of the show of course, which is set to be Stranger Things: The Tomb of Ybwen. That's from a roster of talent, including Greg Pak, Diego Galindo, Francesco Segala, and Nate Piekos. Then once you get past that, there's also the series of Stranger Things: Holiday Specials. Those are from Michael Moreci, Chris Roberson, Keith Champagne, Todor Hristov, ABEL, Caio Filipe, Dan Jackson, and Nate Piekos.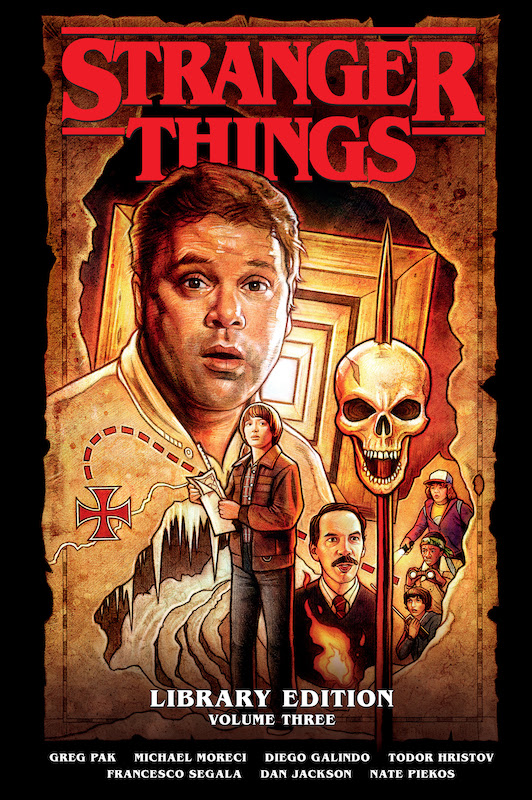 Stranger Things: The Tomb of Ybwen is set in January 1985 after the Hawkins crew survived a battle with the Mind Flayer. Will and Joyce are reeling from Bob Newby's death, but Will's friends have been too busy with their girlfriends to notice him struggling. After Mr. Clarke and Will discover an odd map Bob left in a box of A.V. club memorabilia, Will rallies the gang to investigate—but with a blizzard coming, they're afraid to follow. But when Will takes off into the freezing wilds alone, they rush to stop him and just as they catch up, they discover that Bob's map may lead to a real hidden treasure–and that turning back is no longer an option.


Stranger Things: Holiday Specials includes three separate heartwarming and terrifying stories perfect for any season. In the Winter Special, Eleven gets introduced to everyone's favorite Christmas stories; in the Halloween Special, Will tells the other boys the scariest Hawkins Halloween story ever; and in the Summer Special, officers Powell and Callahan investigate strange events that they'll be lucky to survive.

Dark Horse Comics press release
Watch for Stranger Things: Library Edition Volume 3 in bookstores this October the 24th, and in comics shops the next day, on the 25th.