Have a hankering for some classic, 16bit SNES-style role-playing? Then you're definitely going to want to check out Chained Echoes.
Iconic
There are few eras of role-playing game that are as iconic to the genre as the 16bit one. And in specific, I mean the SNES. That classic age, flowing into the dawn of the new era with the first PlayStation, was really a golden age for the genre. Focus Entertainment and developer Deck13 seem to agree on that, as Chained Echoes is an homage to all things JRPG, and straddles the line between what was possible on the SNES and PSOne.
Created by one man, Matthias Linda, Chained Echoes is a stunning 7 years in the making, and looks to recapture some of that magic.
In Chained Echoes, medieval fantasy meets modern steampunk, so get ready for both sword duels and mech fights! An incredible, carefully crafted world awaits, filled with otherworldly creatures and multiple nations of human and humanoid races, all brimming with individual lore and culture to dig into. In the wild, Valandis' varied environments are a true paradise for adventurers, each with their own unique look and special challenges, menacing bosses and exciting secrets!

Focus Entertainment press release
With a release date set for December the 8th, on Xbox and PlayStation consoles, the Switch, and the PC, Chained Echoes is also targeting 2023 for a physical launch. And what a physical launch it'll be.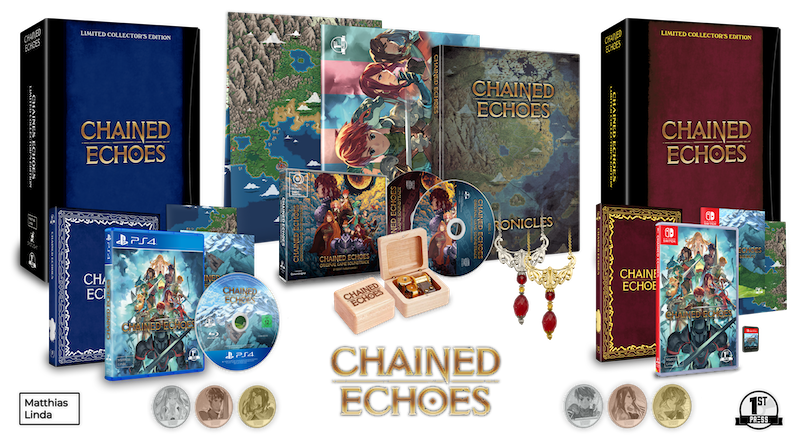 First Press Games will be delivering that boxed version, for the PC, Switch, and PS4, and it's gonna be packed. Fans can expect a physical version of the game (for each platform), plus loads of goodies. Hit First Press' online shop for more on that, and check out the image above for a preview.
All of this is in addition to a deluxe soundtrack as well, which will be a two-disc-er.