Arriving in two different editions, high-end collectible company Hot Toys has a film-accurate Black Adam heading to retail in late '23 or early '24.

Teth Adam returns
DC Comics heroes and villains don't have much more complex origins than the man called Black Adam. And I mean that both in terms of the actual character's origins and evolutions, and his real-world journey from the printed page to the big screen.
While Adam has been a villain, a ruler, and a hard-edged hero, he's also had quite the trip making it to Hollywood. With the movie finally due out this month, Dwayne Johnson's portrayal went through years in movie-purgatory before being green-lit. But though he's taken a while to get here, Black Adam's film looks like it might be a winner, with plenty of praise for early looks and trailers. So, of course, there's gonna be merch.
And also 'of course', the best looking piece of that comes from Hot Toys. The high end collectible company has made a habit of cranking out some of the most detailed and accurate versions of on-screen characters, and Adam is another in that list.
Have a look I the gallery below, but be warned because there are actually a few spoilers included.
Last chance. Spoiler talk in 3, 2, 1…
Now, about those "spoilers", though you probably noticed them already. Bottom line, some of those images above have a lot more 'gold' happening than others. Presumably, those allude to an alteration that will happen during the course of the film, but it's not elaborated on in the press release.
As you can clearly see though, the lightning bolt emblem and the electricity accessories are changed, and the costume's highlights are in gold instead of black. I'll leave it up to you to speculate what that might mean. Know though, that these are two different figures.
The standard version, which is actually called the "Deluxe Edition", is the one that includes the blue bolts and black accents. That's while the "Golden Armor" version includes the… golden armor, and yellow lightning. That's in addition to an extra Dwayne Johnson portrait. Both editions are $360 USD, so you get a decent little extra and the more comics-accurate look for the same price.
Brekdowns and links are below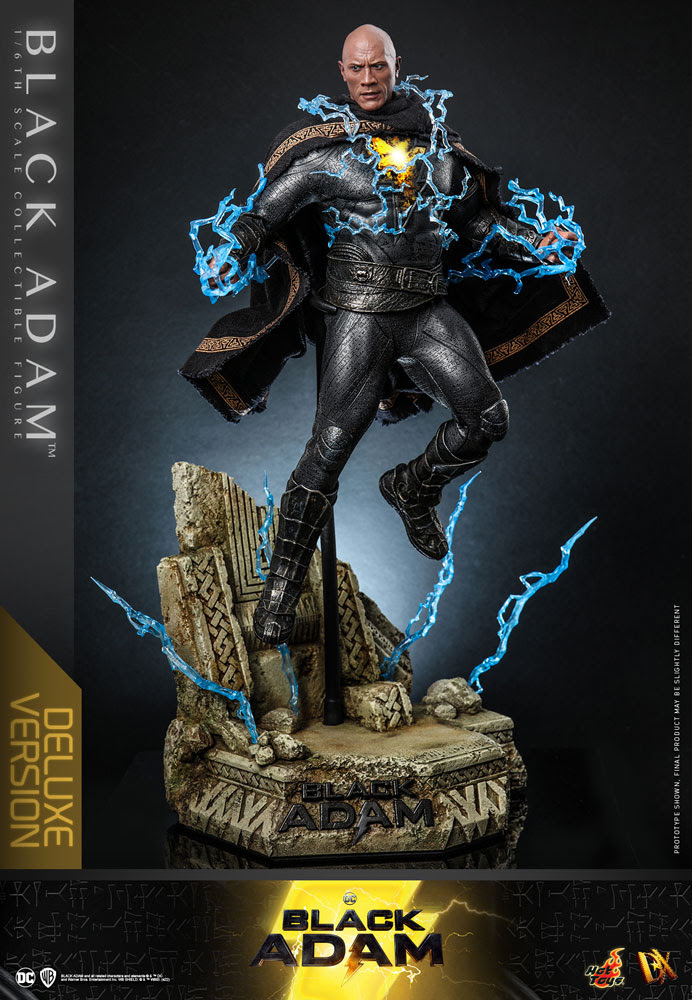 The Deluxe version of the Black Adam 1/6 scale figure contains all of the features and accessories described above, but also includes an additional swap-out portrait of Dwayne Johnson as Black Adam, as well as a highly elaborate diorama display base. The base depicts the wreckage of a destroyed historic site with additional accessories that are attachable to the figure's body, creating a powerful and eye-catching centerpiece to any DC collection!

The Black Adam (Deluxe) 1/6 Scale Figure is available to pre-order now, via Sideshow.

Sideshow Toys press release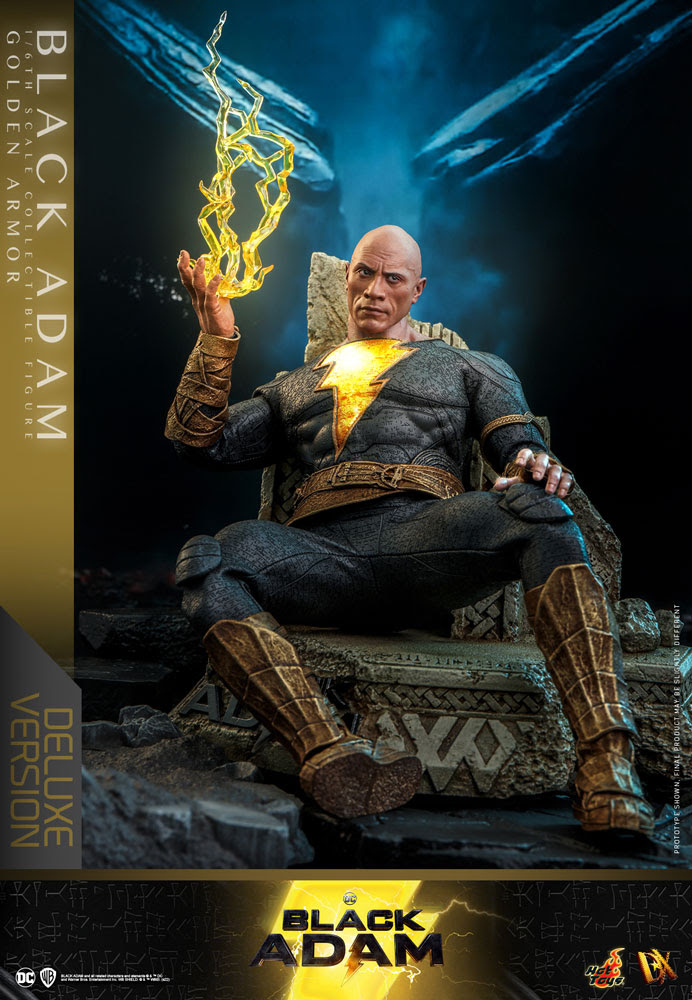 The Black Adam (Golden Armor) 1/6 Scale Figure features a newly developed hand-painted headsculpt of Dwayne Johnson, equipped with Hot Toys' DX "moving eyeballs" technology — allowing collectors to adjust the direction of the figure's gaze. These moving eyes also have a luminous reflective effect to further highlight Black Adam's formidable powers.

Hot Toys has created a newly designed 1/6 scale body to portray Black Adam's muscular physique, and they've outfitted it in his gold-accented costume — complete with an LED-illuminated lightning bolt emblem plus a wired fabric cape allowing additional posing and display options.

What's more, this Golden Armor version also includes an additional headsculpt (also equipped with the luminous DX adjustable eyeballs) and a diorama figure display base.

He is unstoppable! Add the Black Adam (Golden Armor) figure to your DC figure collection! Available to pre-order now, via Sideshow. 

Sideshow Toys press release