Last weekend's Ubisoft Forward presentation showcased a ton of stuff from the publisher, and a good deal of that was Assassin's Creed related.
Back with a vengeance
Is it accurate to say "back" when you're talking about a franchise that never really 'left'? In this case, I think it might be, since the last title in the Assassin's Creed series was Valhalla, and that was in 2020. So it will be essentially a three year break for the AC universe, since there isn't a new game coming out here in 2022. But as you'll see, the series is set to explode like never before, and that's not hyperbole.
Dubbed the Assassin's Creed: Mirage + Showcase, the AC portion of Ubisoft Forward didn't disappoint. A total of five new games were announced, and that does include Mirage, which will be the next title to see release.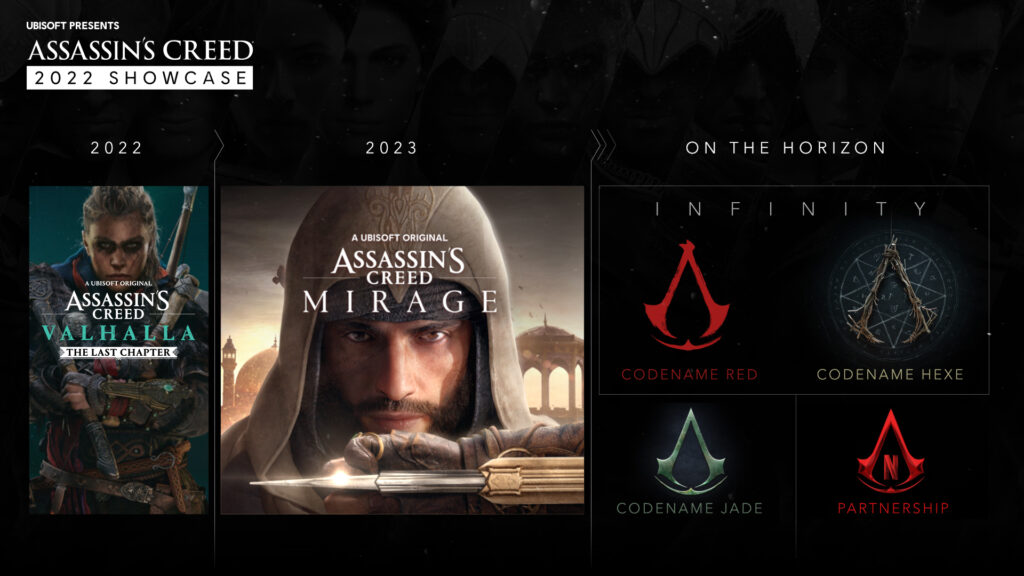 Assassin's Creed: Mirage
Mirage follows a character that Valhalla fans should know well, Basim Ibn Is'haq. If you don't know who that is, he's a master Assassin and was a character in Valhalla. Mirage is not a sequel to Valhalla though, it's a prequel.
The game kicks off 20 years prior to that Norse-themed title, and is centered in "Baghdad at the peak of its Golden Age."
It offers a narrative-driven action-adventure experience with an intriguing coming-of-age storyline, charismatic protagonists, a majestic open city and modernized legacy gameplay focusing on parkour, stealth and assassinations. They will embody a new hero, Basim Ibn Is'haq, a singular street thief with a mysterious past, who will join the Hidden Ones in Alamut on a quest for answers. Basim's mentor, Roshan, will be voiced by Emmy-winning actress Shohreh Aghdashloo. Assassin's Creed Mirage is an homage to the series, and a particularly special tribute to the first Assassin's Creed®. The announcement of the game comes with a cinematic reveal trailer with original music composed by Brendan Angelides, who is also the music composer for the game.

Ubisoft press release
As you can see there, the themes and setting of Mirage is very deliberate. Ubisoft is paying tribute to the game that started the AC legacy, on what will be the 15th anniversary of the brand. And while Altair is nowhere to be found, it's great to see Assassin's Creed dip back into those waters.
Assassin's Creed: Mirage will be coming to the Xbox Series X|S, PS5, and PC, along with last generation Xbox and PlayStation consoles, and Amazon Luna. There's no release date as of yet, though the game is up for pre-order now.
And as you might expect with this kind of marquee title, there are some special editions.
The Deluxe Edition: will include the base game, digital artbook and soundtrack, as well as a Deluxe pack containing a Prince of Persia–inspired outfit, eagle and mount skins, weapons, and more.
The Collector's Case will include the Deluxe Edition with a high-quality figurine of Basim (32cm), an exclusive SteelBook with a design to be elected by fans, a mini- artbook, a replica of Basim's brooch, a map of Baghdad as well as a selected soundtrack of the game. The Collector's Case is available from the Ubisoft Store and select retailers.
Before you move onto the next section, make sure you check out the special video below, breaking down the trailer:
Hexe, Red, Jade, and Infinite
While Mirage is the next headlining game in the set, Assassin's Creed has a four more games coming. Those releases will include both console/PC titles and mobile stuff. Yes, I know, I'm not wild about mobile either but it actually looks kind of cool.
But before we get to that, there's Red, followed by Hexe. Those are just codenames, as you might've guessed, but both titles sound like they could be winners. Red takes place in feudal Japan, which has been rumored as a locale for AC for what seems like forever. Oh, and it looks like there are ninja-assassins. So yeah, get pumped.
Then after Red, will come Hexe. This AC adventure will take place in the midst of the inquisition, and be crafted at Assassin's Creed's birthplace, Ubisoft Montreal. It will also have Clint Hocking as director.
And finally, there's Infinity. Infinity is a breed unto itself. It will continue the modern day AC narrative, while also offering multiplayer as a standalone experience. So it will truly be something different as compared to the rest of the franchise.
Assassin's Creed Codename RED is the next flagship title after Assassin's Creed Mirage and the future of the open world RPG in Assassin's Creed. It is being developed by Ubisoft Quebec, the studio behind Assassin's Creed Odyssey, with Jonathan Dumont as Creative Director. Here players will be able to explore a long-awaited setting for an Assassin's Creed game: feudal Japan and all its shinobi fantasies.
Assassin's Creed Codename HEXE is the next flagship title after Codename RED. It is being developed by Ubisoft Montreal, birthplace of the Assassin's Creed franchise, with Clint Hocking as Creative Director.
Assassin's Creed Codename INFINITY will connect projects and players through different types of experiences, including released Assassin's Creed games and the next ones to launch: Codename Red and Codename HEXE, the next two HD flagship games. As part of Codename INFINITY, multiplayer is set to return as a standalone experience in the Assassin's Creed franchise.
Something, something, mobile
Now, I ls mentioned the 'm' word. And of course, that's mobile. the title codenamed Jade is the first mobile Creed in a long time, and Ubi is promising quite a bit with it. Namely, that it's a "AAA RPG", but also that it's set in ancient China, which has also been rumored for some time.
It might be worth your time, even with the format, and especially if you're a big fan.
The Assassin's Creed Codename JADE is a AAA RPG action-adventure game for mobile platforms set in Ancient China. Players will be able to create their own character and discover the story of the first Assassins in China. It will be free to play.
All that and a series too
On top of the tidal wave of gaming news, Ubisoft also took the wraps off of an upcoming live-action show. Set to air on Netflix, the as-yet unnamed series promises to be "epic" and "genre-blending".

The live-action Assassin's Creed series from Ubisoft Film & Television and Netflix is going to be an epic, genre-blending adaptation of the highly successful video game franchise. The collaboration does not end there, however, as Netflix is also collaborating on an exclusive Assassin's Creed game to be made available on their platform.
As you can see, much like with all of the games coming, there's no release date as of yet for the show. Nevertheless, if you're an AC devotee, you have quite a bit to look forward to over the nest few years.