He might not be all diecast, but you get the picture. And in any event, Hot Toys' latest Robocop announcement is sounding like a can't-miss.
Yes, he is from RC3
Put aside the fact that this new Hot Toys Robocop figure is from Robocop 3. Yeah, I get that might be a big thing for some of you, but try. While the film isn't all that well-liked by fans, and didn't have Peter Weller as the title 'Cop (it was Robert Burke), it still features the same basic design for Robo. And anyway, just look at this thing!
Hot Toys' just-announced figure is looking phenomenal, with all the trimmings. And since we're talking Robocop 3, that includes the multi-weapon arm attachment and jet pack. Not enough of a cool-factor for you? How about diecast parts?
It's unclear just how much of the piece is metallic, though the official listing says it's "made in diecast material", so I imagine it's a good chunk. And since he's 1/6th scale, that should mean he's gone be plenty hefty.
This movie-accurate RoboCop figure features a hand-painted helmeted head with four interchangeable lower face plates capturing Murphy's different expressions. The intricately detailed diecast armor is painted with an iridescent metallic sheen, and includes a hidden thigh holster.

RoboCop's weapons and accessories include a diecast pistol, a multi-purpose arm cannon with missile and blast effects, a data spike, a magnetically attachable flight pack, and more! 


Sideshow Toys press release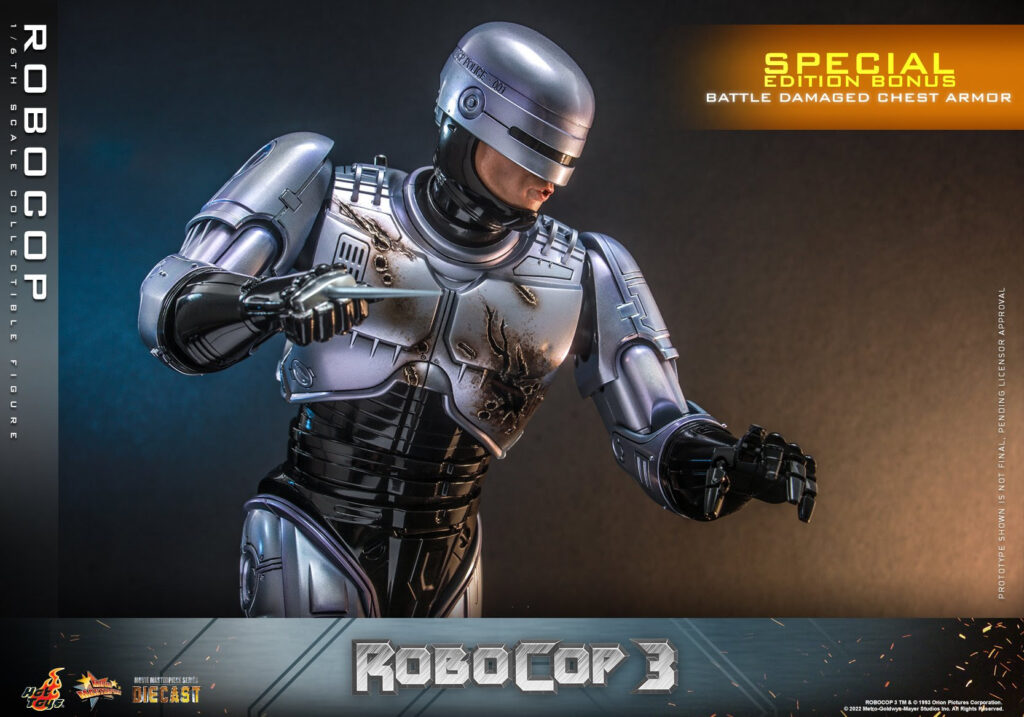 As with a good deal of Hot Toys stuff seeing recent announcement too, there's an "Exclusive" edition. Limited in availability (so go order if you want one), the Exclusive edition of the figure will have the same price tag as the standard "Collector's Edition", but will include a set of 'battle damaged' chest armor you can swap in. Pretty slick.
Priced in at $375 USD, Robocop 3 is set to ship some time in the second half of 2023. You can check him out on Sideshow Toys, here.