A nice selection of PC games round out the summer for Amazon Prime Gaming subscribers, with StarCraft Remastered, Recompile, and more.
Man I can't wait for fall
It's been a long, hot summer for most of the US, and while some of the most uncomfortable days are still ahead, it's also almost over. Yep, it's August, and that means Halloween decorations and pumpkin-flavored everything starting to show up in stores. August also brings the very beginning of the fall/Holiday video game release window.
But before we get to that, and it is definitely coming, there's the little matter of some free games. Well, there is if you're a Prime Gaming subscriber anyway. And let's be honest, if you play on a PC, that should probably be you.
This month, Amazon is handing out some pretty slick games to subscribers. They include the hip-to-hate StarCraft Remastered, as well as classic (and seldom seen) adventure title Zak McKracken, and the gorgeous Tron-like shooter Recompile.
StarCraft: Remastered – Command the mechanized Terrans, psi-powered Protoss and insectoid Zerg as they vie for map control of eight unique environments in this upgraded sci-fi strategy experience that pioneered the world of esports.
Zak McKracken and the Alien Mindbenders – In the classic point-and-click adventure game, only Zak McKracken, a reporter for the disreputable can save the day. Travel back in time to 1997 and join Zak in a world in which Space Aliens have built a stupidity machine to slowly deplete every human being's IQ to single digits.
Beasts of Maravilla Island – Embrace the role of a young wildlife photographer who traverses Maravilla Island's magical ecosystems to discover extraordinary creatures, learn their behaviors and most importantly, photograph their majesty.
Recompile – Take control of a semi-sapient program struggling against deletion in the sprawling 3D world of a Mainframe. Recompile features against intense combat, tight 3D platforming, super-powered abilities and an environmental logic-based hacking mechanic.
ScourgeBringer – Jump in to help Kyhra in this fast-paced free-moving platformer as she explores the vast unknown and slashes her way through ancient machines guarding the seal of her past and maybe the redemption of humanity.
Family Mysteries: Poisonous Promises – Plunge yourself into the world of debauched elites, alluring women and corrupted cops, while fighting for power, the ultimate currency.
Luna, DLCs and more
Of course, as subscribers know very well, there's a lot more to Prime Gaming than just a selection of monthly freebies. There's also the rotating collection of monthly games that can be streamed from Luna, and a ton of DLCs.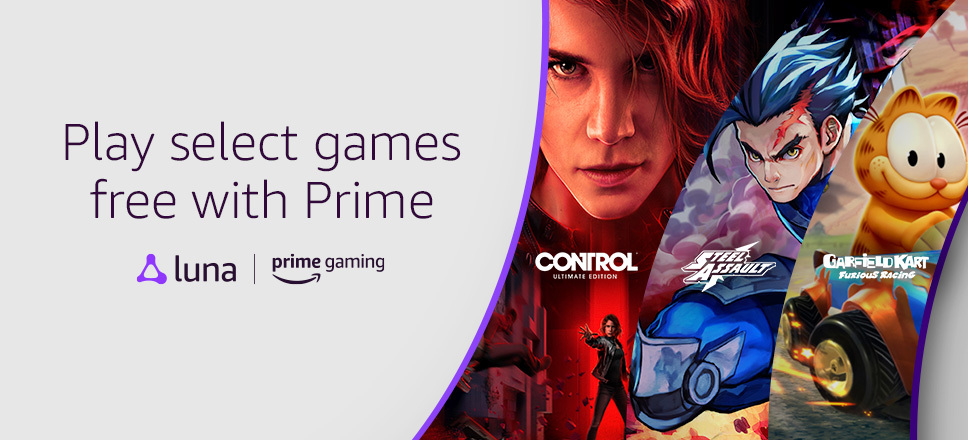 As you saw above in the trailer, the Luna offerings for August are pretty terrific. They include former Game of the Year Control's Ultimate Edition, 16bitish side-scrolling action title Steel Assault, all-time classic Myst, and the underrated Garfield Kart.
Scroll down for the full list of all the comped downloadable content.
NOW AVAILABLEApex Legends – Wraith Royal Bundle 
NOW AVAILABLEBattlefield 2042 – 1 Lis Clip Champ Skin
NOW AVAILABLEBrawlhalla – Lucien, Dark of Night Lucien, Mother of Pearl Blasters, Darkheart Shredders, Golf Clap
NOW AVAILABLEDestiny 2 – Flip out Exotic Bundle Drop
NOW AVAILABLEFIFA 22 – FIFA 22 FUTTIES Campaign 
NOW AVAILABLEHearthstone – 1 Random Standard Legendary Card
NOW AVAILABLEMadden 22 – Ultimate Legends Pack 
NOW AVAILABLEOverwatch – 3x Standard Loot Boxes
NOW AVAILABLEPokémon GO – Prime Gaming Bundle
NOW AVAILABLEPUBG: BATTLEGROUNDS – Premium Supply Pack #6
NOW AVAILABLERainbow Six Siege – 7 Day Renown Booster
NOW AVAILABLERoblox – The Void Sheep Shoulder Pet
NOW AVAILABLEUbisoft+ – One week subscription of Ubisoft+
NOW AVAILABLEWild Rift – Random Emote Chest
NOW AVAILABLEWorld of Warcraft – Crown of Eternal Winter
July 31 Last Chance to Claim Maniac Mansion, Suzerain, Fishing: North Atlantic, Fell Seal: Arbiter's Mark
August 1 Free Games With Prime – StarCraft: Remastered, Zak McKracken and the Alien Mindbenders, Beasts of Maravilla Island, Recompile, ScourgeBringer and Family Mysteries: Poisonous Promises
August 1 Amazon Luna July Prime Gaming Channel Titles – Control: Ultimate Edition, Myst, Garfield Kart and Steel Assault
August 12 Splitgate – Epic Forge Rhino Armor, Lightning 2.0 Carbine, Forge Jetpack and Legendary Ambient SMG