Valve's Steam Deck has been out for while, but you might've noticed peripherals are scarce. Enter JSAUX' lineup with dock and case.
No place like home
Do you have a Steam Deck? Valve's handheld PC is an impressive little device for sure, and it's extremely fully featured for what it is. The portable even has a desktop mode, when you plug it into a monitor. But exactly how it is that you do that, can be a little… messy.
Yes, you can pick up a dock almost anywhere, but none of them actually fit and display the Deck properly. And right now, Valve is way behind on its own first-party unit. While it has a Steam store-page, there's no word on when the delayed dock might finally make its appearance.
If you've been looking for something, then you might want to take a look at what JSAUX has out. A tech peripheral company, JSAUX has a pretty sharp looking dock of its own out right now, with ports aplenty. The new cradle has power and HDMI out (with 4K support) of course, but also has an ethernet port, and 2 USB ports. And much like Valve's own version appears to do, it props the Deck up and puts it on display.
The dock is apparently sold out presently, but more are expected to be in stock as of June 30th.
Here are the finer points:
5-in-1 Docking Station for Steam Deck. Equipped with an HDMI [email protected] output, an RJ45/Ethernet input, a USB-C port for charging, and dual USB-A 2.0 ports, letting you explore a new way to play with Steam Deck.
[email protected] HDMI Output. The Steam Deck Dock comes with a [email protected] HDMI 2.0 output. When you connect an external 4K monitor, it can provide you a sharper and smoother visual experience, so you can enjoy the visual feast on your games.
Full Charging Speed for Steam Deck. JSAUX Steam Deck docking station supports 100W Max power delivery, which is sufficient to charge your Steam Deck at full speed when paired with the original charger. [Note: the MAX charging speed of Steam Deck is 45W]
A Perfect Combination. JSAUX all-in-1 Steam Deck docking station blends Hub and stands together perfectly. You don't have to buy a regular hub and a stand base for your Steam Deck, which is not only easier for you to use, but also keeps your desktop neat and organised.
Compatibility. The Docking Station is designed for the Steam Deck, but it is also compatible with iPads and Android phones with USB-C ports.
There's also a case
It might be hard to find a dock that works for the console, but cases are another thing entirely. Personally, I haven't seen any at all, so this is a first. And given the portable nature of the Steam Deck, it's probably a good idea.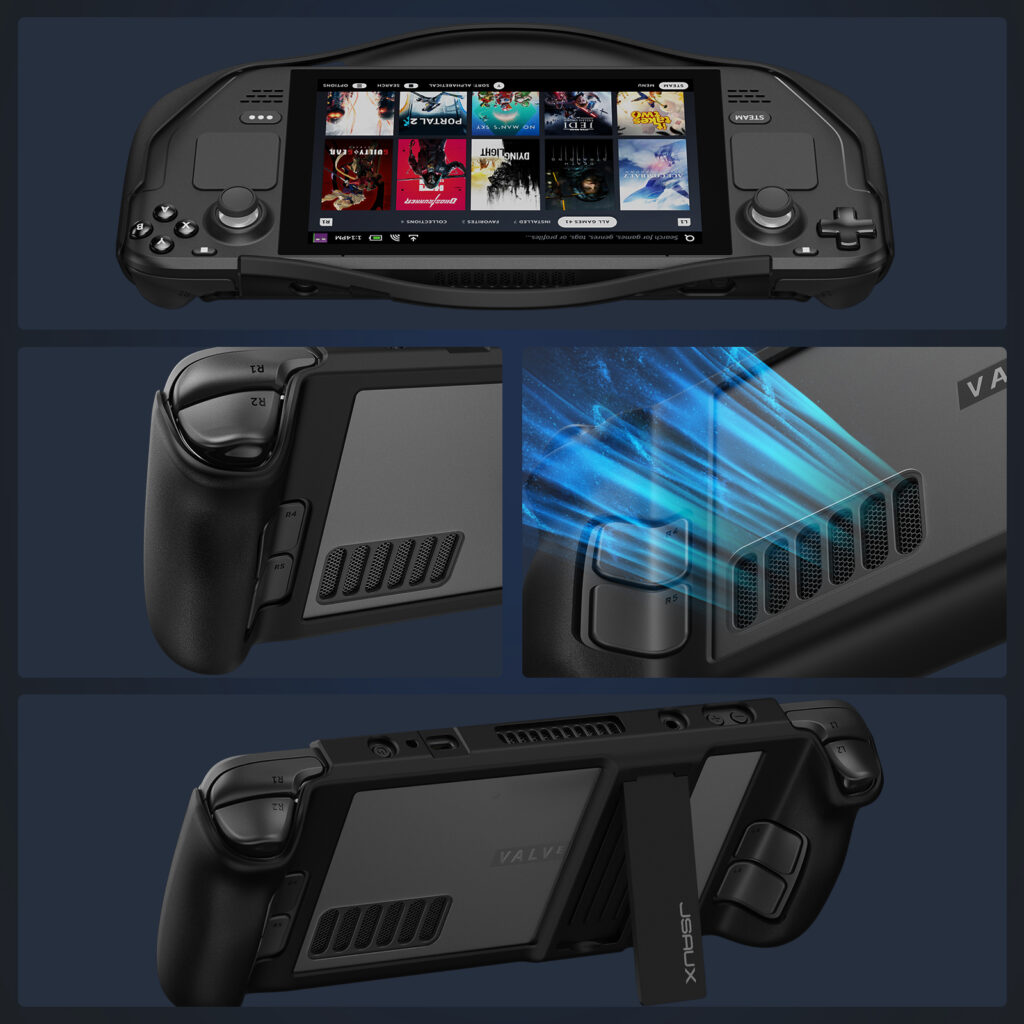 As you can see, the case has a slim design, and doesn't cover any ports. But it also has a nice little bonus, with a kickstand. Adding a little Switch-like functionality, the kickstand looks to be just the ticket for those who'd like to pair another controller and get a little tabletop action going.