There's a whole bunch of cool stuff on the horizon from Diamond Select, thanks to a new teaser from the company that's covered with big names.
Coming soon
There are a few companies in the pop culture sphere that are absolutely loaded with big name licenses, and DST is definitely one of them. This fall that will most definitely be on display too, with a series of great looking stuff heading to retail.
It all comes by way of the company's latest teaser, which is packed with Cobra Kai, Marvel, Star Wars, and loads more. Scroll down to take a look at what'll be coming along in time for the holiday season.
Cobra Kai D-Formz 3" PVC Figures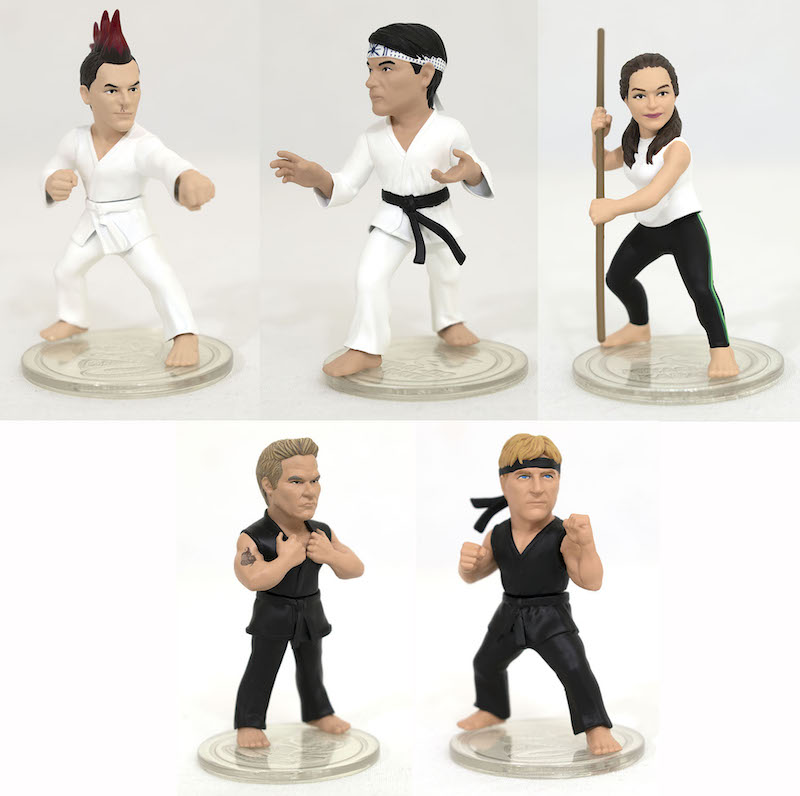 A Diamond Select Toys release! Strike first! Strike hard! No mercy! The stars of Cobra Kai just got super-cute, in the newest assortment of D-Formz! Johnny, Daniel, Kreese, Samantha and Hawk each stand approximately 3 inches tall on a flat disc base, striking poses straight out the TV show! Each figure is blind boxed, with 12 boxes in a counter display. Designed by Barry Bradfield, sculpted by Juan Pitluk! SRP: $8.99/ea.
Green Hornet Kato Deluxe Action Figure
A Diamond Select Toys release! Kato strikes! The Green Hornet's deadly sidekick leaps into action figure form as the newest Deluxe figure from Diamond Select Toys! Standing approximately 7 inches tall, this fully poseable action figure features over 16 points of articulation and includes interchangeable parts and accessories. It comes packaged in a full-color window box. Designed by Yuri Timg, sculpted by Chris Dahlberg! SRP: $24.99
Marvel TV Gallery Captain Carter PVC Diorama
A Diamond Select Toys release! The Sentinel of Liberty joins the Marvel Gallery line of dioramas! As seen in the very first episode of "Marvel's What If…?", Captain Peggy Carter charges into action in this all-new Gallery Diorama. Cast in high-quality PVC, this sculpture stands approximately 10 inches tall and features detailed sculpting and paint applications. It comes packaged in a full-color window box. Designed and sculpted by Paul Harding! SRP: $49.99
Marvel X-Men Animated Jubilee 1/7 Scale Mini-Bust
A Diamond Select Toys release! The X-Men's resident sparkler is ready to take center stage in the X-Men Animated mini-bust line! Based on her appearance in the popular 1990s animated series, Jubilation Lee wears her trademark yellow coat and sets off some fireworks in this approximately 6-inch resin mini-bust. Limited to only 3000 pieces, she comes packaged with a numbered certificate of authenticity in a full-color box. Designed by Barry Bradfield, sculpted by Paul Harding! SRP: $90.00
Marvel X-Men Animated Professor X Deluxe 1/7 Scale Mini-Bust
A Diamond Select Toys release! To me, my X-Men! The man who put the X in X-Men, Professor Charles Xavier, is now the newest 1/7 scale bust based on X-Men The Animated Series! Captured using his telepathic powers from the comfort of his famous yellow hoverchair, Professor X measures approximately 6 inches tall and features cartoon-accurate paint applications. He is limited to only 3000 pieces and comes packaged with a numbered certificate of authenticity in a full-color box. Designed by Barry Bradfield, sculpted by Paul Harding! SRP: $120.00
Marvel Select Dr Strange Movie Action Figure
A Diamond Select Toys release! By the Vishanti! The good Doctor returns, just in time for his new movie, Doctor Strange and the Multiverse of Madness! In all-new movie packaging, Dr. Stephen Strange comes back to the Marvel Select action figure line as a 7-inch figure with spellcasting accessories and a Sanctum Sanctorum base. It comes packaged in full-color Select action figure packaging. Sculpted by Gentle Giant Studios! SRP: $29.99
Marvel Select Loki Movie Action Figure
A Diamond Select Toys release! The Master of Mischief is back! In the wake of his hit self-titled TV series, Loki returns to the Marvel Select action figure line in his full regalia! This approximately 7-inch tall action figure is based on his appearance in the first Thor movie, and comes with his ceremonial staff. It comes packaged in full-color Select action figure packaging. Sculpted by Gentle Giant Studios! SRP: $29.99
Star Wars A New Hope Stormtrooper Legends in 3D ½ Scale Bust
A Gentle Giant Ltd. release! The troopers are coming! Standing approximately 10 inches tall, this ½ scale bust of a classic Stormtrooper, as seen in Star Wars: A New Hope, is the ultimate addition to any Stormtrooper collection. Featuring digitally sculpted details, it painstakingly represents the iconic armor of the Empire's soldiers. Limited to only 1000 pieces, it comes packaged with a numbered certificate of authenticity in a full-color box. SRP: $200.00
Star Wars Rebels Sabine Wren 1/7 Scale Mini-Bust
A Gentle Giant Ltd. release! The Ghost crew's resident Mandalorian tagger is now the latest animated-style mini-bust from GG Ltd.! Standing approximately 6 inches tall, this 1/7 scale mini-bust features an interchangeable head and arms, so you can show her helmeted or unhelmeted, with her spray paint or a blaster! Limited to only 3000 pieces, it comes packaged with a numbered certificate of authenticity in a full-color box. SRP: $90.00
Star Wars The Mandalorian Fennec Shand 1/6 Scale Mini-Bust
A Gentle Giant Ltd. release! Straight outta Tatooine, the chief enforcer for daimyo Boba Fett is now an all-new 7-inch mini-bust! Holding her powerful MK sniper rifle, this 1/6 scale Fennec comes with two interchangeable heads, so you can display her helmeted or unhelmeted, Limited to only 3000 pieces, it comes packaged with a numbered certificate of authenticity in a full-color box. SRP: $120.00