From the mind of creator Dave Stevens, pulp hero The Rocketeer is about to make a triumphant return, in a brand new mini-series from IDW.
40 years of daring do
It might seem like The Rocketeer has been around for a lot longer than four decades. That's tribute to the classic styling that creator Dave Stevens lent to the hero, who first appeared in 1982's Starslayer #2.
Since then, Cliff Secord (The Rocketeer's real identity) has starred in a movie and a bunch of comics. He's not been seen for a while at this point though, something that's about to change.
Thanks to publisher IDW The Rocketeer is about to feature in his own mini-series to coincide with his 40th. The book, titled "The Great Race" will spin out of the mind of one Steven Mooney, himself a big fan.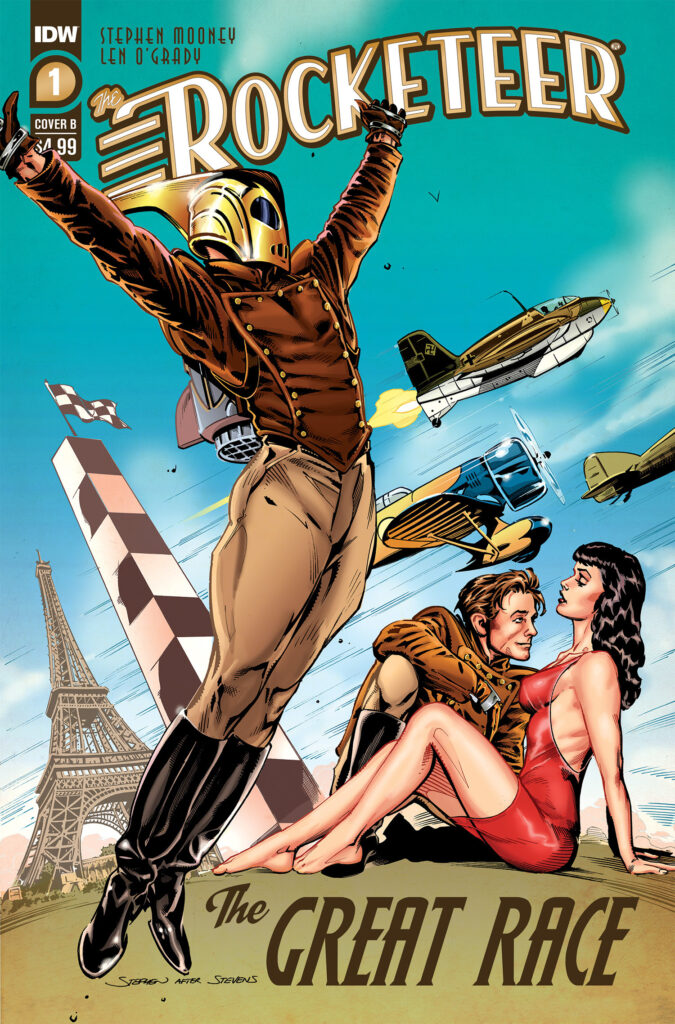 "Writing and drawing a Rocketeer book has long been somewhat of a bucket-list item for me. I grew up on Dave Stevens' unique blend of swashbuckling derring-do and pulpy adventure with Cliff, Betty, and Peevy, and those seminal issues still stand today as one of my favorite series of all time," says Mooney. "It's incredibly daunting and yet also fantastically thrilling and a real challenge. Let's take to the skies!"


In The Great Race, stunt pilot Cliff Secord returns to a West Coast steeped in paranoia over the looming war in Europe. Having finally had enough of his near-death scrapes as the high-flying Rocketeer, the only thing in Cliff's crosshairs is a prestigious, winner-take-all air race that runs from California to France! Maybe it's finally time to smarten up and fly straight… by taking his best girl Betty to Paris! But other parties want to win the race for their own nefarious ends, and Cliff will need to decide which prize is truly the most valuable of all.

IDW
He has backup too
Along with the main tale, The Rocketeer will have a backup story, though it's probably unlike any 'backup story' that you've seen featured in a comic. That's because each issue will have an "oral history" of what sounds like the career of Dave Stevens.
Stevens, who passed in 2008, will be the subject in a series of stories from "friends, family, and fellow artists". Crafting this look back, will be Kevin Mao, who is also directing an upcoming documentary on the artist.
And in addition to all of the above, IDW will also be releasing Dave Stevens' The Rocketeer Artist's Edition this April. And if you know anything about IDW's Artist's Editions, then you know they're something special. This one is actually a re-release of the originally presented book, which has been out of print for a good long time.
The publisher has dubbed the month "Rocketeer Month", as that's also the kickoff for The Great Race. So lots to look forward to this spring, for fans of high-flying action.