Straight from the hit Disney+ show, The Mandalorian, high-end collectible maker Hot Toys' has its Artillery Stormtrooper inbound for release.
Fire at will
If you watched the second season of Disney's The Mandalorian, then you know that it was a hotbed of new action figure designs. Pretty much every episode held some kind of cool new droid or alien. One of those, was definitely the Artillery Stormtrooper.
New versions of Star Wars' classic cannon-fodder are always hits, and this yellow and white-clad baddie is no different. While there are more mass market options out there, discerning Star Wars fans will definitely want to check out Hot Toys' version.
Up for pre-order via the company's retailing partner Sideshow Toys, the Artillery trooper looks like he jumped right off the screen. He's also packed with accessories, including an ammo backpack, and a mortar.
The Artillery Stormtrooper 1/6 Scale Figure features:
An authentic and detailed likeness of the Artillery Stormtrooper as seen in Star Wars: The Mandalorian
1/6 scale body with over 30 points of articulation
7 interchangeable gloved hands for a variety of display and posing options
Artillery Stormtrooper armor with yellow markings and weathering effects
One multi-textured black fabric undersuit
One yellow pauldron
One belt 
One pair of white boots
One mortar (with articulated function)
One military pack with 3 detachable detonators
One figure display stand with Star Wars logo, character nameplate, and graphic card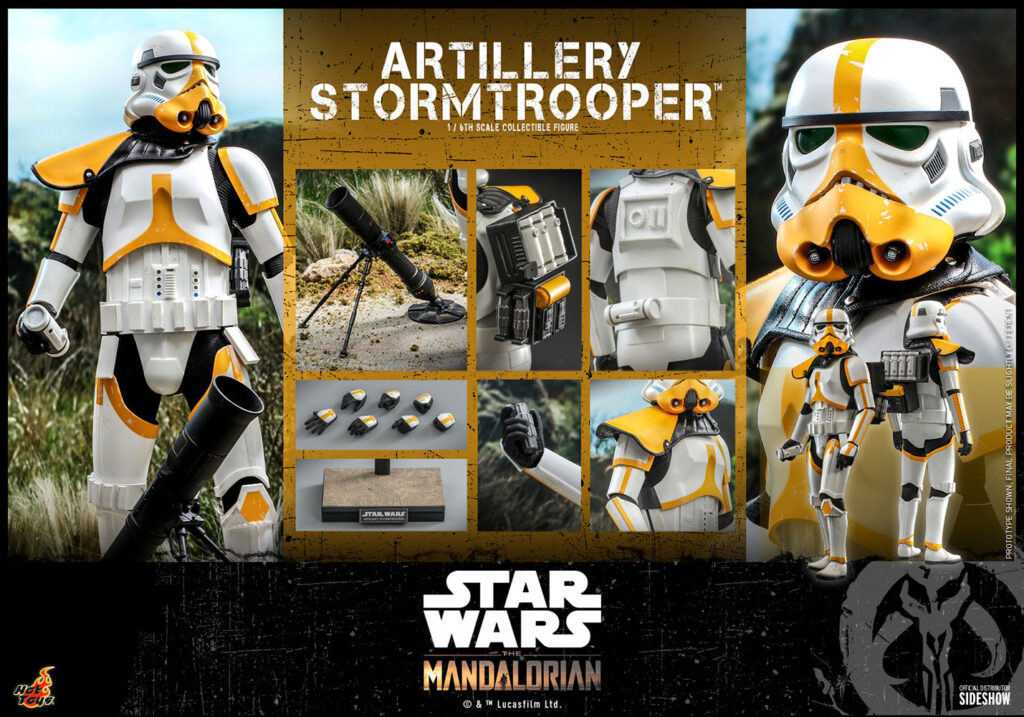 Up for pre-order via Sideshow Toys, the Artillery Stormtrooper is priced in at $220 USD. He's set to ship some time in this first quarter of 2022.