A brand new, high-end collectible is coming up for Star Trek fans from Factory, with the skull of the Borg Queen from. Star Trek: First Contact.
I am the Borg
One of the best-loved Star Trek movies of all time, Star Trek: First Contact brought the Next Generation era into theaters in an explosive way. Not only did the movie feature a ton of action, the introduction of the Enterprise-E, and the return of the Borg, but it somehow managed to successfully redefine the techno-zombie villains.
The kinds of retcons that First Contact pulled off wouldn't typically go over that well, but the introduction of a kind of living embodiment for the Collective was a hit. The Borg Queen was portrayed by actress Alice Krige, and brought some new life to the hive-minded aliens.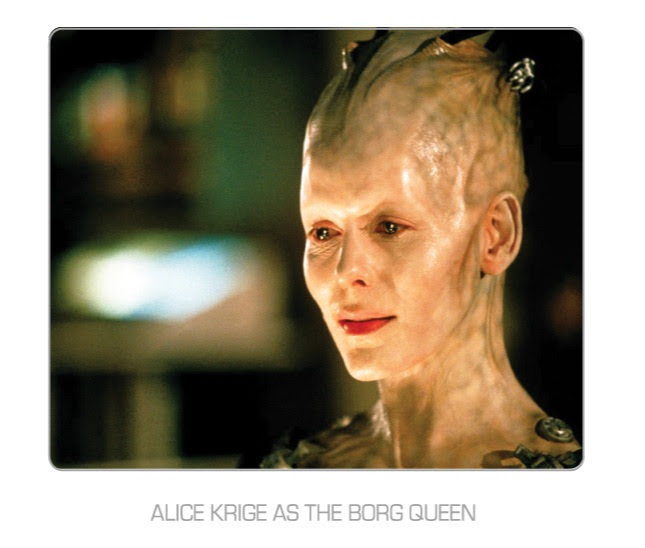 Now decades after the film hit the big screen, the villain is the subject of a brand new piece from Factory Entertainment. The Borg Queen skull replica should be instantly recognizable for anyone who's seen the movie, as it's taken right from the final moments of the story.
Actually, it's as close as you're likely to get, since the replica was forged right from the prop itself, stored in the CBS Archives.
The main body of the replica is cast from heavyweight polyurethane resin with an electroplated chrome finish. The replica is augmented by various plastic and rubber parts to match the original prop and features an articulated spinal cord. On screen the prop was presented as being heavily damaged by corrosive plasma, so each replica has been hand-weathered to lend a 'battle damaged' appearance.

Factory Entertainment

In addition to the above, the Queen's skull also has LED lighting effects, and a special effects sequence. The skull can "fade out", just like the Queen's did when she (spoiler alert) "ceased to function". The skull includes both a stand, and a signature plaque, signed by Alice Krige herself.
Set to ship out by First Contact Day 2022 (April 5th), the skull is up for pre-order right now via Factory, and priced in at $1499.99 USD. As a little extra bonus, anyone who orders before January 15th will get free shipping.