If you thought the Eagle Force revival was over and done with, you've got another thing coming. A pair of BBTS exclusive waves is up for pre-order.
A little history
Stay with me here, because there's a little bit of history to talk about when it comes to Eagle Force. Way back in `1982, the same year that a certain other military action figure debuted by the way, Eagle Force first hit toy store shelves. The line was short-lived, running only one wave, but it was undeniably cool.
With a good-guy faction in the title team and a set of bad guys called RIOT, Eagle Force had a lot going for it. It was small in scale at 3″, featured figures and vehicles, and had die-cast construction. That was and still is a rarity in action figures.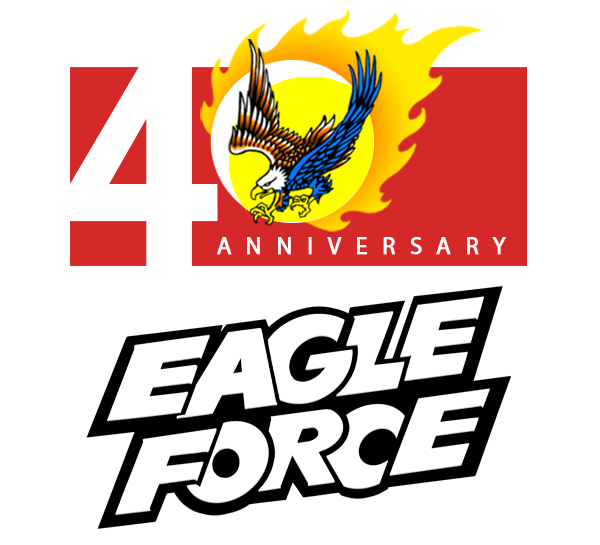 Well, fast-forward a ways to just a few years ago, and Eagle Force made its triumphant return as a Kickstarter from Fresh Monkey Fiction. The figures were bigger at 4″ (full 1:18th scale), and weren't metal, but did have a lot more in general going for them. Not only were there more characters, but they had way more articulation (14 points) and were loaded with accessories.
And now that same line is rolling onward towards some fresh offerings, courtesy of a partnership with Big Bad Toy Store. A premier online toy shop, BBTS has been around for a long time. But that said, I think this might be a first for them, as they've securied an exclusive line, and are moving it to market.
The gold is back!
The new sub-line of Eagle Force figures is dubbed Eagle Force Classics, and features the return of the original gold-suited Force. IF you're unaware, the Kickstarter (which I bought into, full disclosure) had the team updated to the modern age, with much more realistic uniforms.
This new series though, is pure throwback. Captain Eagle and his squad are garbed in shining gold unis, and will face off against the forces of Colonel Mamba and RIOT.
"Eagle Force fans have waited 40 years to relive the nostalgia of their youth," said Fresh Monkey Fiction founder Bill Murphy. "Now Fresh Monkey Fiction is bringing back many of the original Eagle Force team members in their classic gold outfits, with more modern styling and articulation. The Eagle Force 40th Anniversary Action Figures BigBadToyStore exclusive action figures feature 12 figures for the initial Eagle Force Classics assortment. Many of these figures include extra trooper heads, so fans can build out their army of Eagle Force and R.I.O.T. soldiers."

Fresh Monkey Fiction founder Bill Murphy
If you thought the original relaunched line was stocked too, you ain't seen nothing yet. The new new waves will have much more going for them, including extra heads for army building.
Figures include:
14 points of articulation.
Several accessories including extra heads, hands, weapons, and stands.
Heads, hands, weapons, and certain pieces can be easily swapped out to personalize your figures.
They are intended to blend in perfectly with other figures in the same scale that share similar themes and designs.
In total, the 2 waves are split between 12 figures, which will include:
Captain Eagle (with his trusty eagle companion), demolitions expert Sgt. Brown, the ace mechanic Harley, the sharpshooter Stryker, the evil dictator General Mamba, R.I.O.T. Saboteur Nemesis, the R.I.O.T. Shock Trooper, and Ivan the R.I.O.T. Russian arms dealer. Additional figures include Eagle Force Mega: Strike Force leader Maverick, Monster Force: Crimson Moon Legionnaires, Count Ironblood and Kiloworg troopers

Fresh Monkey Fiction
Each figure is priced in at $26.99 USD, with full waves at $159.99, and all can be found and pre-ordered here on BBTS. You'll also see a counter present on that page, which tracks unlocks as the waves accrue more orders.
Expect to see these start shipping at the tail end of 2022.