The first Star Trek set from Playmobil might be one of the very best Trek toys of all time. Check out some brand new images of the Enterprise.
To boldly go…
There are few entertainment properties that hold the cultural significance of Star Trek. From the first days of the original series, throughout the 90s Trek-boom fueled by The Next Generation, few can hold a candle to these legendary series'.
It's been a while though, since there was a good Star Trek toy line. Yes, there've been a few niche things here and there, but I mean stuff that really impresses. All of that though, might be about to change.
There's a figure line in the works from some old friends, and what looks to be one of the most stunning Trek collectibles ever from a little company called Playmobil.
Playmobil, unless you've been living under a rock, has been picking up their pop culture offerings in the last few years. They started with one-off mini-figures here and there, before getting into incredible sets patterned after Back to the Future and Ghostbusters, just to name a few.
And now, they're revealing their take on the legendary starship Enterprise.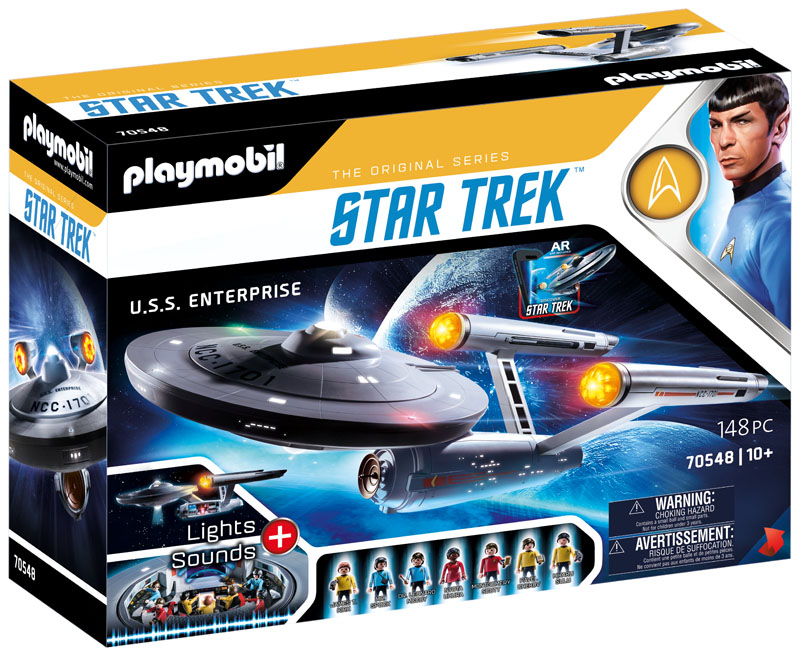 As you can see, the Enterprise has both lights and sounds, and a plethora of figures and features. It's also set to have several mounting options, and a tie-in AR app. Oh, and it's also "1-metre-long".
The first Enterprise from PLAYMOBIL
The 70548 Star Trek – U.S.S. Enterprise sees the Star Trek universe joining forces with one of Germany's iconic greats: PLAYMOBIL. For a long time now, PLAYMOBIL hasn't just been an integral part of children's play, it has also increasingly expanded to include themes that ar popular with adult fans too. This Star Trek licence cooperation, and the first PLAYMOBIL model of the Enterprise, is all about authentic details and numerous features to inspire fans: the 1-metre-long Constitution-class vessel is the pride of Starfleet, and comes with plenty of mesmerising details… but more about these will be revealed soon! The specially designed mounting will help to make sure this legendary ship is presented in the best possible way. Lights, sounds and other technical features are included alongside a unique AR tie-in app, which will expand this authentically detailed Star Trek experience much further than just the physical product. The ship comes with a total of seven crew members from the original cast, which all fit perfectly into their traditional places on the bridge. Plus, the Enterprise ship isn't the only thing that's a PLAYMOBIL first: Mr. Spock is the first figure in PLAYMOBIL history, dating all the way back to 1974, to have (Vulcan) ears!

To explore strange new worlds, to seek out new life and new civilisations, to boldly go where no one has gone before… And now, with the authentic U.S.S. Enterprise and original crew from PLAYMOBIL, there will be plenty more space adventures to come! So stay tuned, and get further information about new PLAYMOBIL releases by following PLAYMOBIL on social media!


PLAYMOBIL
Loads more detail coming soon for this one, and maybe more thereafter. It's particularly encouraging after all, to see Playmobil say this is the "first" Enterprise in their line. Could there be a Galaxy Class entry in the future? Stay tuned.