Not wasting any time diving into the new The Bad Batch series on Disney+ is Hot Toys. The high-end company is debuting the fresh line with Echo.
They're not all bad
The Bad Batch is the latest Star Wars show to debut on Disney+, and is garnering acclaim from all angles. Sort of a continuation of The Clone Wars show, The Bad Batch stars a special squad of Clone Troopers.
Action follows these misfits, each one possessing a special ability, as they forge ahead in a galaxy that's just fallen to the newly risen Empire. They're not all new characters though, as one clone is a name that fans of the Clone Wars should know well. That, of course, is Echo.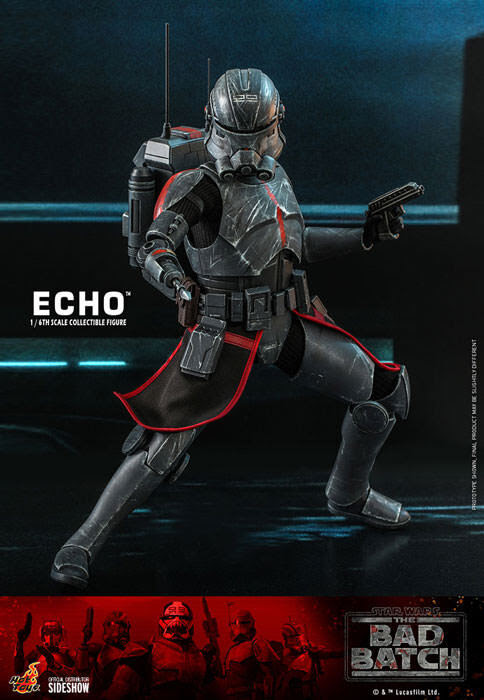 Formerly an Arc Trooper, Echo was taken captive by the Techno Union and more or less dissected. His body shattered, Echo was hooked up to all manner of equipment, with his mind used to exploit weaknesses in the Republic's battle strategies.
After being freed, he joined The Bad Batch, as a cybernetically enhanced trooper. That he's also the first figure in the new The Bad Batch line from Hot Toys.
This being Hot Toys, the figure doesn't have the animated look from the show, but has been adapted to fit in with the rest of the line. He features 29 points of articulation, a removable helmet, and multiple arm attachments.
Echo is set to ship out in spring 2022, and is priced in at $285 USD. He's up for pre-order right now via Sideshow Toys. Check him out here.