Two Sinister Sixes?! Well, kinda. There's Vulture's Savage Six, but also the one and only Sinister Six, spearheaded by the return of Doctor Octopus.
Terrible twelve
Yep, it's a whole lotta bad guys. Marvel's Spider-Man books are bout to be set upon by not one sextet of villains, but two. Though from the sound of things, they don't necessarily have their eyes set on the wall-crawler.
The two sides are at war, with Vulture heading up his Savage Six, and Doc Ock leading his classic Sinister Six. The prize is NYC's criminal underworld itself, and Spidey's in the crossfire.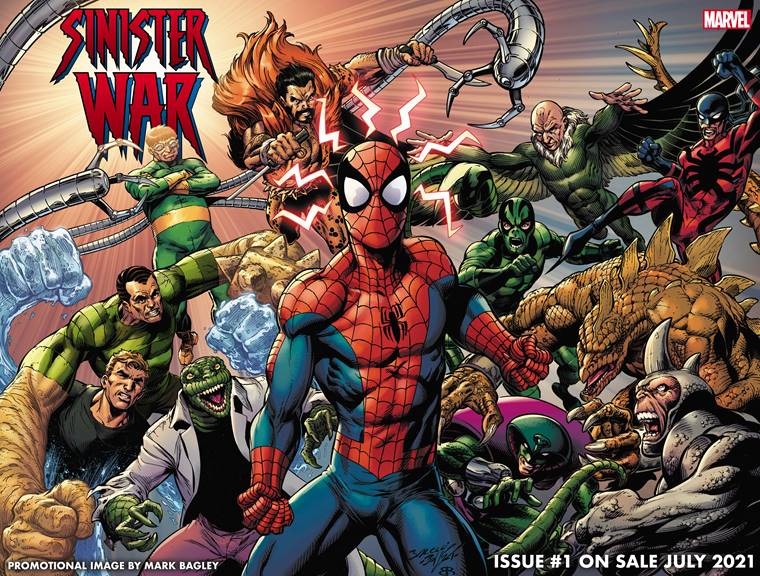 DOCTOR OCTOPUS IS BACK! AND THE SINISTER WAR HAS BEGUN!
Ock's got a new Sinister Six and if you think he's thought big in the past, think again. What Ock DOESN'T know is that the VULTURE has a sextet of his own: THE SAVAGE SIX! It's an all-out WAR between two of the greatest villains in the Marvel Universe, and the only person they hate more than each other is SPIDER-MAN! Spidey's in deep trouble with the toughest battle that he's ever faced. Nick Spencer and Mark Bagley team up for this epic Spider-Man story guaranteed to shock readers everywhere!

Marvel Comics
The above is from the press release for Sinister War #1 (of 4), which is the starting point for this villainous battle royale. It's set to hit stands on July 14th, with Nick Spencer will be taking the writing duties, along with famed Spidey artist Mark Bagley. Bags will also be providing a wraparound cover for the book, which will feature a variant cover from Brian Hitch.
After Sinister War #1, the action moves over to Amazing Spider-Man #71, which will see Kindred introduced to the fray. Spencer will also be scripting that book, with Federico Vicentini taking up the art chores. Look for cover art from Bagley there as well. ASM #71 arrives on July 21st.