The core Doom universe (multiverse?) of pre-Doom 2016 titles is being bundled in a gorgeous new set of collected editions on Limited Run Games.
Hellacious collector's editions
If you haven't noticed, Limited Run Games has been making some pretty great Doom-related stuff over the last year or so. I feel like the replica Doom Marine helmet really flew under a lot of fan's radar, but it was just one of the awesome items to go up for pre-sale. The latest, might be even better, depending on your collecting habits.
Just posted before the holiday-weekend was a selection of new collector's editions for the original Doom series. That's Doom, Doom II, and Doom 3, if you're wondering. While the games are set to be available in a 'vanilla' form (straight-up bundle of 3), there's also a few outstanding-looking collector's variations.
Both of these are available for the PS4 and Switch, so as usual there are no Microsoft-flavored versions. If you have access to those consoles though, you're gonna want to take a look at these.
From the press release:
Special Edition of DOOM: The Classics Collection features a keycard replica, DOOM disk USB, SteelBook, and more! This edition will be available for PS4 and Switch.
Premium Collector's Edition of DOOM: The Classics Collection…features everything from the Classic Edition, plus a DOOM shadowbox with lights and sound inside a premium, windowed CE box.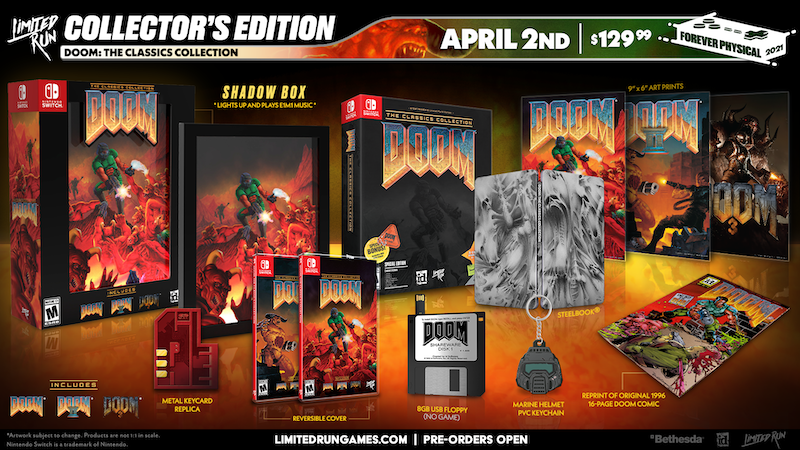 As a special note here, don't miss that the PS4 and Switch editions include differently colored keycards. So if you're a big fan, you might want one of each. Fortunately, you'll have a while to make up your mind.
While these could presumably sell-out in the meantime, these are not as limited (no pun intended) as Limited Run Games' usual offerings. LRG says that the pre-order phase will remain open for a period of 4 weeks from the initial day of sale. That was April 2nd, for those taking note.