Finally emerging from development is THQ Nordic's Biomutant. The action-tilted RPG is mutating its way to retail in May with a trio of editions.
Mutants!
Yes, Biomutant is finally set for launch. It's been a while, but THQ Nordic's role-playing title is still looking great. Actually, it might be looking better than ever, which certainly bodes well for those who've been eagerly awaiting its arrival.
If you're not familiar with the title, Biomutant is an open-world affair. An RPG with a focus on melee action, though the game's post-apocalyptic world is packed with much more. Biomutant allows gamers to actively recode their character's "genetic structure to change the way you look and play". For example, if you absorb radiation left over in "Old World" bunkers, you can gain abilities like telekinesis and levitation. And then, of course, there are mutations like "Turtleform and Mucus Bubble". Who wouldn't want to play as a mucus bubble?
In any event, the game is a long-awaited one, and is now on the way, landing at retail on May 25th for the Xbox One, PS4, and PC. But this is a pretty big release for THQ Nordic, and as such there are a few collector-y type editions to talk about.
Boxed up
Of course, there's a standard edition of Biomutant, if all you're interested in is the game. But THQ Nordic has so much more heading to stores. Aside from the aforementioned, there's also the Collector's Edition, and the massive Atomic Edition.
All of the above should be out day and date, on the 25th. Full rundowns are below.
Biomutant Collector's Edition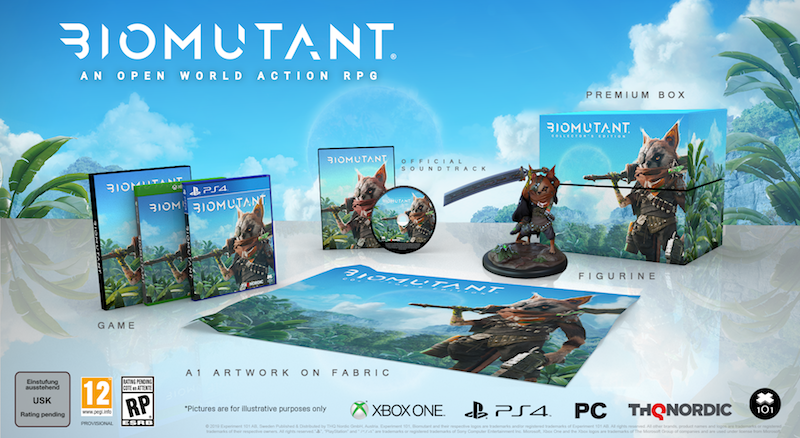 Mutate your living room! The Biomutant Collector's Edition will be available for an SRP of € 109.99 | $ 109.99 | £ 99.99 for PC and € 119.99 | $ 119.99 | £ 109.99 for consoles. The genetic code of this edition has the following sequence:
Game Biomutant
Game hero figurine
The artwork on Fabric A1 size
Soundtrack
Premium Box
Biomutant Atomic Edition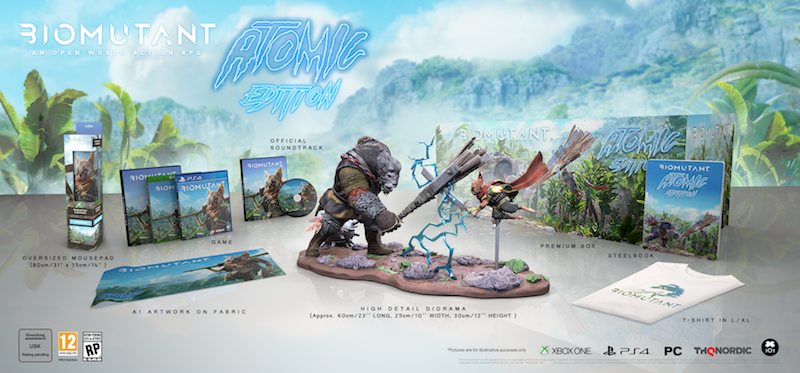 The Atomic Edition is unique at it's very core, and contains the following components:
High Detail Diorama – 60cm/23″ long, 25cm/10″ width, 30cm/12″ height
Game Biomutant
Steelbook
T-Shirt in L/XL
Oversized Mousepad 80cm/31″ x 35cm/14″
The artwork on Fabric A1 size
Soundtrack
Premium Box
The Biomutant Atomic Edition will be available at selected retailers for an SRP of € 399.99 | $ 399.99 | £ 349.99.