A calendar fitting the season, Insight Edition's lavish The Nightmare Before Christmas Advent Calendar and Pop-Up Book is fantastic fun.
A true classic
So, for starters, this review got lost in our system. That does happen on occasion, though it's particularly aggravating in this case since the NBX Advent Calendar is a time-sensitive product.
It's Christmas-Time after all. But be that as it may, there's still plenty of time to enjoy what's a terrifically made and designed book.
The title though, is something of a misnomer. I probably wouldn't call this a "popup book" really, since there's really only one popup. Nevertheless, it's a great keepsake for fans of the property, and just a plain old fun time for someone looking to pickup what's a pretty unique Advent calendar.
A film-classic, a holiday tradition
If you celebrate Christmas, then chances are you have done an Advent… something, be it a wreath or a calendar. For the uninitiated, the religious tradition involves counting down the days until the Christmas holiday.
Yes, it is a religious event, however it's one that has had plenty of more pop-culture-y translations. Most have little gifts or candies for each day that passes. One of the latest of those is this book right here. Though where most others have amounted to little more than cardboard sheets with cubbies built-in, publisher Insight Edition's book is much, much cooler.
The book plays off of the classic Halloween/Christmas tale, Tim Burton's The Nightmare Before Christmas. And it does that in what might be the coolest way possible, with a popup tree and a spread of familiar Halloweentown denizens to hang on it.
A tree grows in a book
When you open up The Nightmare Before Christmas Advent Calendar and Pop-Up Book, you're met with a tree. No really, a tree pops right up out of the book's center.
Obviously, that's where the 'popup' comes in. It's a cool one too, and fitting of the property. But, as I mentioned above, this is the only popup element that this book offers. But that's okay because the tree itself is pretty great, and of course serves a purpose.
Beneath the tree, is a huge illustration that features the whole NBX cast. It's beautifully done, and presents a nicely detailed base for the main event. Speaking of, the base is also where you'll find the familiar doors that are present on almost every Advent Calendar. These are numbered for the days of Advent, popping open to reveal small cardboard ornaments.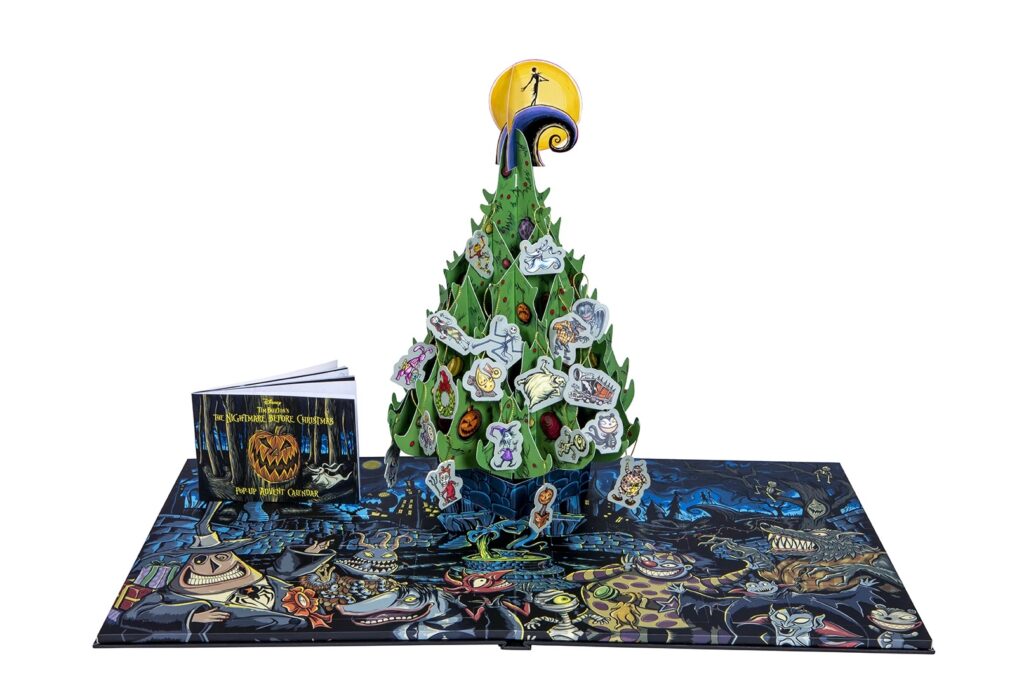 Featuring the images of different Nightmare characters, the ornaments are meant to be hung on the tree. And by the time the season wraps up, you'll have a fully decorated one, with loads of recognizable heroes and villains and monsters from the film adorning it.
Of course, what you do with it at that point is up to you. It certainly could be used in a NBX display, or simply stowed and placed on a bookshelf for next year. It's darn good looking, even in spine-out book form.
Building a holiday
The Nightmare Before Christmas Advent Calendar and Pop-Up Book doesn't have pages exactly, since there's only one that it'll open to. That the tree hy the way, if you weren't paying attention before.
That tree though, is nice and sturdy. It'll take the decorations without wilting and flopping over. Likewise the doors that hold the character ornaments are incredibly strong for what they are. As long as you open them carefully, they should easily be able to withstand the same action for a few years of use.
I should mention that there's also a small book included here. Yes, it's a book within a book. It's not a deep volume by any means at 28 pages, but is a cool little extra for sure. Inside of it is a look at each ornament, and who each character is, as well as some bits about Halloweentown itself.
Overall
I feel like I'm saying this a lot lately, but Insight Edition's The Nightmare Before Christmas Advent Calendar and Pop-Up Book is a bit of a niche item. I don't say that referring to the content, since Nightmare is still a pretty big pop culture phenomenon. But it's an Advent Calendar, and that in and of itself kind of limits its appeal.
If you do personally fit all of the above criteria though, then this is something that you should think about picking up. The artwork is excellent, the popup and everything else really is very well made, and the whole thing is undeniably fun.
Even thought this is publishing late, we're also just going into week 2 of December. So there's still plenty of time to grab this beauty for your collection.
A sample of this book was provided by Insight Editions for review
The Nightmare Before Christmas Advent Calendar and Pop-Up Book
Release date: September 29th, 2020
Publisher: Insight Editions
MSRP: $29.99 USD
Crrrrrrrristmastime!
Premise - 90%
Art and makeup - 90%
Build quality - 97%
Insight Edition's Nightmare Before Christmas Advent Calendar and Popup Book might be as close to a necessary purchase for NBX fans as you can get. I mean, it's an Advent Calendar... with Nightmare Before Christmas branding. Oh, and it's incredibly well made and beautiful too. Makes it all that much better.