The new Lord of the Rings Select line from Diamond Select Toys is rolling towards 2021, with a wave that includes Frodo himself and a deadly Nazgul.
Middle-earth continues
Based on the movies, Diamond Select announced their own take on the iconic characters of The Lord of the Rings at Toy Fair this year. A part of the "Select" series' of figures from the company, The Lord of the Rings Select line is set to offer up movie-accurate figures of some of the greatest fantasy characters of all time.
Not only that, but it's been entirely too long since there've been any kind of toys based on LotR. The Hobbit films had a line that fit in with the previously released Toy Biz figures from the first trilogy, but that's been it. Well, till now anyway.
Lord of the Rings Select looks like it might be a winner too, with large 7″scale figures sporting plenty of articulation. Wave 1 isn't yet available, but counts Gimli and Legolas on its roster. And wave 2? That'd be Mister Frodo himself, complete with the One Ring, and a Ringwraith. Actually, there's kind of. third figure too, since collecting all of these mean you get to build the evil dark lord Sauron. A BaF in LotR? Yep.
Here's your official rundown:
Lord of the Rings Deluxe Action Figures Series 2 Asst.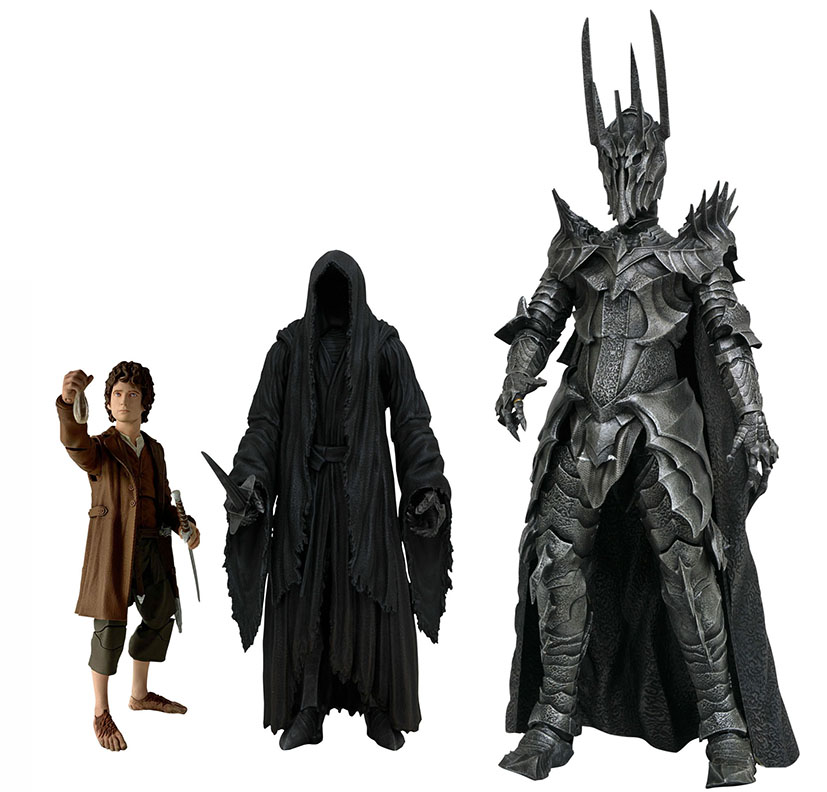 A Diamond Select Toys release! Form the Fellowship! Add the Hobbit that started it all to your 7-inch Lord of the Rings collection with this highly anticipated release! Featuring movie likeness, this approximately 4-inch figure shares the series with a 7-inch Nazgul/Ringwraith! Each includes character-appropriate accessories, as well as 16 points of articulation, and each comes with a part of the 13-inch Sauron build-a-figure! Each figure comes packaged in a full-color window box with hangtag. Designed by Yuri Tming and Eamon O'Donoghue, sculpted by Gentle Giant Studios. SRP: $29.99 each