WWE 2K Battlegrounds trends more towards the fighting game end of the genre pool than the grappling. But that's not necessarily a bad thing.
Ring the bell
Wrestling games have had an interesting trip through the annals of video-gamedom. Starting out way back in the NES days, the very first WWE (then WWF) title was much more like a fighting game, complete with power-ups.
Outside of a few outliers though, they've drifted exclusively in the other direction since. Each year's iteration tries a little harder to be more like the real thing, complete with hyper-realistic arenas, wrestlers, and moves. That's until this year anyway, when the main brand was shelved by publisher 2K.
The response to WWE 2K20 was the cause of that, with the game accruing plenty of derision from fans, and for a myriad of issues. But with their sim on the bench till 2021, what would 2K put out for wrestling fans to dig into this year? Of course, that's where WWE 2K Battlegrounds comes in.
Battlegrounds takes the wrestling formula back to it's very beginning, melding that with a simpler, fast-paced, arcade-y feel. So does that work? Well… sorta.
Premise
What if you took one of 2K's WWE games, and then infused over the top, insane moves, super-deformed character models, wild arenas, and crazy special effects? You'd get Battlegrounds, that's what. Yes, Battlegrounds is still a wrestling game at its core, but it's one that plays fast and loose with the formula.
The game sets players on a quest to become a WWE superstar. But unlike previous wrestling games, Battlegrounds doesn't allow you to pick to play as a current or past 'star, or a created one. Instead, the game sets you to task as pre-made original characters. For the most part, these wannabe-grapplers are pretty dull and basic, but then so's the story.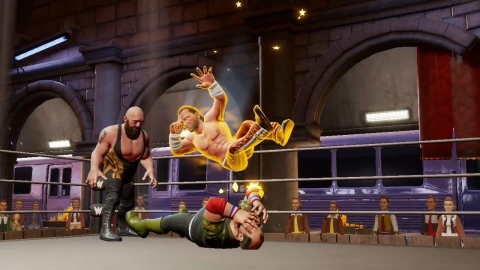 The narrative in the campaign plays out in comic book style panels, between matches. That might sound unique, and it is, but it's also not that well done. The story also would make little sense to a WWE fan who purely takes in the on-screen action, and doesn't care much for backstage reality. Stone Cold Steve Austin considers Paul Heyman his good buddy? Yeah maybe in real life, but when was that on WWE TV?
Still, even with all of that, the story mode isn't without its charms. There are some legit funny moments like a goofball Jake Roberts living with snakes in a swamp, and carrying on conversations with them. And if nothing else, it forces players to actually try multiple match types. That's something that you have to do if you want to unlock most of what the game stocks.
It's also pretty fun because of something else, that being the gameplay.
Gameplay
So, yeah, this isn't a pure wrestling game. And even the faster-paced wrestling titles of the past can't hold a candle to the changes that Battlegrounds puts into effect. It's probably best described as a mashup of the wrestling and fighting genres.
Battlegrounds does have wrestling moves, though characters don't have tons of them. The limited repertoire is, I presume, to keep things moving at a fast clip and not mired in lots of technical and potentially drawn-out moves. It's up to you whether or not that appeals.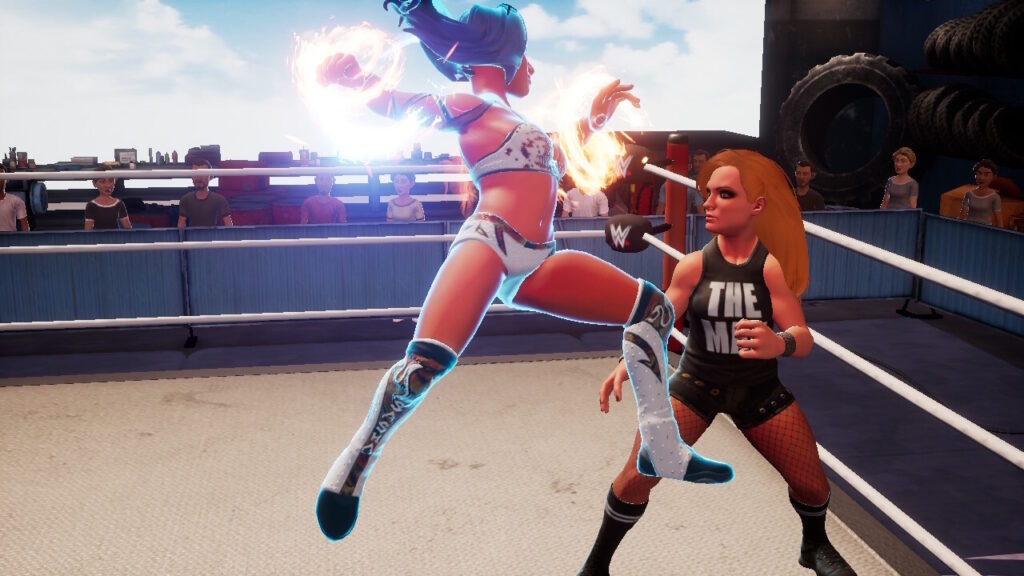 For me, I could see quite a bit of fun in it. Holds and throws are supplemented with punches and kicks, stage-specific moves, as well as finishers surrounded with special effects. Not all of the above seem to fit the wrestlers they're assigned to, but I'm guessing that's in line with the thinking behind the game in general. It's crazy and off the wall.
As mentioned above as well, there are several modes of play. Those include singles and tag, Royal Rumbles, triple threats, and Steel Cage matches. Each one has all the trappings of the real-life versions, though some have odd enhancements. Particularly included in that statement are the Steel Cage matches. They have a weird gimmick that sees players collecting bags of cash in order to escape. It's incredibly strange, but honestly fun as well.
Presentation
This might be the most divisive part of Battlegrounds. And I say that with all of what I just mentioned in mind. It's mainly because the character models look like a mixture of the aesthetics of Celebrity Deathmatch and the form factor of the classic Hasbro WWE action figures. Remember the ones? The cool little ones with the action features? Yeah, those.
Honestly, it kind of works. It's radically different for sure, but it grew on me pretty fast, and I really like the more cartoony feel that developer Saber Interactive was going for. I'd love to see more franchises take risks like this one, trying something new. Yeah you might lose some of the fans, but you just might make some new ones and find yourself with a new supplement to go along with your 'main event' game.
Aside from the actual wrestlers, the stages are also affected by the look. Ever thought about having a match in the middle of a swamp, complete with the waiting jaws of nearby gators to throw your opponents into? Well if you have (and you might have issues if you have), then you're going to love what Battlegrounds allows.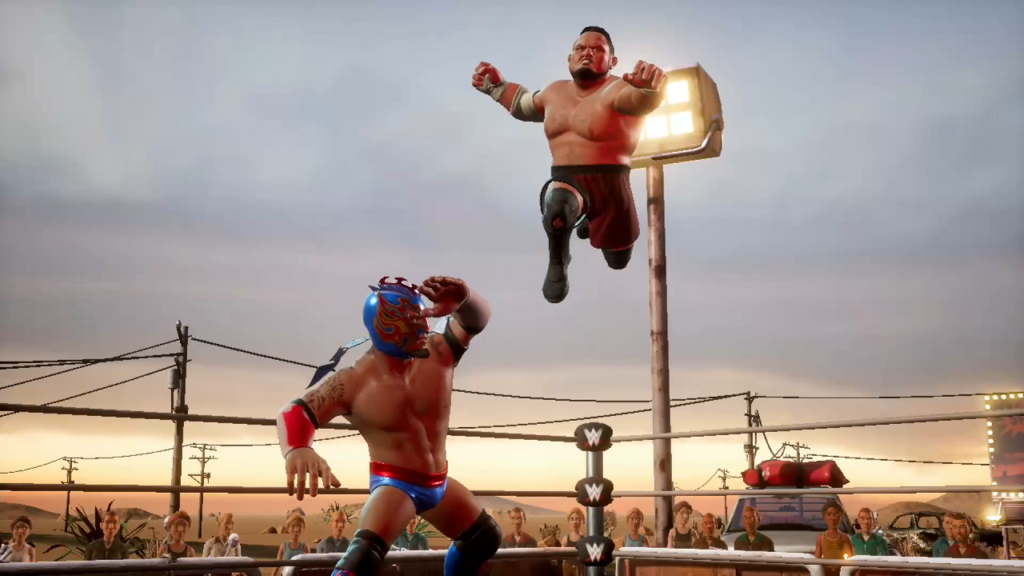 Overall too, the graphics are smooth and animations look nice. Also the announce team is solid, with Jerry Lawler and Mauro Ranallo. Ranallo was after my time with the brand, but seems solid and Lawler is an all-time great. I will say that an exception are the entrances, which are not good. Your wrestler drops in and just kind of does some gesticulations in the entryway, without actually making his or her way to the ring. Meh.
Finally, I saved the create-a-wrestler feature for this category and I did it for a reason. It's massively disappointing in its lack of options. Yes, you can unlock things as you play. But even so, when you start you have so little room to make anyone that has any kind of flair (pardon the pun, because you can't make a good Flair either) that it becomes an afterthought. I tried to make a few personal creations that I always plug into a new wrestling game, and flat-out couldn't. The options are too limited.
Maybe it's cool to get a create feature at all in a game like this one. But I think it'd honestly have been better to not get one at all if it was going to be this shoddy.
Overall
Are you a wrestling fan who's not a stickler about realism? Do you have some friends to fire up some multiplayer with? Do you like fighting games? If so, then you might like what WWE 2K Battlegrounds has cooked up quite a bit.
The game is an acquired taste though. It's not that much fun to play solo, and matches here are more fast and button-mashy than you might like. That's plus the fact that the campaign is a groaner.
But overall, Battlegrounds is a solid first effort in what might be a promising series under 2K's WWE banner. But while I say that, I certainly wouldn't want to see it replace the publisher's more traditional set of games.
WWE 2K Battlegrounds
Release date: September 18th, 2020
Platform(s): Xbox One (reviewed), PS4, Switch, PC, Stadia
Publisher: 2K
Developer: Saber Interactive
MSRP: $39.99 USD
Piledriver
Premise - 65%
Gameplay - 77%
Presentation - 80%
WWE 2K Battlegrounds is a decent time, and a radical departure for wrestling games in general. Gone is the simulation-feel of the standard "2K" series, and in its place is a wild, over the top wrestling/fighting game hybrid. Yeah, the campaign might be a cringe-fest, but with good graphics and fast-paced, relatively fun fights, it's a good enough time to hold interest... at least until WWE 2K22.