Diamond Selects offerings for this week include a bit from each of their biggest licenses. That includes The Mandalorian, Bane, and Black Panther.
Busts, PVC dio's and more
Well this is actually a pretty big week for DST, who've got a nice selection of stuff hitting specialty and online stores. Quite a bit of the slate is made up of statues, dioramas, and busts, though there is one action figure as well.
Marvel Select's The Thing gets a reissue, and if you know that figure at all, then you know it's worth a look if you don't have it already. It's one big chunk of plastic.
Oh, special note too for that Stay-Puft Marshmallow Man bust. It's massive. At 10″ tall it's actually half-human scale, and pretty impressive sounding. So if you're a 'Busters fan, make sure you have a look at that as well.
Here's what's new:
DC Comic Gallery '90s Catwoman PVC Diorama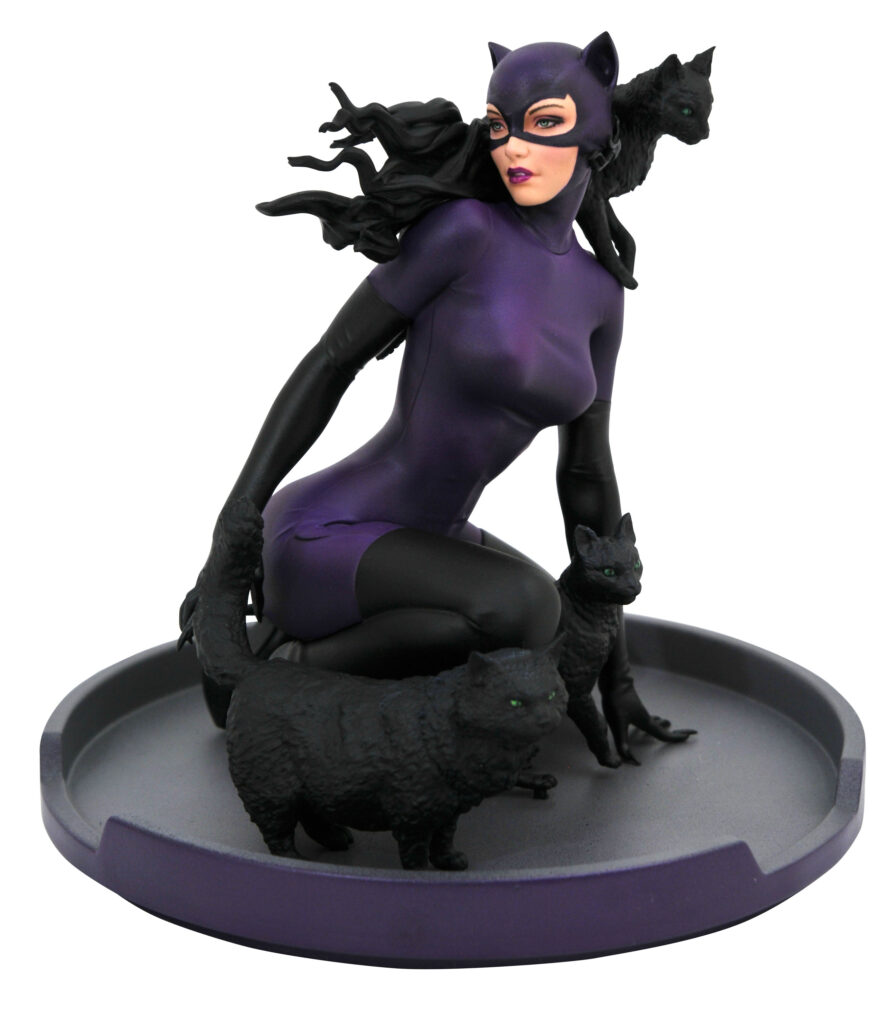 A Diamond Select Toys Release! The 1990s were spectacular, and one of the many spectacular things about that decade was Catwoman's costume! With her long black hair and purple leotard, Catwoman leaps straight off of the comic page and into a cluster of cats in this all-new Gallery Diorama. Measuring approximately 6" tall, this PVC diorama features detailed sculpting and paint applications and comes packaged in a full-color window box. Designed by Shawn Knapp, sculpted by James Marsano. (ITEM #APR202648, SRP: $49.99)
DC Comic Gallery Diorama Bane PVC 
A Diamond Select Toys release! The Venom-infused super-villain is coming for Batman, and he's doing it in the Gallery Diorama line! This approximately 9-inch PVC diorama of Bane depicts the muscle-bound misanthrope clutching Batman's cowl in one hand, with his Venom tube snaking down the other. Made of high-quality PVC, it features detailed sculpting and paint applications and comes packaged in a full-color window box. Designed by Caesar, sculpted by Alterton. (Item #JAN202452, SRP: $49.99)
DC TV Premier Collection Justice League Superman Statue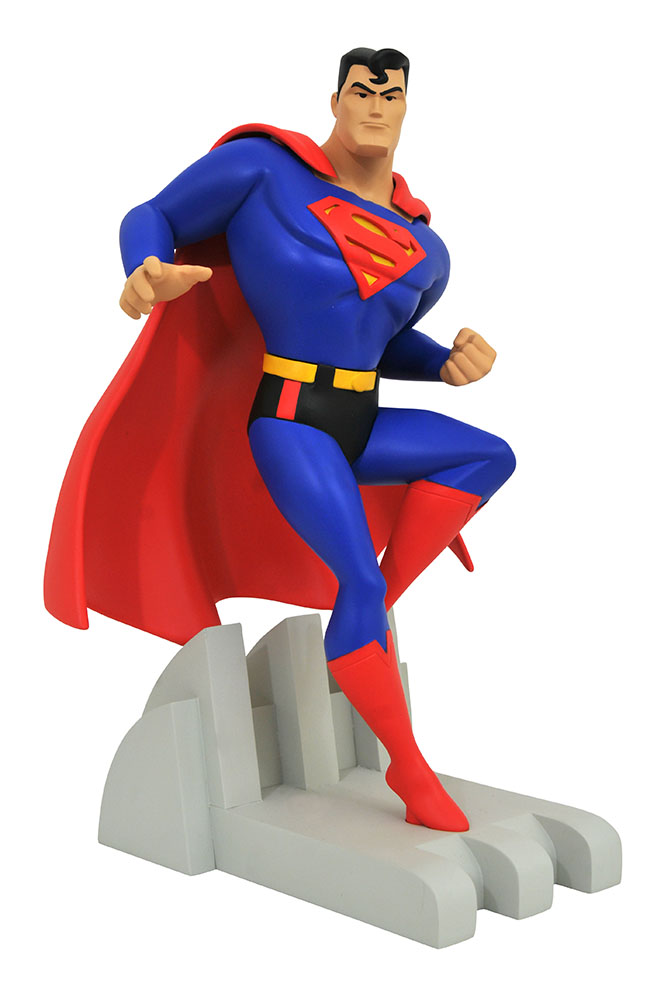 A Diamond Select Toys release! The epic trinity of Justice League resin statues continues with the Man of Steel! Measuring approximately 12 inches tall, this animated-style statue depicts Superman hovering over a white architectural base and is limited to only 3,000 pieces. It comes packaged in a full-color box with a numbered certificate of authenticity. Displays with Batman, available now, and Wonder Woman, coming soon! Designed by Barry Bradfield, sculpted by Varner Studios. (Item #JAN202451, SRP: $150.00)
Legends in 3D Movie Ghostbusters Mr. Stay-Puft Half-Scale Bust
A Diamond Select Toys release! That's a big Marshmallow Man! The Villain of the original Ghostbusters film gets captured in his largest scale ever, with this approximately 10-inch resin bust! Sculpted in half-human-scale, this portrait features detailed sculpting and paint applications, and comes packaged in a full-color, hand-numbered box. Limited to only 1,000 pieces! Designed by Joe Allard, sculpted by Rocco Tartamella. (Item #FEB202405, SRP: $175.00)
Marvel Comic Gallery Mysterio PVC Diorama
A Diamond Select Toys release! Is it real or is it Gallery?! We don't need hypnosis to convince you that this diorama of Mysterio, master of illusion, is an amazing installment in the Marvel Gallery line! Depicting the Spider-Man foe rising out of a cloud of green smoke, this approximately 9-inch sculpture is made from high-grade PVC and features detailed sculpting and paint details. Packaged in a full-color window box. Designed by Caesar, sculpted by Alterton. Formerly a GameStop exclusive.  (Item #MAR202629, SRP: $49.99)
Marvel Comic Gallery Taskmaster PVC Diorama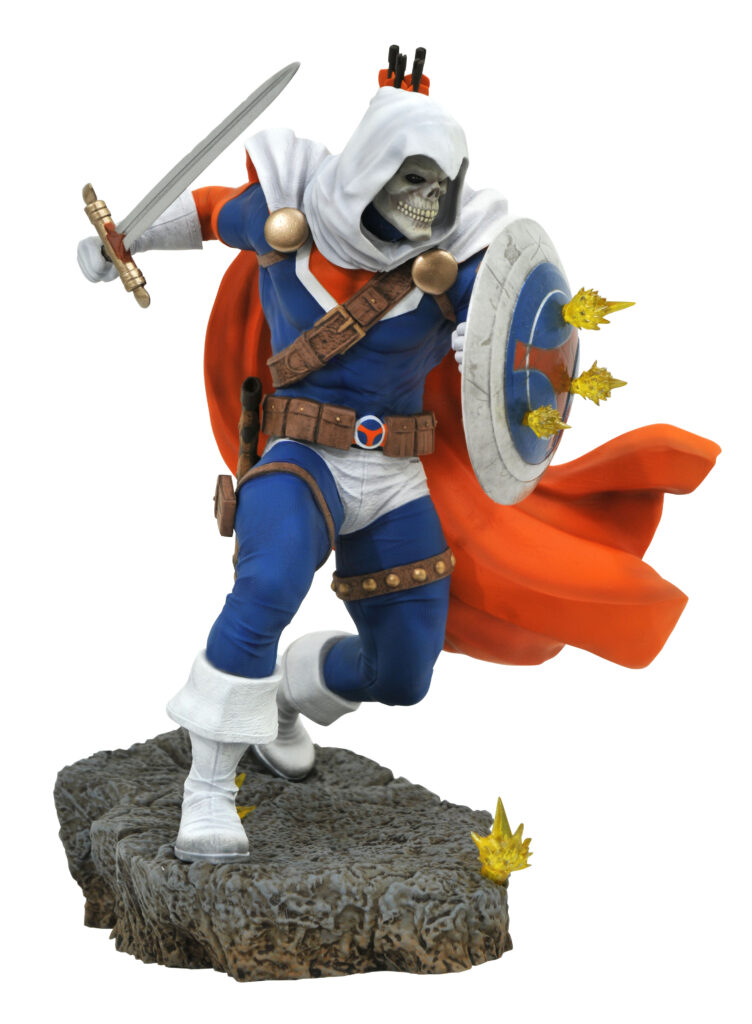 A Diamond Select Toys Release! The ultimate opponent is now the ultimate Marvel Gallery Diorama! Famous for his ability to mimic people's fighting styles and soon to appear in the Black Widow movie, Taskmaster wields his sword and shield in this approximately 9-inch sculpture. Cast in high-quality PVC, it features detailed sculpting and paint applications, and comes packaged in a full-color window box. (ITEM #APR202654, SRP: $49.99) 
Marvel Comic Premier Collection Black Panther Statue
A Diamond Select Toys release! The Black Panther strikes a pose amid the greenery of Wakanda in this elegant statue. Measuring approximately 11 inches tall, this piece is made of high-quality resin and features detailed sculpting and paint applications. It is limited to 3,000 pieces and comes packaged in a full-color box with a hand-numbered certificate of authenticity. Hand-sculpted by Clayburn Moore. (Item #JAN202456, SRP: $150.00)
Marvel Movie Gallery Captain Marvel Binary PVC Diorama 
A Diamond Select Toys release! Captain Marvel goes higher, faster and farther in this new Marvel Gallery PVC Diorama! The star of the Captain Marvel movie hovers above the ground and glows with binary power in this approximately 11-inch sculpture. Featuring detailed sculpting and paint, and cast in high-quality PVC, the diorama comes packaged in a full-color window box. Sculpted by Gentle Giant Studios. Formerly a GameStop exclusive. (Item #MAR202630, SRP: $49.99)
Marvel Select Thing Action Figure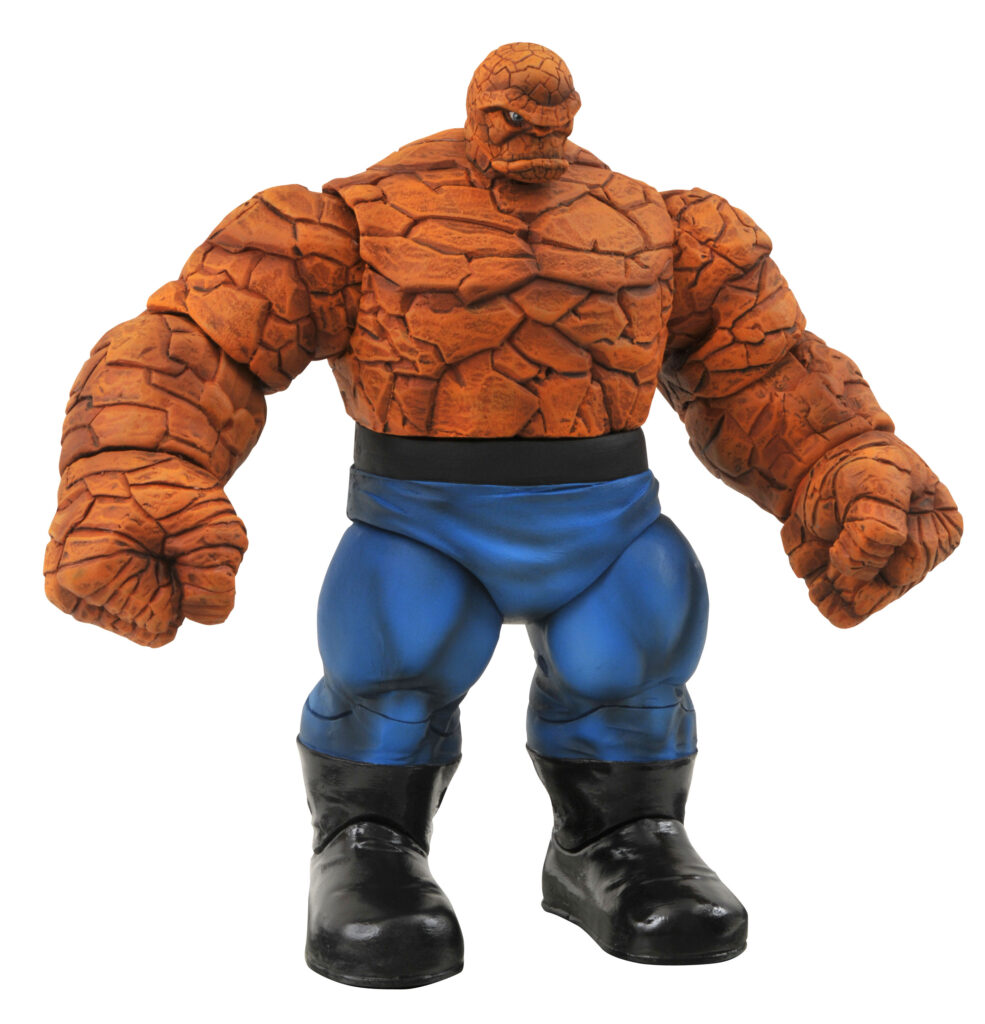 A Diamond Select Toys release! It's clobberin' time again! The ever-lovin', blue-eyed Thing is back in the Marvel Select line, in one of the most hotly demanded re-releases the line has seen! Measuring over 8 inches tall, this massive action figure features 14 points of articulation, and features detailed sculpting and paint applications. It comes packaged in display-ready Select packaging, with side-panel artwork for shelf reference. Sculpted by Digger. (Item #AUG202102, SRP: $29.99
Star Wars™: The Rise of Skywalker Sith Trooper 1/6 Scale Mini-Bust
A Gentle Giant Ltd. release! Star Wars: The Rise of Skywalker has come! The new Star Wars movie introduced the world to Sith Troopers, with their distinctive red armor, and this new mini-bust depicts one wielding a matching blaster rifle. Measuring approximately 6 inches tall, this 1/6 scale bust features detailed sculpting and paint applications and comes packaged in a full-color box with a numbered certificate of authenticity. Designed by Joe Allard, sculpted by Gentle Giant Studios. (Item #FEB202400, SRP: $120.00)
The Mandalorian™ The Mandalorian 1/6 Scale Mini-Bust
A Gentle Giant Ltd. release! People can't stop talking about The Mandalorian on Disney+, and now the highly requested mini-bust is here! Measuring approximately 6 inches tall, this 1/6 scale bust depicts the bounty hunter with blaster and flamethrower at the ready, and features detailed sculpting and paint applications. Bust comes packaged in a full-color box with a numbered certificate of authenticity. Designed by Joe Allard, sculpted by Gentle Giant Studios. (Item #FEB202399, SRP: $120.00)
The Mandalorian™ The Mandalorian (Beskar Armor) 1/6 Scale Mini-Bust
A Gentle Giant Ltd. release! The Mandalorian gets an upgrade in this all-new bust of him in his Beskar-metal armor! Measuring approximately 7 inches tall at 1.6 scale, this piece is a must-have for any fan of the Disney+ TV show. Limited to only 3,000 pieces, it comes packaged in a full-color box with a numbered certificate of authenticity. A Gentle Giant Ltd. release! (Item #DEC198807, SRP: $120.00)