The big X-Men event for 2020 is almost here. The off-the-wall premise sets Marvel's mutants up against a new force of enemies, with swords drawn.
"I'm consistently thrilled to see X-Men characters with swords and goblets, alongside dragons and things," Excalibur and X of Swords: Creation writer Tini Howard told SYFY Wire in a recent interview. "It's really unexpected, but so fun. These are fantastic heroes and they do fantastic things. Yes, it is super rad to see the X-Men with swords. Thank you all for understanding that."

Excalibur and X of Swords: Creation writer Tini Howard
So, yeah. X of Swords sounds like it might be one of the wilder X-events to hit Marvel's comic book U, maybe ever. It's ramping up as well, with only a few days to go before the first issues land on stands.
And yes, those include crossover issues and lots of them. Marvel is making a point of saying this will be a comic book event that's very much in the style of the classics when it comes to those.
As for the event itself, much of it is still a mystery. We know that it involves a 10 pack of "heroes", each one armed with a sword. And we also know that they have to use those blades to defend their new nation of Krakoa against some kind of otherworldly threat.
Check out the official synopsis below, along with artist Pepe Larraz' key art, just revealed.
Unsheathed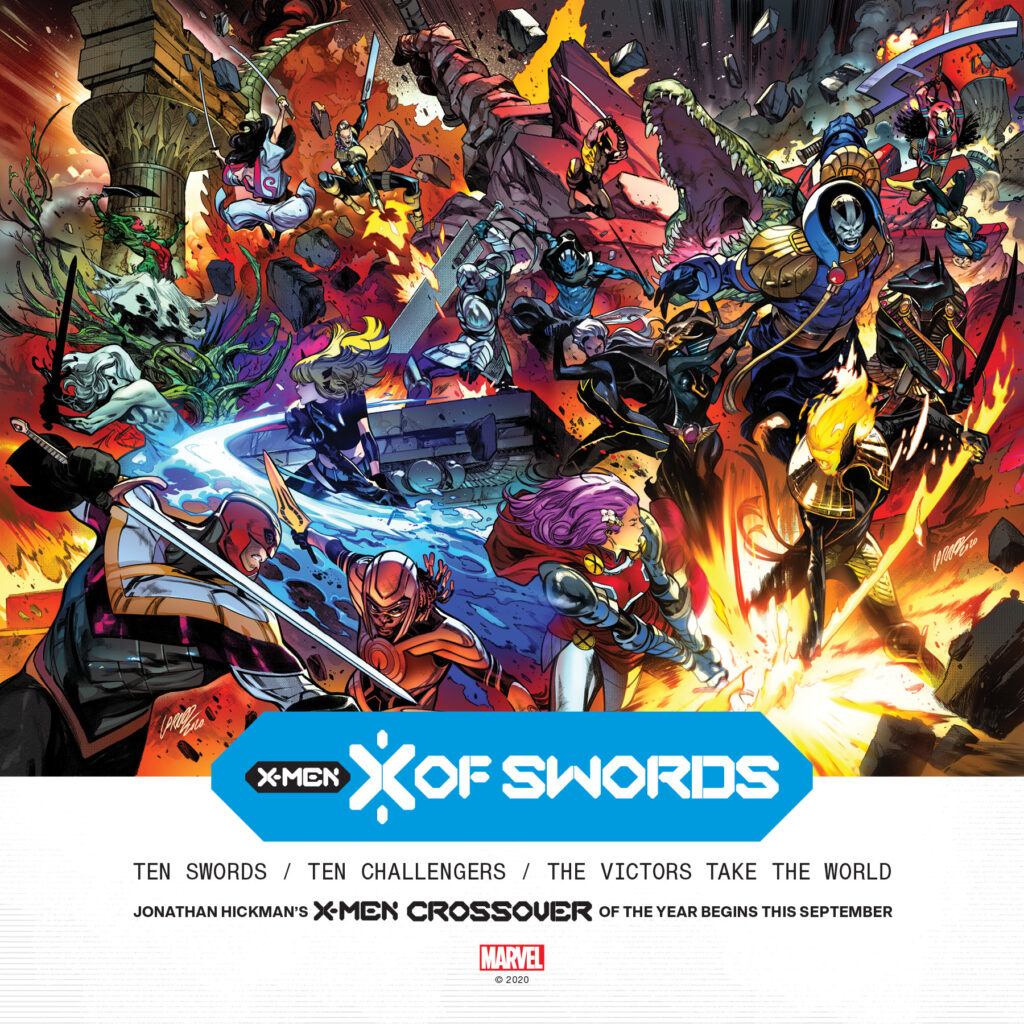 The dark history of Arakko will soon be revealed, and when it is, the very future of mutankind will be at stake. Now, witness the cataclysmic showdown between the sword bearers of Arakko and the ten mutants who will stand up to defend the new mutant nation of Krakoa in Pepe Larraz's breathtaking key art for X OF SWORDS. This fateful clash and many others are what await readers in this crossover epic written by Jonathan Hickman, Tini Howard, and all the current writers of your favorite X-Men titles. The next chapter in Hickman's bold reshaping of the X-Men that began in House of X, this story will stand alongside influential X-Men crossovers like The Mutant Massacre and Messiah CompleX. The victories will be legendary, the losses will be heartbreaking, and the revelations will send shockwaves throughout the Marvel Universe. This sprawling saga will have a lasting impact on the future of the X-Men, forever changing the fate of the franchise's most prominent characters.

Marvel Comics