The Dark Knight is getting a makeover from artist Todd McFarlane, as his toy company debuts a brand new line of DC Comics figures with Gold Label.
Golden Bat
Now, this new Batman isn't really golden. I felt the need to clarify. What he is though, is a pretty different take on the familiar visage of Gotham City's famed detective.
Straight from the mind of artist and industry icon Todd McFarlane, the new action figure represents the next step in the DC Comics license. And honestly, it kind of reminds me of the Legends of the Dark Knight line from Kenner, back in the 90s. They had tons of different takes on Batman and his rogues gallery. Though those were based on the comics of the same name and the Elseworlds books, I'm getting that same vibe from the new Gold Label series.
So why is Batman the first in this new line? Well, basically because he's a favorite of McFarlane.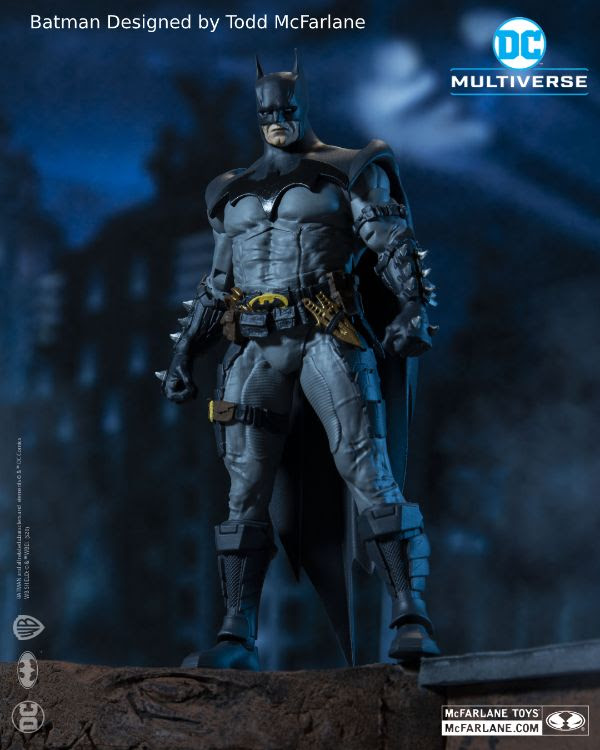 "Batman has always been my favorite character- excluding Spawn," said McFarlane, creative force and CEO of McFarlane Toys. "I've always liked the fact that Batman has no superpowers. When it comes down to it, he's just a dude in a costume trying to combat evil. Conceivably, if Batman were in a huge battle in space, without any of his gadgets and tech, he could potentially die, unlike Superman™. I've always had an affinity for Batman, and it's an honor to design a brand new version of a Batman figure for all fans and collectors."

Todd McFarlane
What is Gold Label exactly?
You might get the feeling, from that Gold Label name, that this new series is something special. Something that's a little more collectible and little different that McFarlane Toys' standard series of DC toys. And if so, you'd be right.
Gold Label will be the same 7″ scale as the main DC line, and it'll feature the 22 points of articulation as well. But it'll also be "highly limited and showcased in limited- edition packaging with a McFarlane Toys Gold Label Collection printed in foil".
And while there's no word on the rest of the line (sounds like it might be mass-market), the Batman figure seen here will be… a Walmart exclusive. Yes, I know that sent a shiver up your spine, because it did mine.
If you're somehow unaware, the superstore doesn't have the best track record as of late, with exclusive and limited items selling out in seconds. Hopefully they'll get their stuff together for the launch of this one though, and actual fans will be able to get their hands on one of these.
The pre-order date for that will be some time this October, with a price of $19.99 USD attached. The figure will be shipping out in January of 2021. Yep, that soon.