After a quite spot last week the Nintendo Download returns with a new selection of titles, including possible sleeper in Project Warlock.
Magic summer
Now, the spotlighted game this week is technically Summer in Mara. It. looks like a laid back little game that seems similar to Animal Crossing. It promises secrets to discover and a "strong narrative". So if you're looking for that kind of thing, it sounds like it could scratch the itch.
I think the better pick of the week though, is Project Warlock. An indie FPS that's been on the PC for a while, Project Warlock hits the Switch with a cool hand-drawn/retro-game look. Check out the PC version's trailer below…
Even with Warlock and Summer of Mara, there's really no 'must play' this week. Not to say there isn't a lot to stuff arriving, but nothing is really much of a standout.
Scroll down to check out the full list of what's hitting.
Nintendo eShop on Nintendo Switch
Summer in Mara – Take care of your own island and explore the ocean in this farming adventure. Summer in Mara mixes farming, crafting and exploring mechanics in a tropical archipelago with a colorful style and a strong narrative. Play as Koa, a little adventurer girl who must explore the world and discover the secrets that the ocean keeps. Summer in Mara will be available on June 16.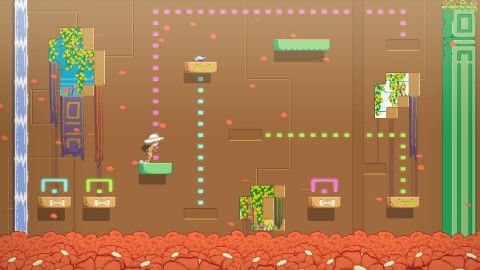 Evan's Remains – Evan's Remains is a mystery-thriller puzzle adventure game about finding a missing boy: Evan. The game combines logic-based platform puzzles with a visual-novel style narrative inspired by Japanese graphic adventure games.
Activities:
Your One-Stop Guide to an Amazing Island Getaway Has Arrived – New to the Animal Crossing: New Horizons game and want to learn the ropes? Redeem 75 My Nintendo Platinum Points* to download the official Starter Guide to Animal Crossing: New Horizons, which will help you get settled in on your island getaway. Featuring tips on basic controls and choosing your island, along with pointers about how to make full use of your NookPhone's apps, this handy guide will have you enjoying your personal paradise in no time!
Nintendo eShop sales:
Nintendo eShop on Nintendo Switch, Nintendo 3DS and Wii U

Check out the wide variety of games available to keep you entertained this summer with the Nintendo eShop Summer Game Sale! For a limited time, save up to 50% on select digital games for the Nintendo Switch system. You can see the full list of deals available this week at https://www.nintendo.com/games/sales-and-deals.
Also new this week in Nintendo eShop on Nintendo Switch:
Also new this week in Nintendo eShop on Nintendo 3DS:
*Nintendo Account required to receive and redeem My Nintendo Points. Terms apply. https://accounts.nintendo.com/term_point