Time again for a new selection of freebies from Twitch Prime. Members can grab copies of games like Snake Pass and Urban Trial, as well as solid loot.
Prime freebies
As usual, there's a nice little spread of free games and loot drops for subscribing PC gamers this month from Twitch Prime. Members can grab a total of 6 games, as well as loot for titles like Fallout 76, League of Legends, and Destiny 2.
While the games aren't terrible, it's the loot that takes the gold star this month, with an arguably better selection of titles. Of course, unlike with the actually giveaway games, you'll have to actually own the base games to make use of any of the loot.
May Free Games with Prime
May 2020's lineup includes:
Snake Pass
Urban Trial Playground
Avicii Invector
Fractured Minds
Pankapu
The Little Acre
May is Mental Health Awareness month, and Twitch Prime is proud to offer members two special games from Wired Productions as part of this month's Free Games with Prime: Fractured Minds, created by Emily Mitchell, a 17-year-old who found solace through game development as she journeyed through severe anxiety, and  Avicii Invector, a pulse-pounding frenetic rhythm-action experience co-created by the late artist. You can learn more about these games and the causes they support via Safe In Our World and Wired Productions. This month's other free games include action-platformer Pankapu, stunt racing game Urban Trial Playground, adventure game The Little Acre and action puzzler Snake Pass. 

And that's not all! Right now, Prime members get an extra free game every Friday. So in addition to this month's six free games, Yono & the Celestial Elephants, a grand adventure featuring carefully designed puzzles, treasure hunts, and a sprinkling of combat, and Old School Musical, a wacky musical adventure that takes you on a tour of all your favorite retro games, are available now. 

Twitch Prime

The above are available from tomorrow, May 1st, through the 31st.
And the loot!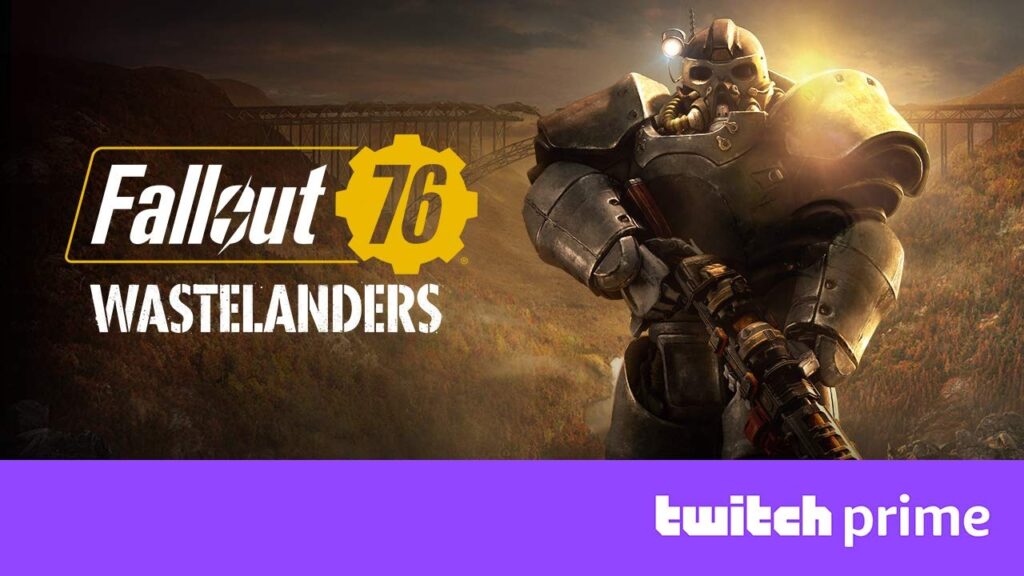 As I mentioned, the loot is a little more interesting than the full games this month. That's mainly because it involves free additions for the reinvigorated Fallout 76, but there's other stuff to grab as well.
Here's what's included, complete with availability:
Free Loot With Prime For Words With Friends 2 (Now Available) Zynga and Twitch Prime are teaming up to bring you seven special loot drops for Words with Friends 2! Prime members can now access the Hindsight 2020 Mystery box to see the best words available to them in-game. Be sure to stay tuned for additional offers in the coming months!
Fallout 76 Wastelanders Bundle (Now Available) Arrive in Appalachia in style with loot from the Fallout 76 Wastelanders Bundle, including the Settlers Workchief & Raider Nomad Outfits!
#PlayApartTogether with loot for all from Mobile Legends: Bang Bang (Now Available) As part of the World Health Organization's #PlayApartTogether campaign, from now until May 5, unlock the Amazon Prime Chest for Mobile Legends: Bang Bang, featuring skin and loot cards, is available to anyone with an Amazon account–no Prime membership required!  
RuneScape: Ancient Legionary Set (Now Available) Unlock an exclusive full set of Ancient Legionary armour and melee weapons – perfect for exploring RuneScape's five all-new epic locations!
Destiny 2 (Now Available) Gear up with the latest loot drop for Destiny 2. Claim the S'Mores Exotic Emote, Death to Kells Exotic Ship, Star Map Exotic Ghost Shell and The Whipcrack Legendary Sparrow.
League of Legends (Coming May 11, 2020) In May, claim the final loot drop for League of Legends. As part of this offer, Prime members can claim a permanent mystery skin.
Legends of Runeterra (Now Available) The latest drop for Riot's collectible card game Legends of Runeterra is now available. Unlock a Champion Wild Card, Expedition Run, Rare Wild Card and an Epic Wild Card.
Ring of Elysium (Now Available) As part of the last drop for Ring of Elysium, claim 500 E-Points, a Twitch Prime themed vehicle appearance and a bonus accessory.
The Seven Deadly Sins: Grand Cross (Now Available) The first drop for The Seven Deadly Sins: Grand Cross is now available! Prime members can get an SR-SSR Race Draw ticket as part of this initial offer.