Streets of Rage 4 makes its long awaited arrival today on Switch, along with Book of Demons, and a… Splatoon… 2… demo?
Uh wha-
Yes, Splatoon 2 gets a demo on Nintendo's Switch this week. Why? Well, there's apparently a special event happening in the almost three year old game. Sort of. In this special demo, players can engage in 4 on 4 Turf Battles, and Ranked Battles and the co-op mode for Salmon Run are also included. I'm not sure why the "Special" is attached to this Special Demo, but it is.
Much bigger news, arguably, is that Streets of Rage 4 is finally here. Built just like the classics on the Sega Genesis, SoR4 updates the familiar series with some excellent looking new graphics and characters. What it definitely seems like it keeps though are the fighting mechanics. And if you've ever played SoR, then you know that's a very good thing.
Streets of Rage 4 isn't alone though, as this week also brings the Sega Ages version of G-LOC, as well as more multiplayer action for Luigi's Mansion 3, the cardboard-inspired Book of Demons, and lots more.
Check out the full list below.
Nintendo eShop on Nintendo Switch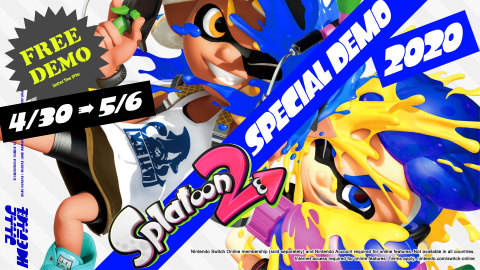 Splatoon™ 2 Special Demo 2020 – Have you been eager to make a splash in the world of the Splatoon 2 game, but didn't know where to get your feet wet? Well, it's time to finally dip your tentacles in, because the water's warm and the ink's never been fresher! From now until May 6 at 6:59 a.m. PT, you can download the special demo which lets you join the ink-splatting action in 4-on-4 Turf War battles. You can even try out Ranked Battles and the Salmon Run co-op mode during the demo's timed window. You'll need a Nintendo Switch Online membership* to participate in the event. Even if you're not a member yet, you're still invited, though! After downloading the demo, you'll receive an email with a download code** for a seven-day free trial for Nintendo Switch Online. (Even if you've activated a previous free trial, you're still eligible for this offer.) If you enjoy all the fast-paced action, you'll be able to save 30% on the purchase of Splatoon 2 during the special demo timeframe, and your progress will carry over to the full game, once purchased. So stop sweating and start splatting!
Levelhead – Take control of GR-18, a delivery robot in training, as you run, jump and blast your way across more than 90 challenging, hand-designed campaign levels. Get creative and make your own levels with hundreds of items, including enemies, hazards, paths, programmable switches, secrets, weather, music and powers. Once you've completed your level, share it with the rest of the world and gain a following!
Streets of Rage 4 – Among the best beat-'em-up series ever created, the iconic Streets of Rage returns with a masterful revitalization of the arcade action fans adore. The all-time classic Streets of Rage, known as Bare Knuckle in Japan, is known for its timeless gameplay and electronic, dance-influenced music. Streets of Rage 4 builds upon the original trilogy's gameplay with new mechanics, beautiful hand-drawn visuals and an exemplary soundtrack.
DLC: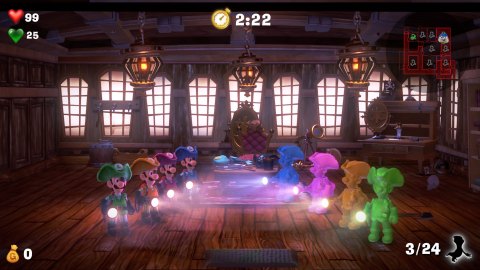 Scare up Some Fun With the Luigi's Mansion 3 Multiplayer Pack – Part 2 – Yikes! Even more spectral spooks have arrived at the Last Resort, the perpetually haunted high-rise hotel. The ever-intrepid Luigi has his work cut out for him in this DLC*** for the Luigi's Mansion 3game, which adds new costumes, new floor themes, new ghosts in ScareScraper mode and new mini-games for ScreamPark mode. A new Art Viewer mode lets you browse concept art created during the game's development too. Plus, when you purchase the Luigi's Mansion 3Multiplayer Pack DLC, which includes both Part 1 and Part 2, you'll receive a bonus in-game Polterpup light that can be used when playing ScareScraper mode or when playing through the game's main story. It's a great time to fire up the Poltergust G-00 again and show those ghosts who's in charge!
Nintendo eShop sales:
Nintendo eShop on Nintendo Switch, Nintendo 3DS and Wii U
Also new this week in Nintendo eShop on Nintendo Switch:
*Nintendo Switch Online membership and Nintendo Account required for online play. Free trial automatically converts to 1-month auto-renewing membership unless automatic renewal is turned off by the end of the free trial. Credit card/PayPal account required for 18+. Not available in all countries. Internet access required for online features. Terms apply. nintendo.com/switch-online
**The Nintendo Switch Online trial code can be redeemed starting April 29, 2020 at 9:00 a.m. PT. The code will expire on May 6, 2020 7:00 a.m. PT.
***Full version of game required to use DLC. Additional games, systems and/or accessories may be required for multiplayer mode. Games, systems, DLC and some accessories sold separately.