Ready for a new onslaught of variant covers? DC Comics' landmark 750th issue of The Flash will have a spread of variants that span the ages.
Like a Flash
As big time single issues go, getting to #750 is kind of a big deal. And while DC Comics' The Flash might've been through a few separate runs to get there, the comic has nonetheless made it to that vaunted level.
Dawning in January of 1940, The Flash has also been through a few evolutions as a character. He started as Jay Garrick, before the most famed Flash Barry Allen took over. Barry then passed the mantle onto Kid Flash, Wally West, before returning and taking over once again.
Now in the Rebirth era (it's still the Rebirth era, right?), Flash remains the superhero persona of Barry, who's more or less the same character he was at his most iconic. Of course, he's a lot more famous, thanks to a popular TV show and a movie that's upcoming.
So with all that in mind, it's no doubt that DC is celebrating their 750th issue of The Flash in style. The publisher has a slate of variant covers on tap for the standalone one-shot, including images of Allen, West, and Garrick.
In all, there will be 8 covers, which isn't what I had expected. I assumed DC would be pumping out a few dozen alt-images, but they're being oddly reserved. As a fan, I can appreciate that. The industry has, to put it somewhat mildly, become a little crazy with variant covers over the last few years.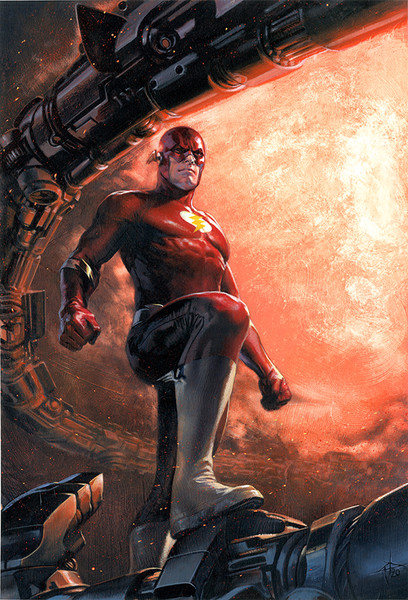 In all, the slate will include:
1940 – Nicola Scott and Annette Kwok
1950 – Gary Frank and Brad Anderson
1960 – Nick Derington
1970 – José Luis García-López and Alex Sinclair
1980 – Gabriele Dell'Otto
1990 – Francesco Mattina
2000 – Jim Lee, Scott Williams and Alex Sinclair
2010 – Francis Manapul
Click here to view all of them.
The Flash #750 hits the stands on March 4th, 2020. It'll run you $9.99 USD. Oh, and it does seem as though this is a one-off 'event' book, and the ongoing The Flash comic series will retain its current numbering. So don't look for The Flash #751 in April.