The ill-fated Evil Dead 2 board game from new defunct Space Goat is back on Kickstarter, and in the hands of Jasco Games. And now it's expanding.
Dead by dawn?
If you're aware of the Evil Dead 2 board game, then you already know the terrible tale behind it. If not, it's a pretty simple story. The previous company to offer the game folded.
The title, even though it was funded through the roof, never got made. And since the company went away, so did any funds that were put out. Fast forward though to the present time and we've got Jasco Games picking up the slack, or trying to anyway. Jasco has opened up something that they're calling a "Heartthrob Campaign" for Evil Dead 2.
What that means is that, should the game get funded, all of the first campaign's backers will get their copies right along with the new supporters… at no additional cost. As you might imagine, this is an ambitious plan that will take quite a bit of capital to pull off.
Right now, there are only 4 days left in the campaign, and Jasco still needs another $100k to get things moving. But even though they're up against it, they're far from giving up.
The company has announced that they've secured even more of the original campaign's miniature figure molds. And with that, they're creating a new "The Board Game Extras Pack".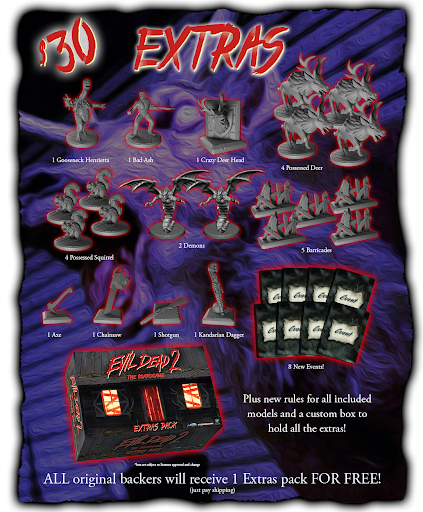 The new add-on box includes a whole bunch of stuff, including 2 Boss characters in Henrietta and Bad Ash. The set comes at an additional $30 for new backers, but just like everything else, those who backed the first campaign would get this for free.
Again though, for that to happen this new campaign has to be successful. And right now, there's still a long way to go to get that done.