The soft-reboot of Call of Duty: Modern Warfare is coming up fast, and launching the series into its new incarnation. It all starts September 12th.
Modern Warfare is go
As Call of Duty goes, Modern Warfare is pretty much its biggest and most important sub-brand. I don't think it's too much of a stretch to label it as such. After all, there really aren't too many shooter series' in general that are as highly regarded.
I also don't think it's too much of a stretch to say that this year's Call of Duty is the most hotly anticipated in a long, long time. If you don't know, that's because it reintroduces Modern Warfare with a soft-reboot of the series.
Old favorite characters return for a brand new story-based campaign, in addition to the return of the series' staple multiplayer. This one is all hard-hitting military action, all the time.
To ramp things up into the launch of the game, Activision and developer Infinity Ward have created a roadmap to the big day. That includes a number of mini-events shown off today via Twitter.
Things start on September 12th, and will culminate on October 7th, when Special Ops premiers. So there'll be plenty to get you ready, and prepped for the return of a classic.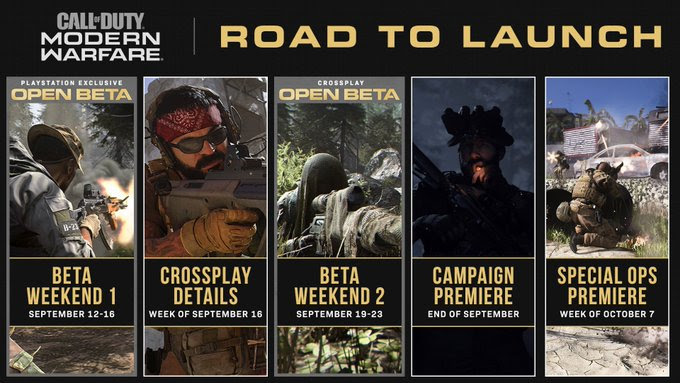 As to when that is, you can expect to see Call of Duty: Modern Warfare land on the PS4, Xbox One, and PC on October 25th.