With Comic Con fast approaching, Mondo has revealed its first exclusive items. Both Blade Runner 2049 and Roger Rabbit will be getting records.
Old and new
As selections go, these are pretty unique. Comic Con show-goers will get an album based on a modern sequel to a classic film, and one based on… a classic film.
Mondo will showcase both vinyls, each the original soundtrack to both Blade Runner 2049 and Roger Rabbit. You'll be able to get either or both in in the Mondo booth, number 435 on the show floor as of preview night, Wednesday the 17th.
If you're not going to the Con, or you'd just rather not lug the records home with you, you will also be able to get versions of these online. That won't happen till a later date though. And while any leftovers from the Con will be posted as well, the bulk of what'll be online will be different than the SDCC editions. That said, Mondo will have a nice pin set up on MondoTees as well. So you might want to log in just to check that out either way.
Here's the official word:
WHO FRAMED ROGER RABBIT Soundtrack
Mondo, in partnership with Walt Disney Records, is proud to present Alan Silvestri's soundtrack to the film Who Framed Roger Rabbit, available on vinyl for the first time in 30 years.

To this day Roger Rabbit is still considered a landmark achievement in filmmaking, seamlessly combining 2D animation and live action, with a clever take on the interior lives of the world's most beloved cartoon characters.

Following their previous successful collaboration with Robert Zemeckis on Back to the Future, Alan Silvestri's score is one of his most ambitious, an inspired genre blend, bouncing from pot-boiling noir, to the madcap zaniness of a cartoon serial, to the songs and standards of the 1940's.

Mondo press release
WHO FRAMED ROGER RABBIT Original Motion Picture Soundtrack LP Music by Alan Silvestri Artwork by Stan & Vince

SDCC Exclusive Pressed on 180 Gram "The Dip" Colored Vinyl (Limited to 1,000 Copies)
Webstore edition pressed on 180 Gram Neon Pink with White Splatter$25
BLADE RUNNER 2049 Soundtrack
Hans Zimmer and Benjamin Wallfisch, alongside Producers Michael Hodges, Ashley Culp and Kayla Morrison, were given the near impossible task of scoring the sequel to one of the greatest and most beloved science fiction films of all time. The original Blade Runner had an incredible score by Vangelis that has gone on to be one of the most iconic pieces of music in film history, so it's to their credit that they absolutely knock it out the park with 2049. 

What they do with the music in 2049 is astonishing, you totally feel like you are in the same universe as the original film but you also realize that things have changed. There are hints at the past but also strange beautiful new sounds to explore and get lost in. This score is a little more downbeat than the original. It's expansive, dreamy yet forceful and propulsive when it needs to be. The sonics throughout are incredible and it really feels like you are wandering strange neon lit alleyways with no clue where you are. It's a truly beautiful (and beguiling) listen and captures real human emotion alongside more artificial replicant soundscapes. 

Blade Runner 2049 features Viktor Kalvachev's art with a Spot Varnish Cover and layout by Chris Bilheimer.

Mondo press release
BLADE RUNNER 2049 Original Motion Picture Soundtrack 2XLPMusic by Hans Zimmer and Benjamin Walfisch Produced by Michael Hodges, Ashley Culp and Kayla MorrisonArtwork by Viktor Kalvachev

SDCC Exclusive Pressed on 2X 180g Clear with White and Blue mix, Opaque Orange colored vinyl (Limited to 500 Copies)
Webstore edition pressed on 2X 180 Gram Teal and Pink colored vinyl $40
WHO FRAMED ROGER RABBIT Collectible Pins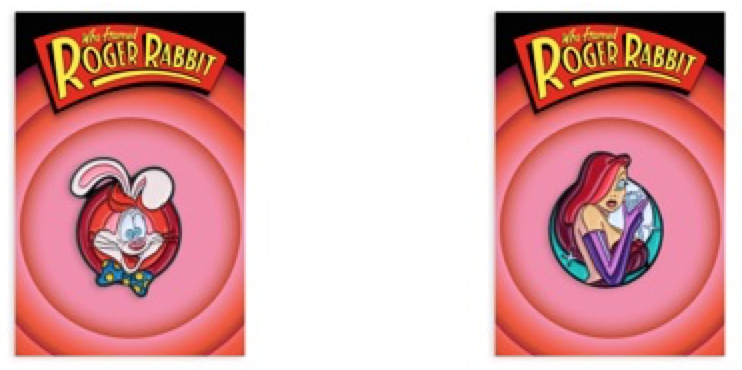 Roger Rabbit by Craig Drake 1.2″ high soft enamel pin designed by Craig Drake. Single-post on dyed black metal with rubber clutch backing. $10
Jessica Rabbit by Craig Drake1.15″ high soft enamel pin designed by Craig Drake. Single-post on dyed black metal with rubber clutch backing.$10