DC Comics' Black Label is expanding yet again, and with another Harley Quinn book. This time it's a reimagining of her origin from Stjepan Šejić.
There's a whole lot of Harley Quinn happening in DC's Black Label line of non-canon books. We've already had Sean Gordon Murphy's White Knight, which featured Ms. Quinzel fairly prominently, and just saw the announcement of Joker?Harley: Criminal Sanity. Now we've got one more with Harleen from Stjepan Šejić.
A fresh take, if a familiar one
The book looks to be a much more classic take on Harley's origin tale, though one that's nonetheless different from the one that we know. At least, it is according to creator Šejić.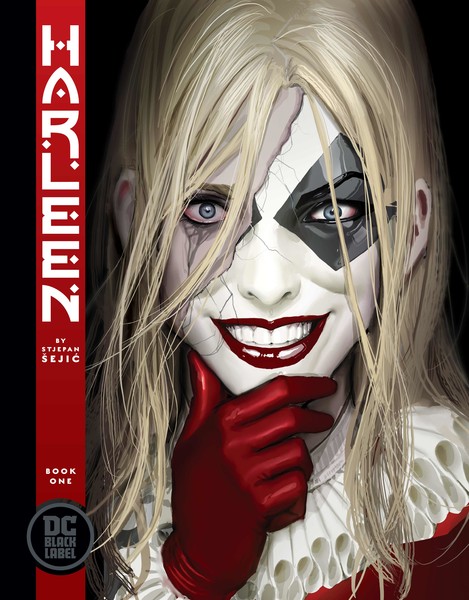 "HARLEEN is a story of a flawed person who meant well, a doctor who fell in love with her patient," says Šejić."It is a story of her road to hell—paved with good intentions—and a smile that cost her her soul. More than anything it is a tale about good people falling. Falling in love, falling from grace, and falling apart."

Dr. Harleen Quinzel has discovered a revolutionary cure for the madness of Gotham City—she just needs to prove it actually works. Through her studies of the criminals and sociopaths that pass through the halls of Arkham Asylum and the GCPD, Harleen is seeking to end the growing apathy among the citizens of Gotham. But with the criminal justice and mental health establishments united against her, the brilliant young psychologist must take drastic measures to save Gotham from itself. 

Following an attack on the city by the villainous Joker, Harleen will come face-to-face with one of the many criminals she hopes to heal—but she will soon find herself drawn into the madness and insanity that plagues him. Witness Harleen's first steps on a doomed quest that will launch the legendary super-villain Harley Quinn in this stunning reimagining of Harley and the Joker's twisted and tragic love affair.

DC Comics press release
Harleen is set to ship out on September 25th.