It's a good week for indies on the Nintendo Switch, as Brothers: A Tale of Two Sons, American Fugitive, Back in 1995 and more all arrive.
A little old, a little new
A mix of fresh titles hit the Switch this week, with really no triple-A stuff in sight. Though some of the indies that are arriving are kind of premium in their own right.
Brothers: A Tale of Two Sons isn't new really, but it's new to the Switch. Originally launched in 2013, the game follows siblings on a quest, the hook being that the game is co-op with either two players or just one single player. It's also still a good looking title with a neat fantasy "fairy tale" plot.
Past that one, there's also American Fugitive. A game that is set in the 1980s in a small US town, American Fugitive immediately recalls the glory days of the pre-III GTA games. It has much the same aesthetic and gameplay, though looks a heck of a lot better and seems to have a more serious, less crime-centric plot.
Then there's Back in 1995. Much like American Fugitive, Back in 1995 is a sort-of retro game. It's crafted to have the look of a Silent Hill game from the earliest days of that series. Not that it's a gimmick game in any other way, because it certainly seems as though there's a cool story being told.
As for what else is hitting this week scroll on down and have a look.
Nintendo eShop on Nintendo Switch
Brothers: A Tale of Two Sons – Play the award-winning adventure with a new two-player mode for the Nintendo Switch system. Guide two brothers on an epic fairytale journey from Swedish film director Josef Fares. Control both brothers at once as you experience co-op play in single-player – or team up with a friend in the new two-player mode. The Brothers: A Tale of Two Sonsgame is available May 28.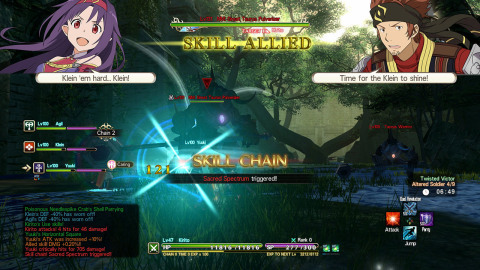 SWORD ART ONLINE: Hollow Realization Deluxe Edition – The SWORD ART ONLINE series finally arrives on Nintendo Switch. The year is 2026. A new VRMMORPG called "Sword Art: Origin" is suddenly unveiled to the world. During a closed beta test, Kirito meets a mysterious girl, an NPC without so much as a name, who is offering a strange quest. Will the meeting between this NPC girl and the Black Swordsman prove to be the world's salvation, or its undoing? Watch as a new death game begins to play out. The SWORD ART ONLINE: Hollow Realization Deluxe Edition game features the main game, as well as the additional content "Abyss of the Shrine Maiden" and the large-scale update "Warriors of the Sky!" The game is available May 24. 
Nintendo eShop sales:
Nintendo eShop on Nintendo Switch, Nintendo 3DS and Wii U
Also new this week in Nintendo eShop on Nintendo Switch: