After what seems like forever, Shakedown Hawaii finally arrives this week. That's good, because there isn't much else to talk about.
You're busted
No, this isn't exactly a busy week on the old Nintendo Download. That's not to say that there aren't any good games, just no major releases… well, outside of the title game anyway.
It has been a while, but the long anticipated sorta-followup to Retro City Rampage is finally here. Sporting 16bit-ish looks and some solid options for building an empire, Shakedown Hawaii could be a big winner.
Other than SH though, this is a thin week. There's Puyo Puyo Champions for those who're into puzzles, and that's more or less all that's worth a mention.
Nonetheless, feel free to scroll down for the full listing.
Nintendo eShop on Nintendo Switch
Shakedown: Hawaii – Shakedown: Hawaii follows three protagonists through a 16-bit open world. Build your own "legitimate" corporation by completing missions, acquiring businesses, sabotaging competitors, "re-zoning" land and shaking down shops for protection money. Explore the island by foot, by car or by boat. It's filled with arcade challenges, side quests, stores to shop at, houses to burgle, civilians to interact with and secrets to discover. The Shakedown: Hawaii game is available May 7.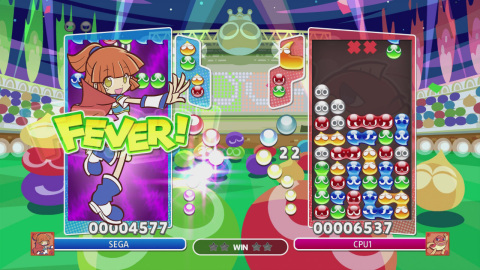 Puyo Puyo Champions – Easy to learn, but tough to master. Jump straight into fast-paced puzzle action with features fit for both friendly rivalries and competitive tournaments in Puyo Puyo Champions. Challenge your friends and family in local multiplayer* or compete against other players through online** matchmaking. Built for all ages, this classic puzzle game comes with a surprisingly competitive edge. The Puyo Puyo Champions game is available May 7. 
Nintendo eShop sales:
Nintendo eShop on Nintendo Switch, Nintendo 3DS and Wii U
Also new this week in Nintendo eShop on Nintendo Switch: