Playmobil continues its Dragons line based on the popular Dreamworks animated film series with the new Hiccup and Toothless set.
Lead dragon
Admission: I know extremely little about Dreamworks' Dragons. And I mean that as in… I know next to nothing. I am aware that there are dragons, and a sect of viking-like people who train and ride them as steeds, but little else.
One thing that's obvious though, is that it's pretty darn popular with the younger set. That, and it's got some cool designs going for it.
The latest film was released this year, and Playmobil has continued its lineup of Dragons sets to go along with it. We reviewed one such set a few months back, though this one is much different. For one thing it features a larger dragon, and for another it's the starring beast – Toothless.
As with that previous set though, it's also a pretty slick set.
Build quality
Playmobil sets are kind of in the same vein as something like LEGO, since you have to assemble them. They're way less build-intensive though, and much easier to put together. That's beneficial for younger kids (aged 4 and up), since they can put pretty much everything together themselves… with supervision of course.
And it indeed is an easy build. With just a few pieces to click together, you'll be able to build the huge Toothless, the diminutive baby dragon, and the human rider, Hiccup.
Everything is sturdy too, and it seems like a child would be able to play with the two dragons and the human with little worry about anything breaking. The wings and other parts that you have to assemble too, come apart fairly easily. That's a good thing since it means that it'd take some doing to actually break this stuff.
Aesthetic
Once everything it together, it looks pretty darn good too.
Toothless himself is big and chunky with easily posed wings and legs. There isn't a ton of articulation here, but what's present works well and gives the figure some nice posing options. The jaws on the big guy can open and close too, which is neat, and he even has an action feature. Toothless can fire 3 projectile darts to simulate dragon fire.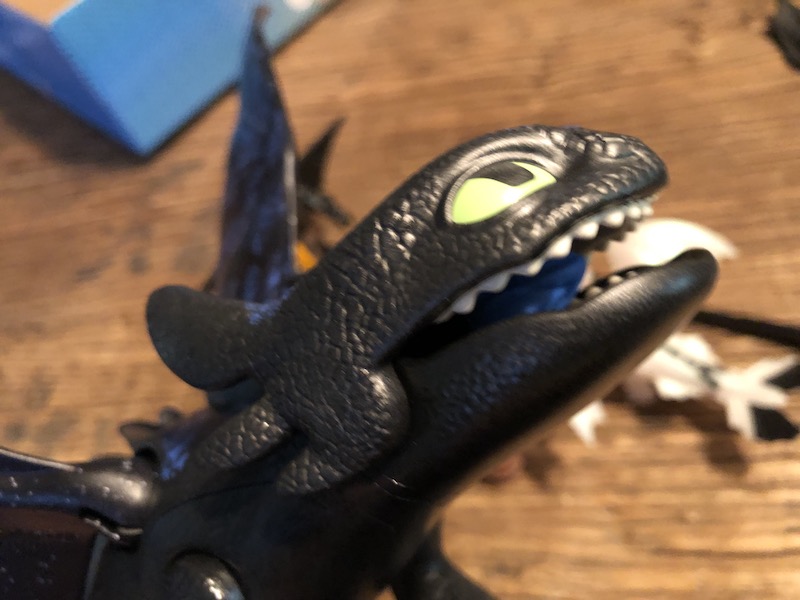 The darts are all soft-tipped with blue rubber sculpted to look like little flames. Even though the tips are soft though, they seem like they'd really hurt if they were blasted at a person or animal. And I mean blasted. Toothless fires these thing far, so don't aim these things at anything that's alive.
The baby dragon on the other hand has less happening, but looks just as great. Actually, maybe even better. With much the same articulation, the baby has no action feature, but has a gorgeous pearlised paint finish. It comes across terrific and contrasts nicely with Toothless' largely black and blue paint job.
Not to be outdone, the human rider Hiccup is also a pretty great little figure. He comes complete with armor, removable helmet, and even a swappable hairpiece. That way you can pose him with a helmet less look that doesn't make him look like you just took the helm off. It's a very cool aesthetic that you don't often get with the aforementioned LEGO figures.
Oh, and he's also got an awesome translucent flaming sword. It looks great.
Extras
The sword that is included with Hiccup is pretty much the only accessory that's included here. Well, it is unless you count the wings that clip onto Hiccup or the darts that Toothless fires.
With the other set that we reviewed, there was much more in the box. Here though, it's pretty much just the figures and that's it. That's not specifically a knock however, since what you do get is cool.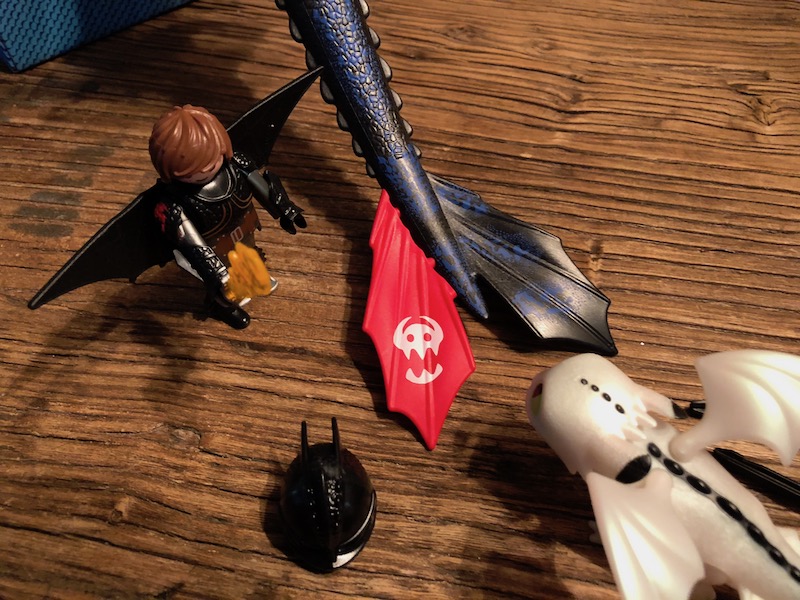 There is one awesome feature though, that is included with the Toothless figure that I haven't mentioned previously. He lights up.
Using LED lighting and a triple A battery (that's not included), you can illuminate Toothless' ridge of spiky plating on his back. The effect looks nice, and adds quite a bit to the figure, though you can't just click it on and leave it that way if you want.
It stays on as long as you depress the button, but will otherwise be in the off state. That's probably for the best though, since it'd probably drain the battery pretty fast if someone left it on by mistake.
Overall
All in all this is a nice set. The figures look great and it hits a lot of high notes. I would have liked to have seen the needed battery included and some more accessories, but doesn't drag down what's here too much.
If you're a fan, or have one in the family, I'd definitely recommend having a look at what Playmobil has cooked up.
A review unit was supplied to BrutalGamer by Playmobil
Dreamworks Dragons Hiccup and Toothless
Release date: May 2019
Maker: Playmobil
Line: Dreamworks Dragons
MSRP: $39.99 USD
Build quality - 90%
Aesthetic - 94%
Extras - 82%
While I'm not a fan of Dreamworks animated film series, I can appreciate a well made product. That's just what Playmobil has here with the new Toothless and Hiccup set. The three figures included look cool with great paint apps, solid articulation, and terrific sculpts - specifically on the dragons. I can't imagine a Dragons fan not enjoying this new box set.