NECA had all the big guns on hand for Toy Fair this week, including new Crash Bandicoot, Ninja Turtles, horror, and Predator figures.
Rolling
Is there a bigger fan favorite toy-maker right now than NECA? I'd say that's a big 'no', and this is nothing new either. NECA has been rocking the industry for years at this point and they're only getting better.
Not a small part of that continued success is the incredible lineup of licenses that NECA holds. Predator, Aliens, and the assorted horror IP's in their stable are continuous crowd pleasers. But it's maybe their latest efforts that are getting the most recognition at present.
And by that, I mean the Teenage Mutant Ninja Turtles.
TMNT
Not new for NECA really, the company is nonetheless doing some new things with the license. Formerly convention exclusives, the movie Turtles are now GameStop exclusives.
More than just that, the 6″ classic cartoon-based line will soon start showing up in Target stores as retailer exclusive two-packs. These figures will be the already seen characters from the SDCC exclusive set, so if you have that, then you have these already.
But there's more coming. And if you're a TMNT fan, you will most likely absolutely love these. Yes, it's Rocksteady and Bebop.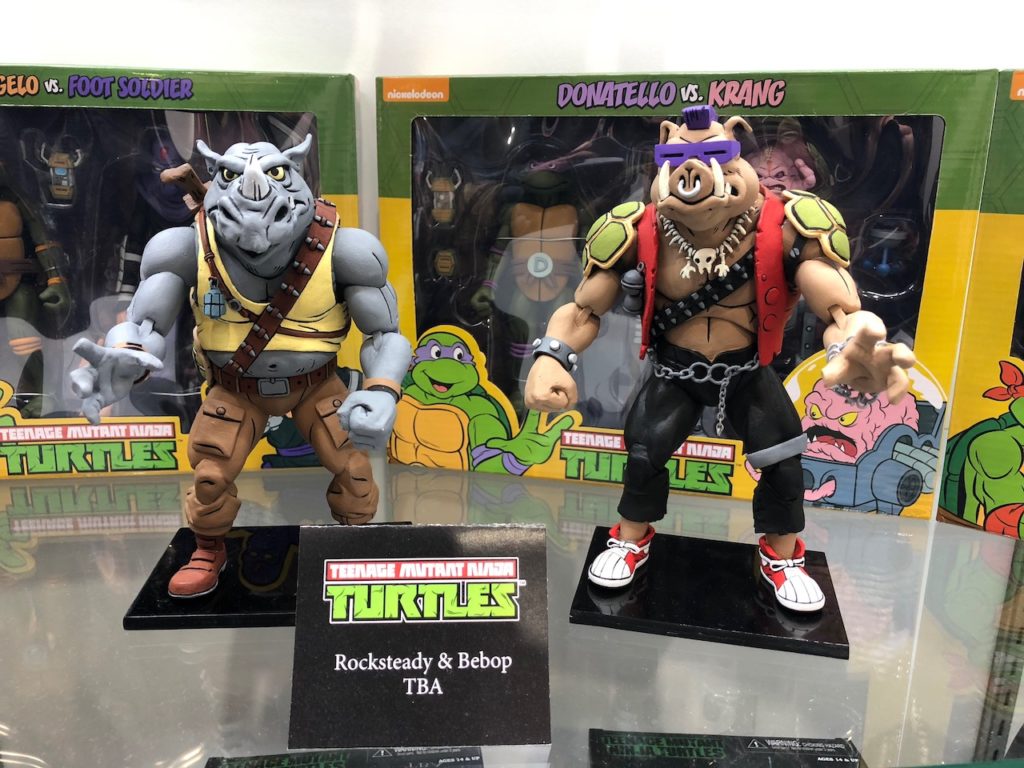 Now, these don't have a whole of info behind them just yet. There's no release date for one thing, but also we don't know if they'll be packed together or with completely different figures. What we do know, is that they'll be a part of that Target line of dual packs.
In addition, NECA is showing off their giant-sized Shredder and Foot Soldier. The Foot ninja will be hitting stores pretty soon, but this is the first time we're getting a really good look at Shredder. He looks pretty freaking cool too, with removable mask.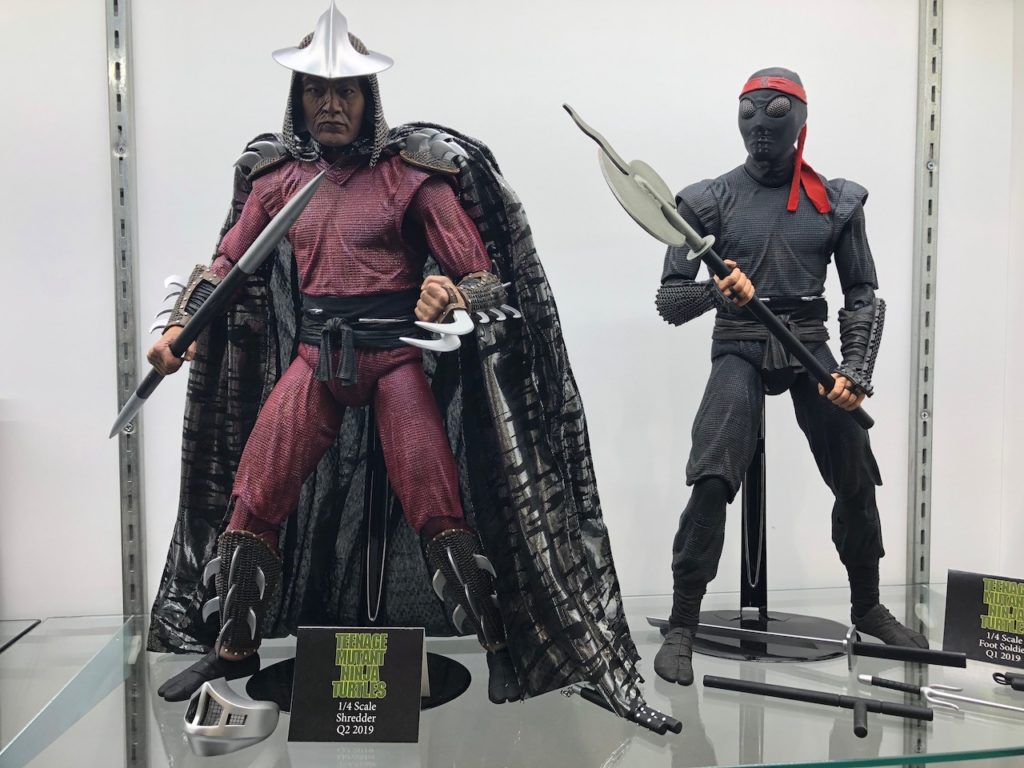 Spyro and Crash
Crash Bandicoot is set to continue on at NECA with 2 new figures. Well, kind of 3, but you'll see what I mean.
Dr. Neo Cortex and Coco will be joining the 3 versions of Crash that are already out there. And there'll be a 4th figure of the main Bandicoot too, with a deluxe job that'll allow fans to change expressions.
As for Spyro, there's only one figure on the way so far, but it looks great and seems right in line with the Crash stuff. So they'll probably look great lined up on the shelf together.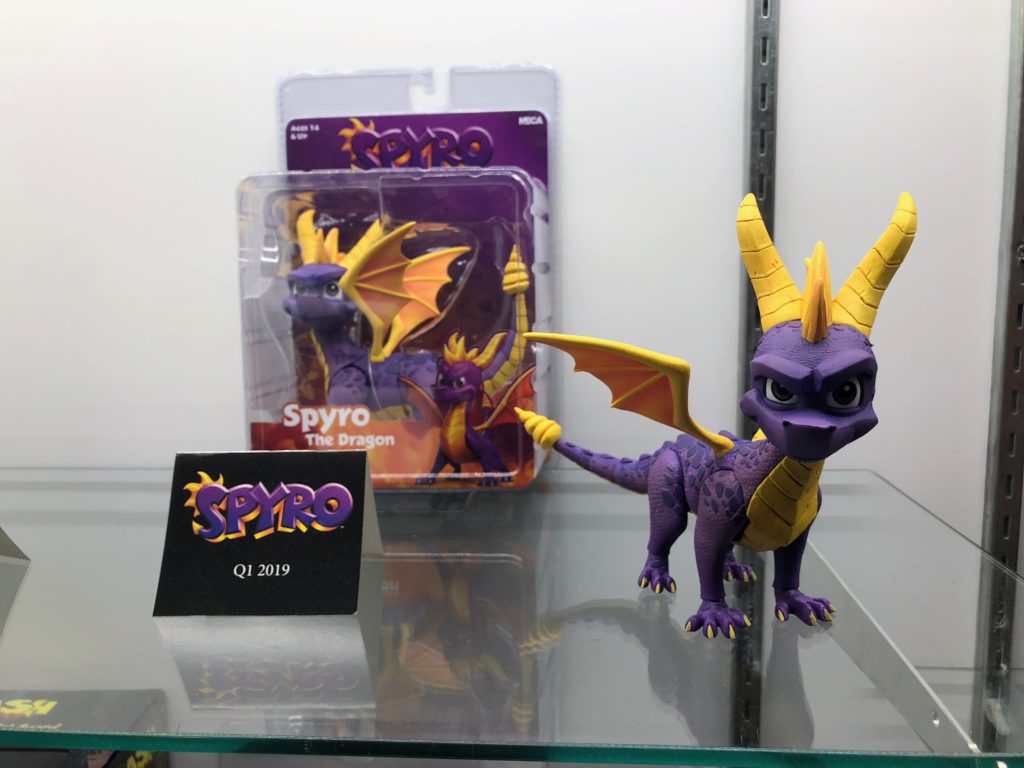 Aliens and Predator
If you thought either of these properties were going to be running dry at NECA, think again. There were plenty of awesome Aliens and Predator figures on hand at Toy Fair, including some great stuff from both Alien 3 (yes, great stuff from Alien 3) and The Predator (yes, great stuff from The Predator).
Just a side note here before we move on, NECA debuted a very interesting figure along with all of the above. Below you see a pair of figures that look an awful lot like they could fit right in with the classic Kenner line.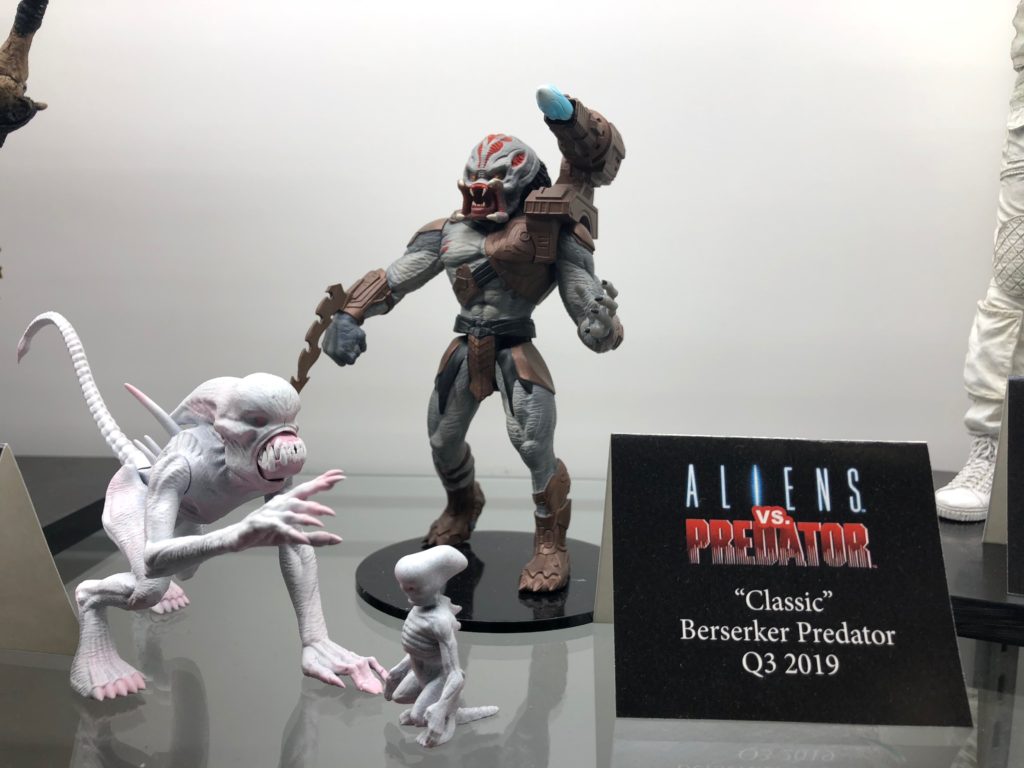 Limited articulation, a streamlined sculpt, and simple paint app round out these aliens. Where might this be heading? We don't know. But they look pretty freaking cool.
8″ clothed figures
Forged to resemble the MEGO figures of old, only way better, is the 8″ Clothed Figure series. These run the gamut, offering a bunch of different licenses.
Some of the newest are Karate Kid, which is getting a full line, They Live, and Ace Ventura: Pet Detective.
Horror
Along with all that you see above, there is also a whole mess of horror and monster-themed stuff on the way. Have a peek…