The first action/RPG set in Warhammer's Old World is almost here. Set for a June release, Chaosbane is officially ready for pre-order, complete with upcoming beta.
The tide of Chaos
The war is over, and the Old World is still standing. The dark gods of Chaos are beaten… or are they? Of course, they're not. In fact, they're biding their time, ready to unleash a whole new wave of evil on the Warhammer world.
Looking pretty sharp there is Chaosbane, which as you can see will have two different betas. The first will kick off in March with a second following that in April. Of course, to get in on either of them, you'll need to pre-order.
Both physical and digital editions of Chaosbane will be in on the deal, as well as the various flavors that the game will come in. That includes the basic version, the Deluxe Edition, and the Magus Edition.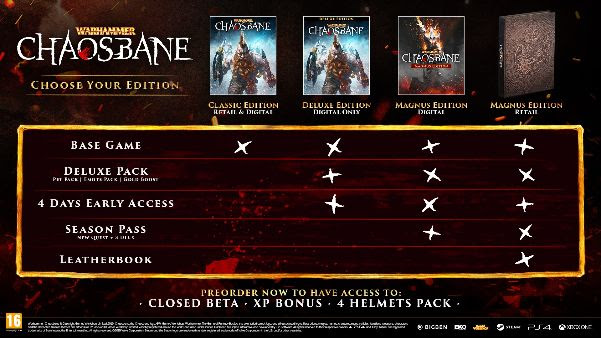 Down for the pre-order? If you are, then you can nab a digital pre-order via the Xbox Store right now or the PS Store as of tomorrow. For a list of additional retailers, click here.
The final retail edition of Warhammer Chaosbane lands on June 4th for Xbox One, PS4, and PC.