Two of Capcom's Street Fighters will be headlining publisher Udon's entry in the Free Comic Book Day festivities. Get ready for Sakura vs Karin.
Esports fighter
As a Street Fighter fan myself, I've gotta say this sounds like one of the more interesting stories that the fiction has produced. I don't know if it's going to be a good story, but that's another matter entirely.
Udon's latest sees Street Fighter stalwarts Sakura and Karin battling it out with fists… and joysticks.
They've been adversaries since high school, but now Sakura and Karin's rivalry enters a new arena – the arcade! Martial arts meet e-sports as two of Street Fighter's fan-favorite femmes battle it out through both jabs and joysticks! It's all-new action in UDON's newest Free Comic Book Day adventure!

Udon press release
A decidedly light hearted tale will be the main attraction this FCBD from Udon, who so far has not announced anything else. That's not to say that there won't be more Street Fighter coming though, since there's plenty on tap.
Udon will have an additional four one-shots coming up for March, April, June, and July. These of course won't be free, but will star some more fan favorites from the fighting game series.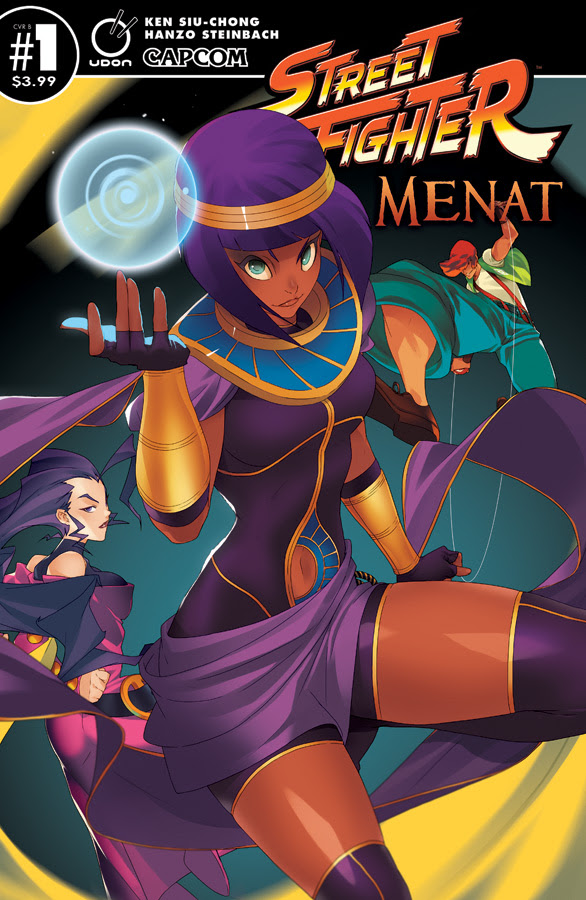 The first of these will feature Menat, in a story about good old fashioned vengeance.
Meet Menat, the enigmatic Egyptian fortune teller on a quest to avenge her master's death. But it's not just any villain Menat is seeking… it's the Dark Lord of Shadaloo himself – M.Bison!

Udon press release
There's no specific date for Street Fighter: Menat just yet, though we of course have one for Sakura vs Karin. That issue lands in the free pile at your local comics shop on May the 4th, Free Comic Book Day.