Editor's Note: Dan and I met each other as cast mates in two projects, one of which was an audio drama and visual novel called Lustrias. Unfortunately on December 6, 2018 the project closed. We wish everyone at Green Moon Productions all the best!
The online voice acting community provides a place where people of all skill levels and walks of life can participate and get a feel for voice acting. In this interview, Daniel Ian Gold discusses how he got started, the community and more!
In the four years that I have been interviewing voice actors, I always find it inspiring to hear how they got started in acting, as each person has a different story to tell. With that said, what motivated you to become an actor?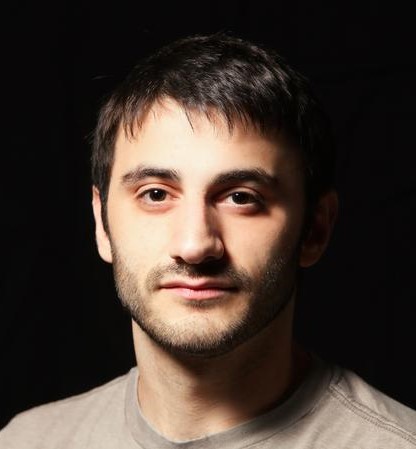 Daniel Ian Gold: Currently, my voice acting is a side job that I have. I'm a business analyst for a health information technology company and that's my full-time job. I've always wanted to do voice acting since I was a little kid― I would do impressions of cartoon characters and it [the passion] was always with me.
I remember it was around five or six years ago that I really TRIED. I had asked around, looked up [How to get into voice acting] articles and saw: 'Here's kind of the route you have to take` and I never really committed to it until about six years ago when I thought: 'I'll just buy a microphone, give it a shot and see if I can get anywhere. Even if it's something here and there it's still voice acting.'
I went on Reddit and there's a subreddit called Record This! Sometimes people would post small projects such as a college project. I responded to those and started getting some work here and there. It felt really cool doing it, and that's when I went around the internet as Record This! isn't really the place for a lot of jobs.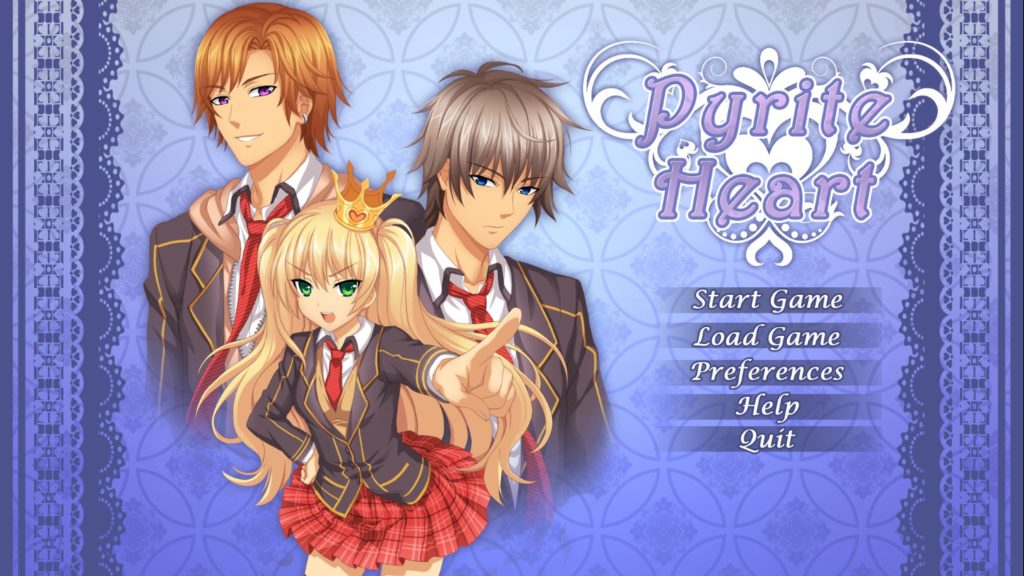 I started up on Voice Bunny for a little bit until I became disillusioned by their philosophy on voice acting and paying voice actors. Then I went on message boards and started auditioning. I got a job doing Pyrite Heart and that was the first time I heard of a visual novel as I didn't know what it was. I was like: 'Okay! This is interesting. Not quite my demographic but this is a cool idea!'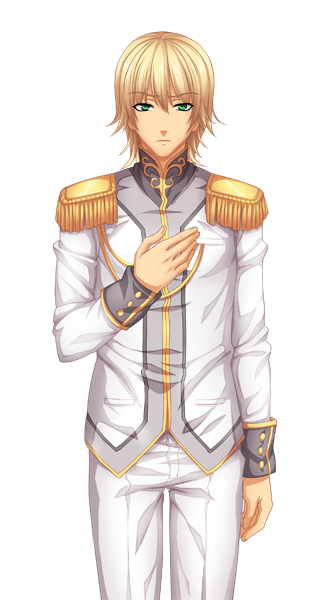 I played Kichiro the older brother of the female protagonist. That was cool! I got paid for it which was insane at the time, but it was the first time I actually got to play a character because most of the previous jobs I got were [explainer] videos.
Pyrite Heart actually opened me up to another gig with the same voice director called IceBound. There was a Kickstarter for it and it's on Steam but I don't know if the actual voice acted version ever came into fruition or if it's still being worked on.
What do you remember most about the auditioning process for Pyrite Heart?
Daniel Ian Gold: I remember Pyrite Heart being a professional audition with a lot of details about the characters. So it gave me something to kind of work with, and they also had pictures! Pictures are great because when I look at a picture the first thing I do is try to figure out: 'Can my voice work with this?' And that's one of the things that I'll use to determine if I audition for a character or not.
What did you like about your character Kichiro?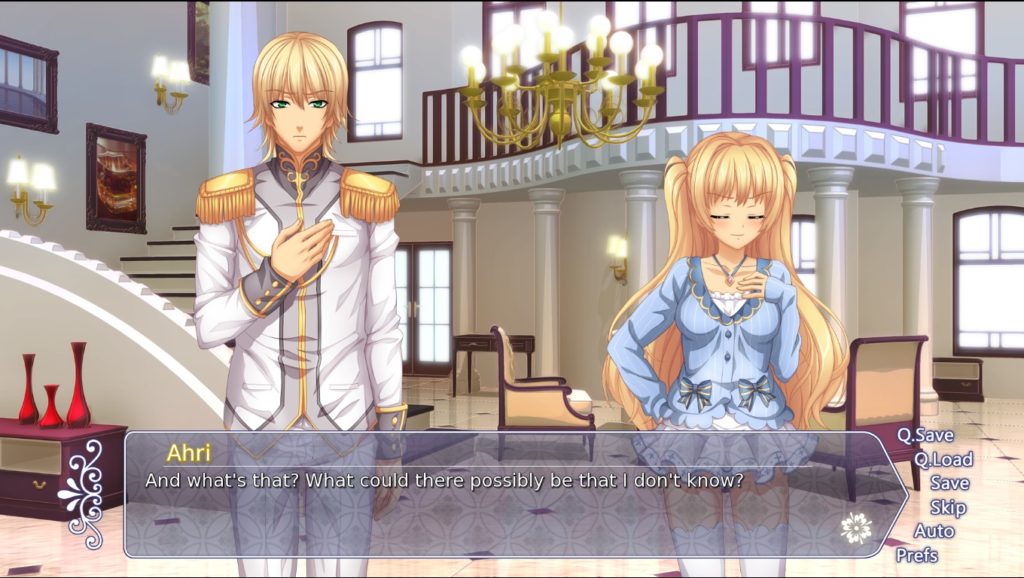 Daniel Ian Gold: I approached the character as very pompous and I saw the relationship between the two [Princess Ahri and Kichiro] as bratty. This was one of the first characters where I really got to become somebody else, as the characters I played before [Pyrite Heart] were just for fun, and had no motivation. I remember that stands out to me and I really had a lot of fun!
I had always experienced voice acting in the eyes of a journalist by interviewing people in the industry, but never thought I'd actually participate in various projects. One thing that brought me comfort was how welcoming people were.
Daniel Ian Gold: First of all, the community is absolutely amazing! It's only recently that I've actually interacted with other voice actors, whereas before I was just doing my own thing. I eventually got cast in an audio drama called The Haven Chronicles but I still wasn't connected. I soon joined Discord where I met other voice actors, that I would be working with and not working with at the same time.
Then I did Casting Call Club's Voice Acting 101 class and that sort of drops you amidst everybody and all of a sudden there are 29 to 30 other people in the class, they're all in the discord, you're talking to them and just helping everybody else out which is very motivating! If you think about it acting is: You are trying to get the role from other people.
There is something inherently— I don't think selfish is the right word but you want to get those jobs. However, at the same time, I'd be auditioning and think: 'I'm just no good for this but I know the perfect person who is.' It's sort of where you get to know all of these voice actors and you're seeing where their talents are. I think it's cool everyone is so supportive in that way but also just motivational! Everything on Twitter is just so positive. I'm kinda sad that I didn't get involved much sooner.
On that note, have you learned any lessons along the way?
Daniel Ian Gold: Well, I should say that I haven't been a part of the community where I'm actively on Discord or Twitter, until like the last four or five months so it's not that long. So I guess what I've learned so far is that the voice acting community first and foremost is incredibly diverse which is amazing, and incredibly driven and motivated.
What that teaches me is just to appreciate all the talent out there and know that even though the voice acting is a grind, everybody else is going through the same thing you are, and we're all in this together.
When new voice actors enter the scene, they have to get used to rejection and it's a big investment if they decide to do this as a career. What pieces of advice would you give new voice actors if they are feeling discouraged?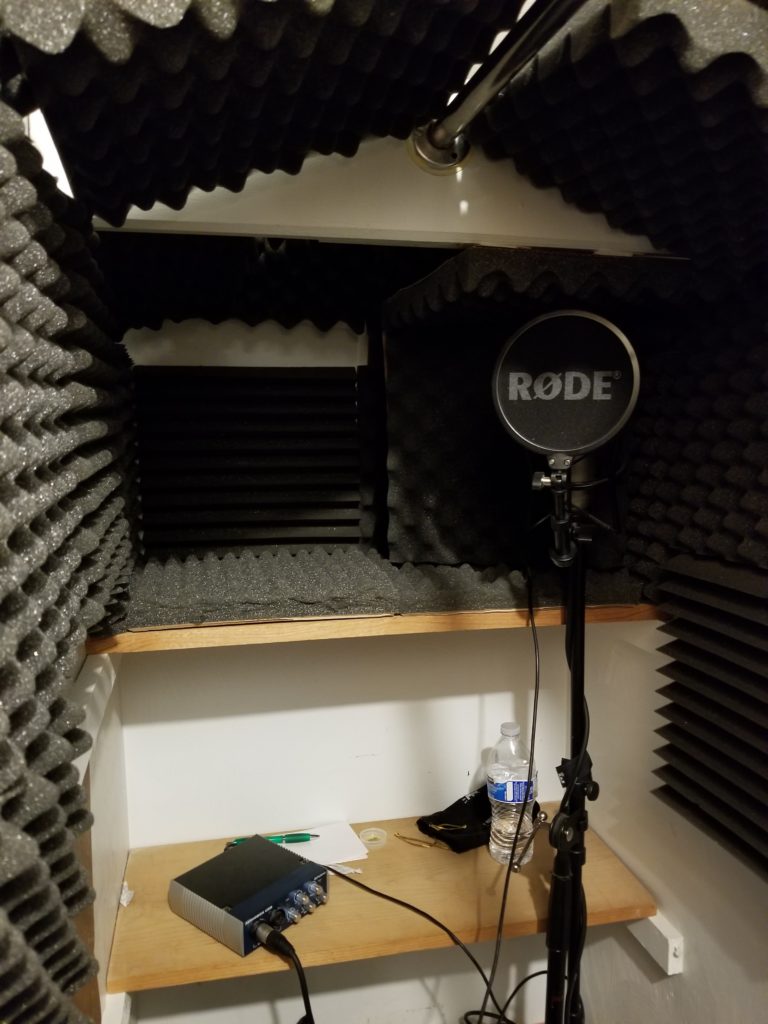 Daniel Ian Gold: So there is a lot to that because there are three sides to this. Having a quality recording setup is important definitely, and a lot of jobs will let you get by with something that's not XLR and you can do a really good job as long as you have a solid setup.
All the Blue microphones, for example, are really great for that, and if you put it in a room that's sound treated enough you can get the microphone to sound good— a little EQ and compression goes a long way. That's a big deal because it shows that you want to meet the standard of these casting directors who are looking for something that sounds very professional.
It's also tough because technology factors into this especially when it comes to recording in your home and not in a studio in LA. What makes this work is that there is some affordable technology out there that allows us to do that. I remember my first setup.
It was an MXL 990 with a Presonus USB audiobox and I tried recording with that and it sounded like I was in a bathroom. So I decided to figure this out and made this soundproof booth for my microphone.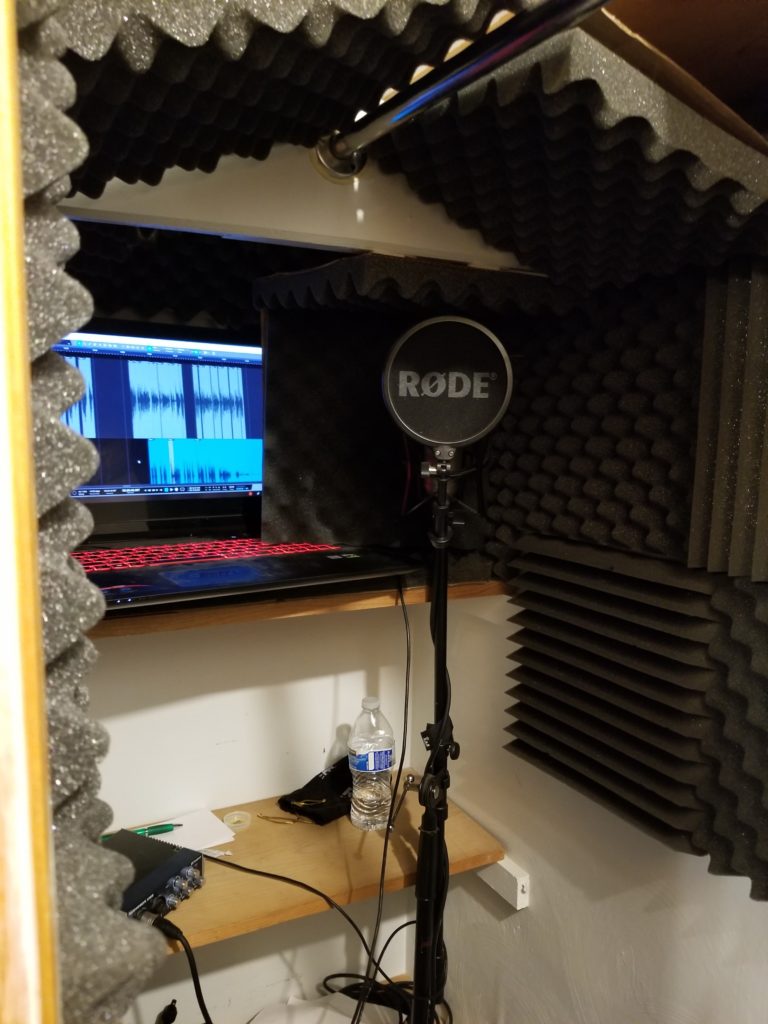 I paid twelve bucks and bought four pieces of soundproof foam and then I wrapped a towel around my microphone to keep everything together. and it worked okay! I got some jobs and recorded for some higher profile clients with it.
So you can totally get by with the right approach to your sound setup and when you start getting money―one of the things that I do with the money that I make is put it back into voice acting. I saved up and got a Rode NT1A microphone and turned my closet into a booth, which was a huge step up!
One big thing is to always listen to other people's stuff. Listen and note down what they use.
Become aware of how you sound, and how the space you are in affects your recording. You gotta start somewhere and the more research you do the better it's going to get.
What do you particularly look for in a casting call to be interested and want to put time into your audition?
Daniel Ian Gold: Paid jobs are important because it all goes back into the hobby so that's one thing. I'm actually really drawn to casting calls that have a lot of people auditioning, and just being a part of that massive pool and if you end up getting the gig amidst other people it can feel really good, but at the same time if I don't get it, it's not a big deal as there are a lot of other people auditioning! It's kind of nice because it's always very surprising if you get the gig, but it's not a letdown if you don't get it.
Another thing I look for is some degree of professionalism in terms of details about the project, approach to the characters― the lines they have you read for the character, if it's something that is just a few words and not really a whole lot to go off of then I don't know how I can be fairly judged against other people with me just saying three words for example.
So usually if the casting call seems too simple then I'd probably avoid that. Otherwise, I certainly don't reject anything even if the project is a high school project. It's still voice acting and it's still fun!
You and I were both cast mates in the audio drama and visual novel Lustrias, what drew you to the casting call? I was happy to see a familiar face pop up in the discord group as we were involved with another project prior to this one.
Daniel Ian Gold: Well, what drew me to Lustrias was the top-notch professionalism, It was a great casting call with all the details there. There was a plan, checklist, and signs that[Green Moon Productions] knew what they were doing, and I felt the characters would be fun to play!
The project checked off enough boxes for me:
Paid gig
A lot of people are auditioning
A very polished and professional looking casting call
Listened to people who were auditioning- a lot of talent
In terms of professionalism, they [Green Moon Productions] are so good and really on top of checking in lines, making announcements— I never feel like like I don't know where we are in terms of the project.
There are some projects I've worked on and I've been on for a good while now where I have no idea about what's happening with the project.
Where do you see yourself going in the future with your voice over career? Would you like to do more visual novels, games, cartoons?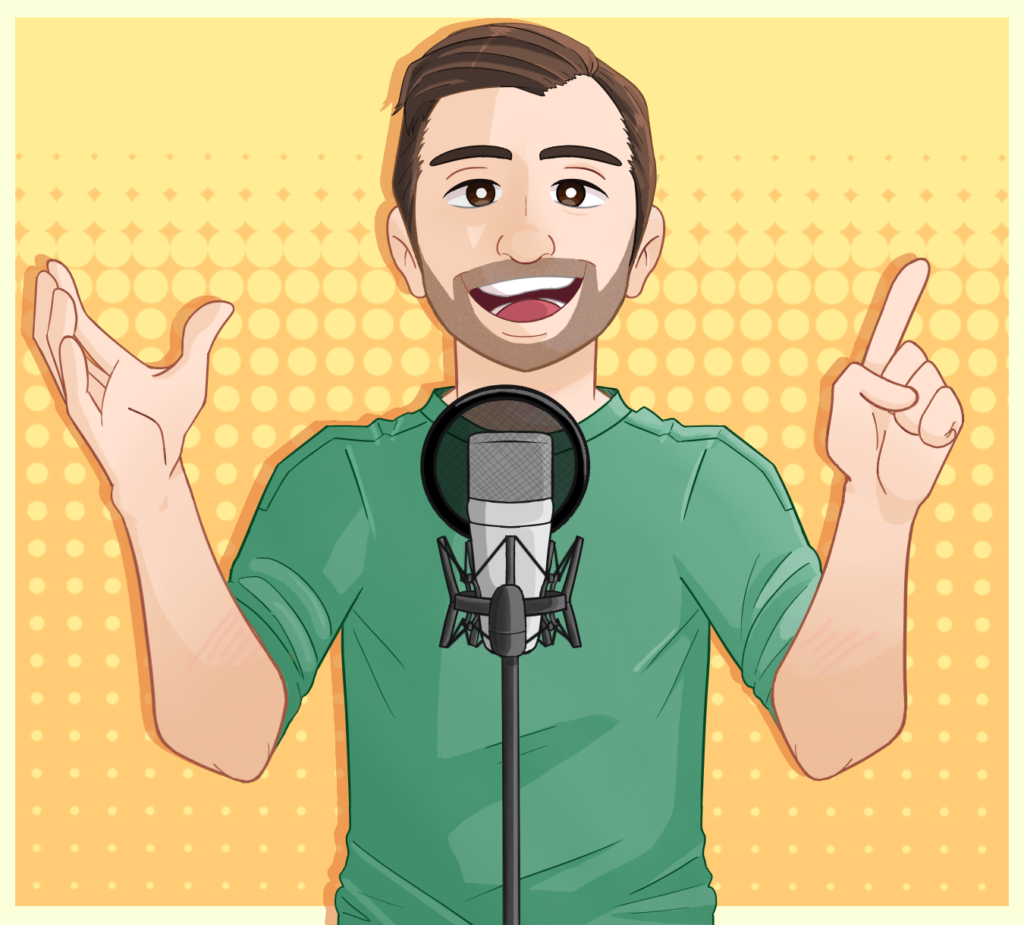 Daniel Ian Gold: Good Question! Independent projects, audio dramas― I've been doing the Haven Chronicles for a while now and I love it. It's easily my favorite long-term project. I really want to do more of those. Anytime I see an audition for an audio drama that's what I want to do more. Video games would be amazing. I'm doing various voices for an upcoming video game called Ready or Not?
And talking about the future one of the things that I struggle with more than anything else is for somebody like me who's in a place where they have a steady job and priorities like a mortgage, and a wife―what I'd really love to do is pack up everything, move to LA and just audition until I can't audition anymore and try to give it a shot. It's hard to do that.

So I think what's great about this is until I'm ready and I think one day I will be, but until I feel like all my ducks are in a row this [Online Voice acting] is awesome!
Having the ability to be a part of these projects, meeting people like you, getting to be a part of the community, share in all the amazing talent that's out there such as: artists, musicians,directors, casting directors, and writers it's all just this amazing world to be a part of.

So even though I'm not living in LA I still feel like I'm in it.
Relevant Links:
To find out more about Dan head on over to: https://digvoice.com/
Pyrite Heart on Steam: https://store.steampowered.com/app/324170/Pyrite_Heart/
The Haven Chronicles: http://thehavenchronicles.com/