There's already a One:12 Collective Cable on the way, but fans are getting another. A completely different look is coming up from Previews.
Two Cables
The version of Cable that's arriving in Mezco's One:12 Collective is already pretty awesome. He's styled more after his first few years in Marvel's comics, and even has (a version of) those giant Rob Liefeld shoulder pads. This new edition though, is a shade more modern. And, for that matter, a little more exclusive.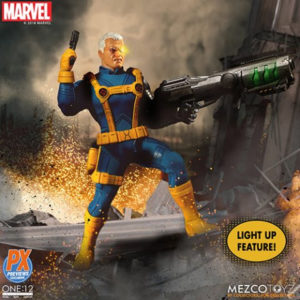 Cable here is sold through Previews catalog only, so you'll only find this figure at comic and specialty shops. The more X-Men-influenced costume he's decked out in is more modern too, though certainly iconic in its own right.
Much like the first version of the character too, this Cable comes complete with a load of accessories. Not only that, but his cybernetic eye lights up, so there's a little extra coolness to be had. And yes, that's true for both heads.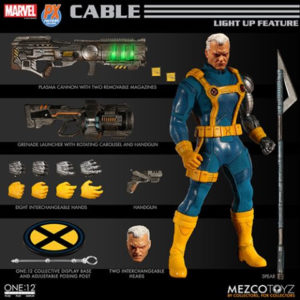 Just a note here too: that big gun does not light up. It might look like it does in the detail image, but it does not. Somebody got a little crazy with the glowy effects. Clocking in at $100 USD already though, it's probably a good thing that the gun doesn't illuminate.
The Previews exclusive Cable is set to ship out in June of 2019.