You might not have heard of headset-maker 1More. But if you haven't yet, you will. That's because their current effort, the Spearhead VRX, is terrific.
Spearheading a line
Probably like you, I was unfamiliar with 1More as a company before getting to try out these headphones. There is a reason for that, even though the company has been around for a few years. 1More has grown as a company outside of the western market, specifically in China. It's there that they've built themselves more than 3000 brick and mortar stores, though now they're expanding globally.
Accumulating a pile of awards for themselves as well, 1More is indeed getting more and more well-known. As I mentioned above, if the Spearhead VFX is anything to go by, I think it's safe to say 1More is only going to be getting bigger.
Setup and Use
Headphones and headsets are pretty simple and self-explanatory in the regard of setup. The Spearhead isn't too different. Though you do get several options since the set is meant to be used with the PC as well as pretty much anything that's got a stereo jack.
The headset ships with a pair of cables, one for both means of use. So if you're dealing with a piece of hardware that's got a stereo port, you just jack in and away you go. That goes for all the major consoles, since all the pads have jacks at this point. Your music player and/or phone is probably just fine too, as long as it's not a later-model iPhone. Remember that current Apple phones don't have stereo jacks, only lightning connector ports. So you'll need an adapter (around $10 USD) if you want to use the Spearhead there. Otherwise, you're good to go. In terms of the PC however, things are a little more complex, and a lot more cool.
Connecting to a PC via the supplied USB cable means that you get to do a lot more with the Spearhead. We'll talk more about the performance in a second, but the set gives you a 7.1 effect with the USB connection, as well as customizable LED lighting where several lighting zones around the headset will light up along with an extendable lightbar that I assumed was the mic. It's not though. There are actually two mics with the Spearhead, to give your voice a more even sound, and block out ambient elements. The lightbar just kinda… looks cool. And I dig that. Not gonna lie.
A sturdy build that's (mostly) comfortable too
I like the build on the Spearhead VRX a lot. The outer headband is metal, though it's very light and has a few cutouts to facilitate it not weighing your noggin down. Under that strip is an inner band that actually rests on top of your head.
This is a soft material that's actually pretty comfortable. I did find that you have to situate it correctly though. For some reason, it had a propensity to sit on top of my head in a weird way that got uncomfortable after a while. Moving it to get it "just right" took care of that.
Likewise, the cups presented a little bit of a challenge for me. I don't have large ears by any stretch, but I found that the ear cups took some fiddling with to get in place. just popping them on, like I can with some headsets, didn't cut it as they excluded the earlobe. Again though, a few seconds of "fixing" took care of any issues.
And the end result of all of that was that the Spearhead sat nicely indeed, not moving around or feeling uncomfortable at all. Actually, the feel of them disappeared after a while, which is something that I find better headsets have a tendency to do. After playing a game for a while, you just kind of don't notice them. Good stuff.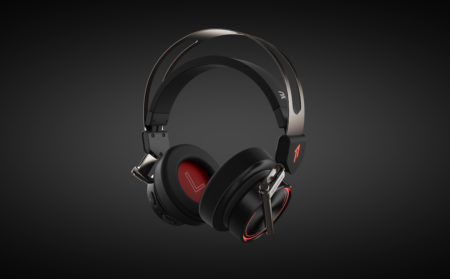 Innovation and all around excellent performance
Before we get into the really neat stuff that the Spearhead VFX does, let's talk about general performance. Spoiler: it's great.
The headset is capable of pumping out 7.1-like audio and it's nice. Okay, it's really nice. I played through parts of a few PC games with them and the quality of the audio excellent. It was right there with some of the best, top shelf headsets and headphones that I've tried.
Not only was the sound loud and clear, but the bass was excellent, as was the ambient sound blocking. Not only does the headset offer passive noise canceling thanks to the design of the cups, but it also has something called environmental noise cancellation.
The ENC function is where the extra mic comes in. The two microphones work together to actually filter out outside noise, so you can get some nice clear vocals out to your teammates, or just your buddies in chat. I'm sure anyone who listens to the Brutal Gamer Cast can attest to me constantly sounding awful, so hopefully these'll fix that issue.
And now that we've been through all of the above there's one more feature to talk about. The Spearhead VFX sports something called Waves NX Head Tracking Technology. And yes, that's exactly what it sounds like.
The Spearhead actually can track your movement, giving you a more realistic "3D audio experience". At least, that's what 1More says. Personally, while I liked most of what this headset did, I didn't really notice much of an effect with this. I'm honestly thinking I might have been doing something wrong since the description seems pretty great on the company's website. I might have to keep playing around with it.
Oh, and I should probably mention that, when plugged into anything with the stereo jack option, the Spearhead basically becomes a standard headset. You won't get any of the special features with that option, but they're still a pretty high quality pair of headphones.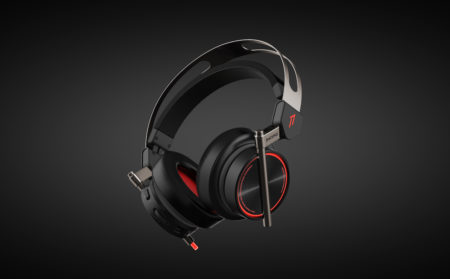 An overall winner
All together, the Spearhead VFX is a great headset that just might give gamers more than they're used to. They're excellent for gaming on all the consoles and even your phone, and are a super-cool PC-based option.
With all of the different things they can do, they've pretty quickly become my favorite audio option when playing on my PC, and I've accumulated a ton of headphones over the years. Not that the market is exactly lacking, but I'm impressed with what 1More pulled off with these. And I'm looking forward to seeing what's next from them.
Spearhead VFX
Release date: Available now
Platforms: PC-specific, work with anything that has a stereo jack as well
Publisher: 1More
MSRP: $199.99 USD
Super-easy to setup and use, even on the PC - 96%
Solid construction that's pretty comfy - 88%
Phenomenal sound, excellent extras - 95%
Lesser known audio peripheral maker 1More comes through big time with the Spearhead Pro VFX. Not only is this a great headset for anything that's got a stereo jack, but it's flat-out awesome on the PC, with all the bells and whistles. And it's pretty comfy too!