Coming up at light speed, space sim/arcade shooter Everspace is coming to Nintendo's Switch. The game hits early this coming month.
Never ending space
Everspace is a name that most gamers probably know, since it's been a pretty popular space shooter. Released on the PC a few years back, indie developer Rockfish's title has since hit the Xbox One and PS4. And now it's on the Nintendo Switch. Or, it will be. Very shortly.
Only a few weeks away, Everspace is looking good in the small tease of screenshots that we received this week. The game has been a stunner elsewhere, and it's good to see that that visual splendor is translating well to Nintendo's console.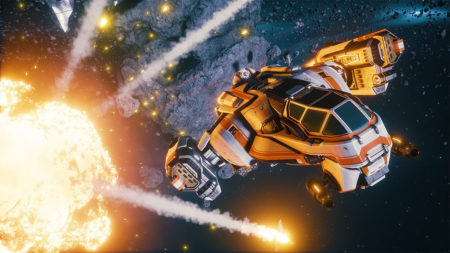 According to the press release, gamers can expect to see two different editions of the game as well. There'll be a standard digital edition, which sounds more or less like the one that's available on Steam, the PSN, and Xbox Live. Preordering that will net you a 20% off discount too, which is pretty nice.
Then there's the retail version. The boxed edition is dubbed the Stellar Edition, and includes more than just the base game.
EVERSPACE™ – Stellar Edition will launch on December 11th and feature the base game, the Encounters add-on, the original soundtrack with over 60 titles as well as an interactive art book in-game. Furthermore, the full set of 41 achievements has been implemented directly into the game. Both, the digital and the boxed version will retail for $39.99 / €39.99 / £35.99 / ¥4,500.