One of the most hotly anticipated games of 2019, EA is hoping for a winner with Anthem. So is Dark Horse, with an art book on the way.
It's the Anthem
Anthem is a bit of a risk. Yes, it looks great, but the game has already drawn considerable comparisons to Activision and Bungie's Destiny series. It's going to have to do a lot to differentiate itself from that multiplayer action series. Then again, sine Anthem comes from celebrated RPG-maker Bioware, that might not be a concern. And again, the game is a visual stunner, something that Dark Horse is banking on.
The comic book and art tome publisher is prepping a fresh book based on Anthem, and it'll have more than just pretty pictures. Yes, there'll be art aplenty, but Dark Horse is also saying that they're going to be packing the story behind the game into this one. So you'll be getting a peek at the behind the scenes process. Cool stuff.
The Art of Anthem Limited Edition features hundreds of pieces of artwork with developer commentary detailing the creation of BioWare's groundbreaking new game. Our expertly-designed limited edition volume features a die-cut clamshell case, a gallery-quality art print, an exclusive cover, and a metallic-printed and embossed miniature replica of an ancient Fort Tarsis mural, making it an essential addition to any hardcore gamer's collection!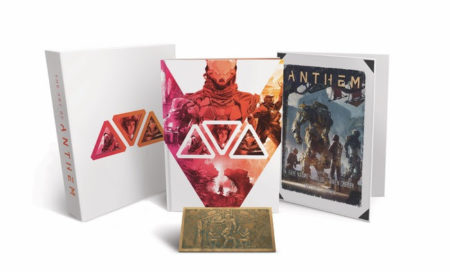 Today we get a look at the limited edition version of the book. There will be two flavors of it of course, with a standard version also planned. The limited edition does look pretty darn cool though, packed with what look to be some interesting extras.
Both versions of the book will be hitting stores simultaneously, on March 26th, 2019. The standard will run you $39.99 USD, while that limited version will cost you $79.99.