The sequel to the first space-based Warhammer 40k title is on the way for early 2019. But before that, Battlefleet Gothic Armada 2 will have a pair of betas.
Testing
Two, count 'em, two beta tests are on the way for Battlefleet Gothic Armada 2. Well, they are if you pre-order the game anyway. But assuming you do that, then you're in for a double-dose of early capital-ship commanding.
Both of these tests will be loaded too. Each one will star all 12 factions from the full game, and two of the three campaigns. Not that that's all that'll be in there either. These tests, and the game really, sound packed.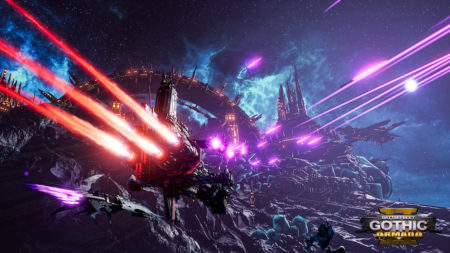 Beta 1: All 12 factions, the full multiplayer progression system, custom games, plus 2v2, 1v1, and versus AI will be available to everyone who pre-orders before or during this week-long event. Developers Tindalos Interactive will use this opportunity to listen to feedback on everything, from the balance of individual ships to the rate of unlocks. Custom fleets built of any combination of ships from a faction allow for a totally open system and Tindalos are looking forward to seeing what fans will cook up.
Beta 2: This will include all the content from Beta 1, including patches and improvements developed during the downtime, plus hours of single-player campaign content. Included will be the Campaign Prologue – acting as a tutorial and story set up – as well as the first sectors of two campaigns. It will give a preview of the ship-building, empire-conquering, narrative-driven offerings of Armada 2 and will be just a taste of the full game.
Beta 1 is scheduled for early December, while Beta 2 is set for January. That second one will run right up to the launch of the game, which is on January 24th. For now anyway, Battlefleet Gothic Armada 2 is a PC exclusive.