Easily one of the Armored Avenger's most distinct armor sets, the "Model 42" is coming to the One:12 Collective.
Black and gold
I can't say, as an Iron Man fan, I like the Model 42 all that much. But that's me. I tend to prefer the more iconic looks for Marvel's heroes. All the same though, this is one of the most standout of Tony Stark's creations.
The distinct black and gold, taking the place of the traditional red and gold, is a huge change. Honestly, it does look pretty neat, and it's easy to see why there are fans who love it. That's probably why Mezco chose it as a new Iron Man variant figure.
While the standard version of old shellhead isn't even out yet, the toy-maker has announced the Model 42 as a surprise offering. The figure is coming up fast too, hitting next month (November).
Have a look at him here, and pre-order one for your collection (if they're not sold out yet):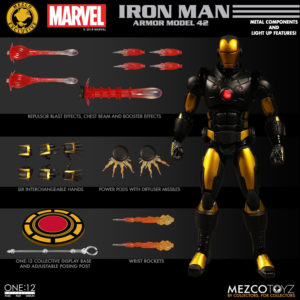 THE ONE:12 COLLECTIVE IRON MAN FIGURE FEATURES:
One:12 Collective body with over 30 points of articulation
One (1) head portrait
Hand painted authentic detailing
Approximately 17cm tall
Six (6) interchangeable hands including

One (1) pair of fists (L&R)
One (1) pair of posing hands (L&R)
One (1) pair of blasting/booster hands (L&R)
COSTUME:
Helmet
Armored Suit
Light-up arc reactor
ACCESSORIES:
One (1) chest beam repulsor
Two (2) repulsor beam FX
Two (2) hand booster FX
Two (2) foot booster FX
Two (2) gauntlet firing missiles
Two (2) rocket firing hip discs
One (1) One:12 Collective display base with logo
One (1) One:12 Collective adjustable display post
Each One:12 Collective Iron Man: Armor Model 42 Edition figure is packaged in a collector friendly box, designed with collectors in mind.
The One:12 Collective Iron Man: Armor Model 42 Edition is available for preorder at http://mezcotoyz.com/one-12-iron-man-armor-model-42-edition.