The latest batch of screenshots for Capcom's Resident Evil 2 remake are loaded with Claire, Leon, zombies, and the infamous lickers.
Evil reborn
If you had any doubt, now's your chance to shed it. Resident Evil 2 is going to be a stunner and a half. The game looks incredible, and this latest batch of screens is only making it look even better.
Here we see Claire exploring and fighting off a zombie attack, while Leon blasts away at some shambling corpses. And then there are the lickers. Still one of the more gruesome enemies in the Resident Evil pantheon, the lickers are unholy abominations. And of course, they get their name from their extending tongues, which they use to lash at their prey.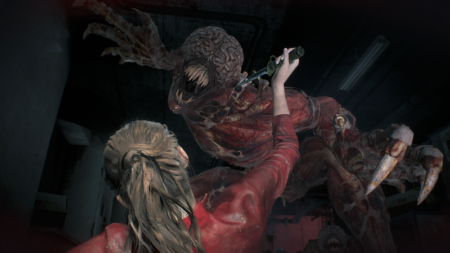 The lickers are just one of the returning menaces, that'll be back to harass players. They take their place along with the staple zombies, and bigger monstrosities like the mutated William Birkin. But although the enemies are the same, the game will not be a complete retread. Of course it looks drastically different, but Capcom has also seen fit to change some encounters. So even if you've played the original to death, you might be in for a few surprises here.
Resident Evil 2 is still a ways off however, and isn't slated to arrive till after the Holidays.